Kings of Chaos
Review Directory Intro ...
Want to know what other gamers are saying about an online game that you are interested in? Good because this is where gamers can give their opinions about different types of games such as Online RPGs, MMORPGs, Online Shooters, and Free Games.

If you don't want to leave a review, simply click on the link or the screenshot on a game's review page to go to its website.

Signing up is free and allows you to review games, post in the forums, and submit games for review. The forums allow you to ask questions, share tips, and discuss games after you have reviewed them. Let your opinions fly !.!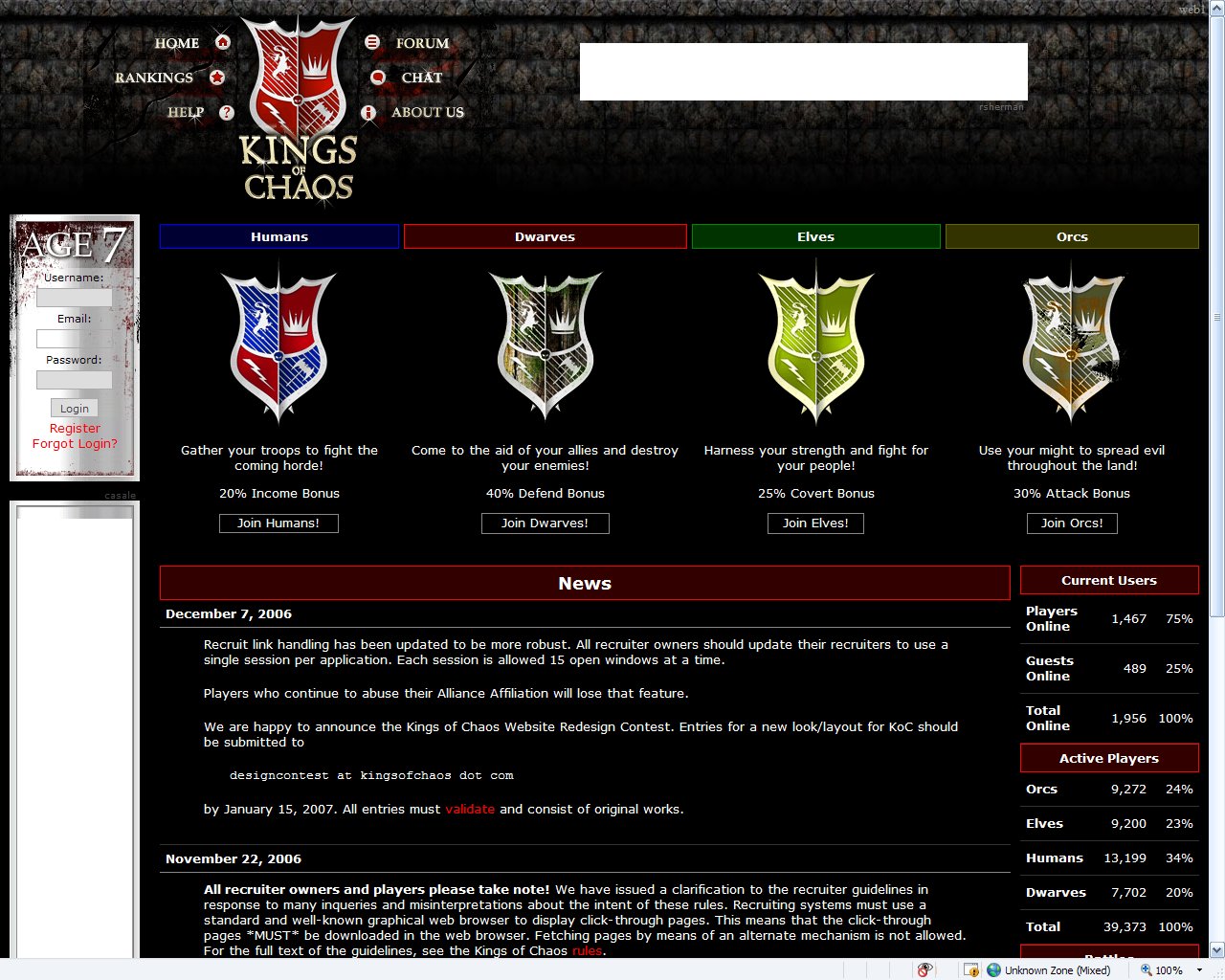 The game features characters from four races: Humans, Elves, Orcs, and Dwarves. Players gain strength and money by recruiting friends into their army through the use of a special unique recruiting URL issued to each player.

Total Rating: 4.30
Reviews: 23
Review Archive
Post Date: 12:55 23-11-2009
Rating: 0
Author: jd.emosmos
Comment: Graphics:uhhh..does it have one? lol
Music:lame:(
Overall:this game is Horrid

cant write the other factors due to a rating of Negative Y_Y


Post Date: 06:00 26-12-2007
Rating: 0
Author: Keneth
Comment: Ummm... No. Just no. This game, is by far, the WORST game I've EVER played online.

I can't even give a real review for this game. It doesn't deserve it. So, I'll give you some advice. If you know a person you hate with passion, tell them to play this game for an hour, and you'll give them 20 Dollars. I am telling you, they'll commit sucide, and you keep the money. That is the only purpose of this game.

Post Date: 11:57 11-04-2007
Rating: 6
Author: GameHax
Comment: Pretty good good beings it's kinda turn based.. But the thing i hate is that ater every month or so, after you've built your army etc.. The game restarts :/ but i reocmmend giving this a shot.

Post Date: 13:30 03-08-2006
Rating: 0
Author: massiveowner21
Comment: *laughs as he picks up a stone* *throws it and knockes out the creater*
HUH oh what oh yeah my reveiw Graphics-Wait it has graphics!?! if it does i havent seen them yet.
community -Noone playes it
-the people that do are jerks

Post Date: 22:18 10-07-2006
Rating: 4
Author: Exorcism
Comment: Forgot to say people get tired of pressing your link after a week :P

Post Date: 04:28 05-07-2006
Rating: 0
Author: I_love_making_Games
Comment: Incredibly bad game with no sound or graphics!
I make better games on my old C64 Computer! at least they have COLOUR! (although not very much)

Post Date: 18:51 04-07-2006
Rating: 10
Author: spearhead2234
Comment: this is a GREAT game veery easy to use and very fun. it doesnt have any grafics but very fun

Post Date: 19:30 21-06-2006
Rating: 0
Author: dragon5806
Comment: this game could do better because they need to throw in some 3d graphics instead of plain old words because not many people like gmaes where you choose what you do instead of actually seeing tha battles and actually doing the action

Post Date: 14:59 20-06-2006
Rating: 4
Author: Exorcism
Comment: This is a game that is impossible to win if you start playing once you read this.

Officers stay at 1 player wich wins every age because he starts out with like 200 officers(players backing a player up).

And you get tired of asking people to click your link. :D

4 out of 10

Post Date: 01:48 27-05-2006
Rating: 9
Author: JT360
Comment: Played Scince Age 5. I'm New make me your commander. Too many server problems.

Post Date: 23:29 10-05-2006
Rating: 5
Author: Drunk420
Comment: This is more a question than a review, but is this sort of like the pre-graphics Zork series or Planetfall? (If you were born after 1985 you prolly don't know what I'm talking about)

Post Date: 21:14 29-01-2006
Rating: 10
Author: FiT-Miro
Comment: Big time fan of this game since age2

Post Date: 21:36 19-01-2006
Rating: 5
Author: meliger
Comment: none

Post Date: 10:09 01-12-2005
Rating: 4
Author: icemanleo
Comment: This game is Great... but once u r in to it... and realize that the admins dont care... Expect a lots of cheaters (+2 or more accounts)

At the end u end up frustrated for the great potential of this site... but for the lack of guts of the admins... this will leave u with a sweet-sour flavor.

Age 4 (version 4) about 120.000 players!!! this age (age 5) only 80.000... I wonder if is just me?

Post Date: 00:18 28-11-2005
Rating: 0
Author: Fox
Comment: I like graphics. Not words and giving out urls.

Post Date: 18:56 21-11-2005
Rating: 10
Author: slayer0273
Comment: 3 words: This game ROCKS!

Post Date: 20:15 12-11-2005
Rating: 10
Author: sazarre
Comment: none

Post Date: 14:49 11-11-2005
Rating: 0
Author: corpse grinder
Comment: ok lets see you join and you sit there looking at writin bout the fights and all and you never get any were its the same people in the top 100 and all its a waste of time

Post Date: 21:29 18-09-2005
Rating: 0
Author: legend-Of-Might
Comment: Yes this game is the most horrible game ever invented

Post Date: 23:24 10-09-2005
Rating: 2
Author: talus
Comment: do you even do something here? seriously if you like to stare at letters allday this game is good for you, but in my opinion its crap, but thats just me.

Post Date: 23:31 06-08-2005
Rating: 1
Author: Minshin
Comment: Um... What s so great about this game? There s no graphics and it s totally a rip-off! How can anyone call this good??? I had no clue there were so many nurds who spent so much time reading, clicking, and managing resources for no eye-candy or sound effects as a constant interest... I mean, seriously, why is this such a big deal? I spent the last hour and a half exploring this text based monstrosity just to give a horrible comment... pfft. STAY AWAY from this game, especially if you have dile-up. The author s heart was in the right place, I think, but it just plain stinks .

Post Date: 18:35 02-08-2005
Rating: 10
Author: cbofthecs
Comment: One of my favorite games.

Post Date: 16:48 11-07-2005
Rating: 9
Author: bladedgod
Comment: this is one of the best army games out there.