Lands of Hope
Review Directory Intro ...
Want to know what other gamers are saying about an online game that you are interested in? Good because this is where gamers can give their opinions about different types of games such as Online RPGs, MMORPGs, Online Shooters, and Free Games.

If you don't want to leave a review, simply click on the link or the screenshot on a game's review page to go to its website.

Signing up is free and allows you to review games, post in the forums, and submit games for review. The forums allow you to ask questions, share tips, and discuss games after you have reviewed them. Let your opinions fly !.!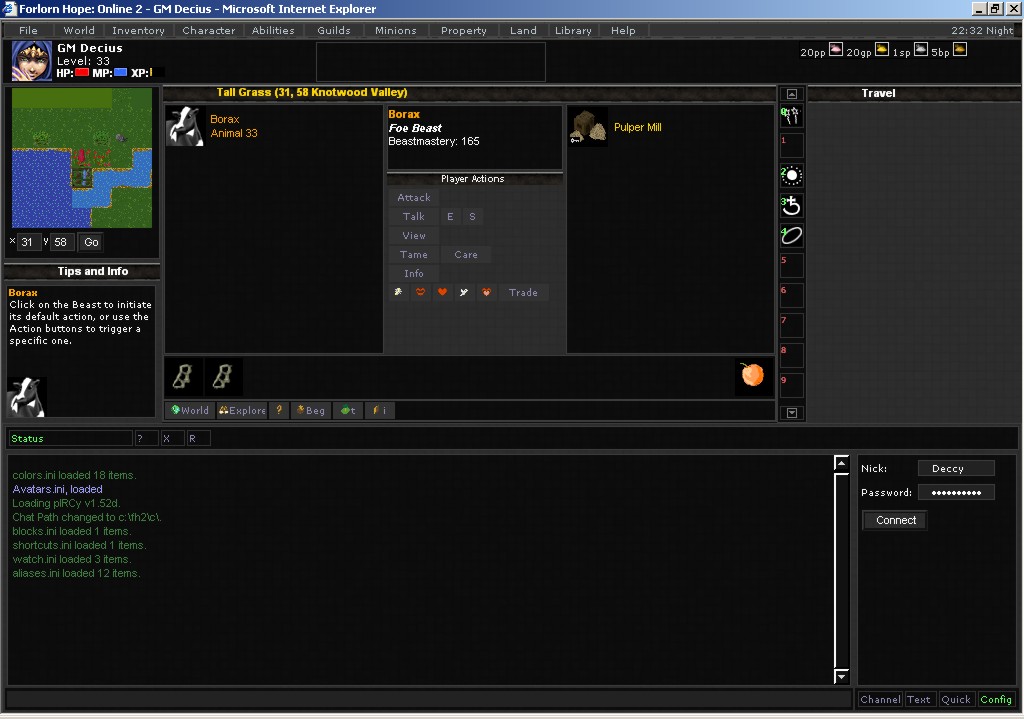 In a world filled with choices, two powers struggle for control. As the veil of darkness slowly chokes the life from the lands, you alone hold the key to change the fate of the world forever. Will you side with the Exiles or the Society? Please note that this game charges a small fee via PayPal.

Total Rating: 7.42
Reviews: 24
Review Archive
Post Date: 10:11 05-06-2014
Rating: 10
Author: Aki013
Comment: This is great game,one of the best online games i ever played.You need to think in this game and if you try hard it can be very funny. 10/10

Post Date: 15:01 05-10-2012
Rating: 7
Author: Thedarkboy
Comment: This game is good, but to be honest, pretty bad for a P2P game. This game shouldn't be P2P since they should be a lot better then this. It simply doesn't deserve being P2P. So I absolutely not recommend this game to anyone. There are many other F2P games and P2P games that are much more fun then this game. Not a game you should waste money on.

Post Date: 12:23 01-06-2009
Rating: 1
Author: DarkShade
Comment: I have played them all, Runescape, Eternum, WoW, LOTRO, Warhammer but I started out here. I must say it was alright when I first started and I didnt know any better - but looking back now its mostly full of spammers. The screen is tiny and the interface is the most confusing thing ever. After being used to World of Warcraft this game is almost unplayable but might be alright for newcomers.

Post Date: 10:06 19-05-2009
Rating: 10
Author: Vindo
Comment: First things first, the review is actually meant to be about this game, not to promote or compare to another. glad i've got that out my system, lets move on...

LoH is good value for money for it's one time fee of $15, yes you heard correctly 1 time fee, and once that is paid your account NEVER gets deleted. It has 15 professions to play, each of which come with an evolutionary option which adds different skills, I.e a rogue can evolve into either a pickpocket, shadow stalker or trickster. You can also craft all of your items by training various skills such as portal mastery, construction, dungeon mastery, furnishings and loads more.

I've never seen so much player control, players have over self made buildings. They can design them from a range of artwork used in the rest of the game, so much that they can turn a palace into a village, and furnish it as they wish to store all important items.

Race and professional evolution adds another dimension to the game, it's adds to your skills as well as your appearance and titles, which everyone can see, although if you are not happy with your picture you have the option to go back to your original.

The screen at first can be confusing, and the searching for items could be perfected, but the screen is easy to get used to and you soon discover shortcuts to reach the item you're looking for.

This game is dependant upon its players as the theives give the hunters their paycheck. New players can use older players skills to craft an item they want for a very small ingame fee. Also not to mention the brilliant community full of people that will always help you out, an active game owner that answers players questions directly. What more could you want in a game?

Post Date: 17:10 10-05-2009
Rating: 2
Author: RandAlThor
Comment: I used to play this, god knows why... try Eternum Online if you want a decent free browser MMORPG

Post Date: 03:59 03-02-2009
Rating: 3
Author: antix
Comment: many fun people play this game,it gets boring fast too

Post Date: 13:44 06-01-2008
Rating: 3
Author: x3rx3s
Comment: Clumsy interface and slow paced... not a patch on Eternum Online or even Runescape

Post Date: 02:07 07-12-2006
Rating: 10
Author: kojicolnair
Comment: Very very great game, lots to do, you dont even have to fight if you really dont want to since you get XP from crafting and stuff. At first it seems a bit tedious, raising your first skills and gathering other skills, but once you give it a chance and actually start playing it gets very enjoyable. The fee is only a one time fee of 15$ which is very good as well for such a large game.

Post Date: 04:56 08-10-2006
Rating: 3
Author: RPGgamer
Comment: this game has a few good points but the fact that you have to pay and its worse than runescape makes it not worth it but its pretty fun watching my friend play it

Post Date: 14:21 02-07-2006
Rating: 10
Author: Topaz
Comment: I've been online a long time and have played many games that charged a monthly fee but have never enjoyed a game as much as this one. With a simple ONE TIME fee of $15.00 that isn't even needed to be paid until hours and hours of fun have been enjoyed, I feel it is well worth it. Yes, it's a 2d game but Lands of Hope has more depth to it than many other games that I have found. After six months of playing I am still learning new things almost every day. Just the many choices of player professions with their own individual skills is enough to keep me intrigued. The game community is awesome and helpful. It's a complex and challenging game. Why not give it a shot?

Post Date: 13:41 02-07-2006
Rating: 10
Author: RamieSlayer
Comment: Although the graphics are not 3d this game is highly addicting and a LOT of fun. The community is helpful and freindly and Lands of Hope is the only game that I know of where the game creator is on everyday to answer questions and actively help players. This game is under constant change and improvement so the game world is always getting better.

Post Date: 04:49 02-07-2006
Rating: 4
Author: The Soul Reaver
Comment: Graphics are lame as heck the gameplay is alright, but the fact that this charges a small fee is stupid its not worth it

Post Date: 15:33 22-06-2006
Rating: 10
Author: Pshychic Assassin
Comment: Ok, it's one thing to say that a game is this, or that, but let's put things into perspective. This is a browser-based MMORPG, which has a Graphical User Interface aka GUI, which puts most downloadable clients to shame. And, to compare Lands of Hope to any other browser-based game is an insult.

Words cannot describe how much I, and others, enjoy this game. I have been dedicated, and addicted, for about 2 years, now. I'm amazed at the character depth, and everyday I seem to like the game more, and more.

What makes this game truly unique is the relationship between the players, and the staff. There is an idea message board where players can suggest, and discuss, different ideas about what they would like to see in the game. The world is crafted based on the ideas of both the staff, and the players, which creates a unique, fair, and balanced game. New features are implemented almost on a daily basis, and the game never gets boring (can the same be said for most store bought games?).

The only thing lacking is more people. We have a solid playerbase, and a strong community, made of people that want to do what they can to help new players, and want to make the game enjoyable, for everyone.

Also, there are two servers, so those who want Player vs. Player interaction are able to do so, while the other server offers a friendly enviroment for the less agressive players.

All I can say is that you have to give this game a shot. You will not regret it one bit. I can promise you that the game features are like no other browser-based MMORPG you have ever seen.

Take 10 minutes of your time. Try the game, ask questions, listen to advice, and create a unique character, in an ever expanding world of fantasy. You will not be disappointed.

Post Date: 00:32 19-06-2006
Rating: 10
Author: shadowetalia
Comment: I have played a lot of online games but found this one the only one worth paying for. The minimal $15 is well worth the hours and hours and hours of entertainment. The online chat with other players is well moderated and has lots of helpful people in it to assist with navigating this surprisingly complex game. The first 100 levels are free to play now. The two week limit has been changed to first 100 levels. Great game.

Post Date: 18:03 18-06-2006
Rating: 10
Author: lGunslingerl
Comment: I wasnt crazy about the idea of a browser game, but just give Forlorn a chance. It is a lot of fun and its very addicting. It's the best browser game I have ever played!

Post Date: 14:12 18-06-2006
Rating: 10
Author: Barin
Comment: Perfect for those who have horrid computers and and a low budget, who still want to play a wonderfully made game. It's also good for those who want a new adventure in gaming.

Post Date: 12:22 18-06-2006
Rating: 10
Author: innee
Comment: This game may not be 3d..however.. there is more action packed in this 2d browser game to keep you playing over and over again. with all the tradeskills to keep you going.. its a non stop action based game that you must experience for yourself.give it a try.. you won't be disappointed.

Post Date: 11:18 18-06-2006
Rating: 9
Author: Rastabaxus
Comment: I am highly satisfied with this game. Though it doesn't have all the fancy graphics it will definitely keep you coming back for more. The interface is a little daunting at first but once you get the hang of it you will love it. The skills you can practice and master are many and there are many places to explore. Aside from that there is a great and helpful community. Great game to feel welcome in. There are some fees but well worth it for all you get.

Post Date: 11:40 17-06-2006
Rating: 10
Author: IanL
Comment: This game is awsome, plenty to do to keep you busy and entertained, tons of support and tool applications to help you along the way. a great steal, only $15(USD) for a lifetime membership(membership keeps your account from undergoing maintance), though you don't have to pay till you reach level 100. try it out and see for yourself

Post Date: 13:34 14-06-2006
Rating: 0
Author: shaderun
Comment: Really bad graphics and gameplay.

Post Date: 16:35 23-05-2006
Rating: 10
Author: Darr
Comment: Lands of Hope is a browser based MMORPG, with a very friendly community, a game master that's constantly helping the players, listens to them, as well as improving the game. The gameplay is awesome in that you can do just about anything. A very good crafting system, combat, pvp, siege warfare, bounty hunting, thievery, etc....almost like the sky's the limit. This is the only game I know that doesn't need a heavy duty 2 gig 3d environment to hold its players interests. All I can say is, try it for yourself! You'll like it.

Post Date: 09:58 10-05-2006
Rating: 7
Author: ouchie
Comment: Not crazy about paying for it but I still enjoy it.

Post Date: 19:20 07-08-2005
Rating: 9
Author: emonquente
Comment: Why only a 9 of ten? Because this gmae has only just left beta and it has not reached its peak. To be perfect it would stop. This game is under constant work by its singular owner alias Decius. This game is although only just leaving beta is more complex and complete than most browser based games available. The game starts out free four a time of two weeks like most pay games but the cost is only 15$ for permanant account if you use it, although unused accoutns will eventaully get deleted.

This game features a unique system of play in that the player has tens of skills to choose from, crafting such as carpentry, tailoring or cooking, gathering skills like foraging, mining or husbandry, or fighting skills like fists, acid magic or axes. With crafting and fighting character types readily available or even balanced characters that do everything within grasp the possibilities are limitless.

Beyond its skill system Lands of Hope imploys a evolution system for both proffesion and race. At level 50 players choose between three tiers branching off their origional choice of five base proffessions that each have unique skills and statistical advantages making the five character slots easily fillable. Then of course one can choose a branch of races at level 200, there are five options available here and four races on all but one of them (which has two), on these tiers you can choose to stop evolving at any point, or choose to stay human throughout the entire game! This same rule applies to stopping at any one of the proffesions. There are no penalties for stopping at any time.

Besides gameplay this game has a very tightly knit community, constant tech support, helpers in chat, faq and help pages, and an idea submission form inside the game!

All-in-all this game is a must play for anyone, this game is not -for- MMORPG fans, it -makes- them.

Post Date: 16:56 26-07-2005
Rating: 10
Author: Rafe
Comment: Lands of Hope (LoH) entertains not only with stellar gameplay, but with its beautifully integrated sense of community and sociability.

Under extensive development since its predecessor, Forlorn Hope, Lands of Hope does what it claims. It creates dynamic atmosphere, provides for a close knit population and is a solid, well-developed game with many options available to each player.

Experienced players are always readily available to help those that are in need and the game's creator himself (GM Decius) is in attendance much of the time to handle issues brought up by gamers, a feature unique to Lands of Hope. This is what drew me to the predecessor game and keeps me continually involved with LoH.

There are a possible 1000 levels in Lands of Hope; an extensive meld of intense battles; 12 epic sized maps; multitudes of skills and spells, crafting abilities, and helpful, enjoyable quests. The creator of the game claims that anyone can find their niche in the lands of Myzan, as a player, I have to agree. I certainly have.

Rafe
Healer and Trouble-Finder in Myzan