Martial Heroes
Review Directory Intro ...
Want to know what other gamers are saying about an online game that you are interested in? Good because this is where gamers can give their opinions about different types of games such as Online RPGs, MMORPGs, Online Shooters, and Free Games.

If you don't want to leave a review, simply click on the link or the screenshot on a game's review page to go to its website.

Signing up is free and allows you to review games, post in the forums, and submit games for review. The forums allow you to ask questions, share tips, and discuss games after you have reviewed them. Let your opinions fly !.!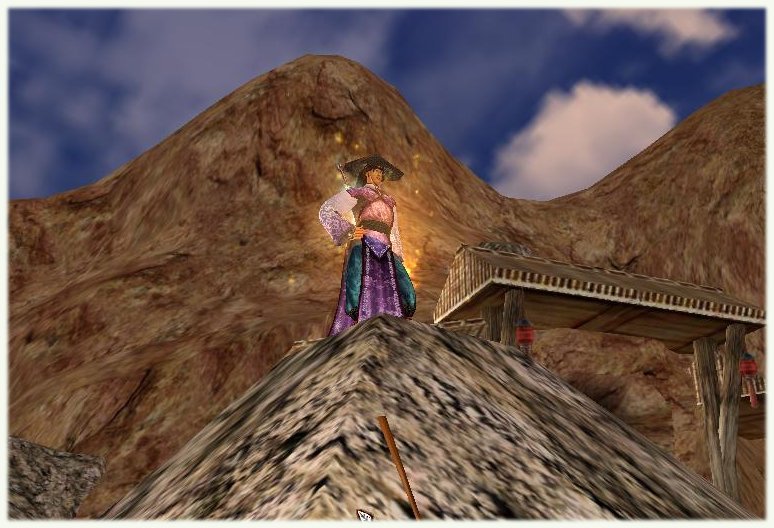 The Empire of Martial Heros uses a beautifully constructed 3D graphics engine to bring this Realm of Martial Arts to life! In reading a martial arts novel, readers immerse themselves into fictional worlds where they become the hero or heroine. They are forced to battle powerful enemies and overcome nearly impossible trials all for the sake of defending the peace. Many go on to obtain gifts from the gods, and if their legend permits they can grow to become the most powerful entity in all of the world.

Total Rating: 6.19
Reviews: 26
Review Archive
Post Date: 01:22 31-03-2010
Rating: 10
Author: pyrocrazy
Comment: Funny how the only people that gave it bad ratings HAVE NEVER EVEN PLAYED IT.

Post Date: 15:18 06-03-2010
Rating: 10
Author: narrokk
Comment: my comment in this game is, if it only had a male assasin! ehehehehe... but the gameplay is so cool! you got to do a lot of things, but, you got to learn a lot of things as well, with few players in it, no one could help you, even in boss battles, so its a game where you have to make friends with everybody so that they could help you, which is great. the names are weird... very wierd.... the people with ox masks especially. the graphics are good though! much like RF online... if you got good VGA... then you get Good graphics! to top it all up, i'd rate this game 9/10

Post Date: 05:08 21-07-2009
Rating: 5
Author: tomtamtimmy
Comment: i agree with you alioli completely. if you want perfect graphics and perfect game play go and play a p2p game. if you want better graphics go donate some cash to them and ask them to do up the graphics.
but i to havent played the game so i am gonna give it a 5

Post Date: 14:39 12-05-2009
Rating: 5
Author: alioli
Comment: i dont get all the ppl complaining about graphix, graphix aint easy and mostly depends alot at the engine used, now if this was the best engine they could find?

i think it looks like a good game, and i javent played it, but i just get MAD att ppl saying "omg graphix is bad" =P this aint crysismmorpg this is a FREE fantasy mmorpg wich u get to play for FREE, if they were able to earn money, iam sure they might have bin able to improve the graphic a bit, but they dont, they made the game for u for free for fun =P now stop complaining at graphics like a p12 and istead i wanna see complains on for example functions, skills, is there many bugs in the game? is it too hard to lvl or too easy? is the atmosphere on the game too bad? is there too little variety? comeone ppl! give some REAL C&C!

i wont rate more than five, cuz i havent played yet, looks good though!

Post Date: 22:45 27-03-2008
Rating: 0
Author: thetruth
Comment: boring and almost like 9 dragon combine with poor graphic and charcter play
lagging is available lol

Post Date: 02:34 21-01-2008
Rating: 5
Author: wuzzman
Comment: there is a dozen games like this one in the korean market. Its not that it has to do something new, it just fails at being fun while being unoriginal at the same time. A free Ever Quest clone is still a bad game.

Post Date: 20:28 27-09-2007
Rating: 10
Author: Neverloggedin
Comment: Exceptional game! This game has a great PvP system. Lots of Quests are available. But the best of all - the game is free! Not more than 500mb. Rating 10/10.

I am deeply addicted to this game! I do not know why it's not one of the top MMORPGs.

ON the Contrary, I have to agree there is only killing and Pvp. Fishing and Herbing and MIning are introduced but not as a skill.

Post Date: 00:30 03-06-2007
Rating: 4
Author: Ryusho2
Comment: This game is pretty boring . You never EVER , ever , get immersed in the world . You can pretty much care less about your guy . It"s feels like im painting a house, i just want to get it done . Get the wanker to lv 89 be happy for 3 minutes and wait unitl the bad gtphics get even worse . IM mad i even played this game for 1 and a half weeks . It just got a little adicting . Thats the KEY of any MMORPG . Forget quality . To hell wit it . Make it bloody adicting . Forget about it being fun , make these dudes play and play , money in the bank !

Post Date: 11:05 28-04-2007
Rating: 3
Author: orasis
Comment: This game, always feels like a game.. You never get concerned about your character or immersed in the world.

That's the biggest flaw of this game, by trying to make gameplay very sophisticated it ended up making a game which is more like a job than an enjoyable evening.


Post Date: 00:38 18-04-2007
Rating: 5
Author: Asamii
Comment: Eh it was rather boring. Plus 3d really isnt my thing, unless its well made. Those squareish 3d graphics are kinda lame.

Post Date: 14:11 23-03-2007
Rating: 5
Author: The_guv_na
Comment: This is the WORST game I have ever played, I won't even give one of my insightful bad reviews for it, because this game simply doesn't deserve it.

Post Date: 05:17 07-01-2007
Rating: 8
Author: Jarrito
Comment: Ive been playing this game for about a year and well its starting to get boring. One of the worst things about this game is the leveling which after level 50 you get like .20% from a kill and from there on it just keeps going down untill its practically impossible to level without getting potted to hell. The graphics however are very good and the fighting style is great.

Post Date: 12:13 24-09-2006
Rating: 6
Author: princeserge
Comment: its ok i guess
the combats ok...
alot of quests that gives the game some spice
the graphs are pretty weak
its a 6/10 game


Post Date: 14:13 03-08-2006
Rating: 3
Author: massiveowner21
Comment: I was overall really disapointed for the score i gave i mean the graphics are choppy the landscape is just garbage but here are my ratings
Graphics: 5/10 probably the best score im going to give.
Sound: 2/10 could use better special effects.
Story 0/10 it has no story line your basicly playing without a perpose.
community: Has real immature jerks, and people spawn kill every mob in sight. 0/10

Post Date: 08:14 26-07-2006
Rating: 5
Author: sataned
Comment: yea once agian i dont like the whole click to move type of games.. i played for about.. 2 mins and turned it off it felt alot like any other click and move style of games like Ran for example yea well idont know ...

Post Date: 09:56 25-06-2006
Rating: 9
Author: Clinton
Comment: Ok Ryan, why dont you go out and try to swing an axe like that as fast as you can, lets see how fast you can do it. Personally I love the game. the monsters keep you on you're toes constantly, and the guild wars and even faction wars make it a very enjoyable experiance, for new people or for experianced players alike. Two bad sides I found was that there are a few glitches and and some of the bigger towns, lag is plentyful. I give a 9/10.

Post Date: 11:23 22-04-2006
Rating: 10
Author: turtlefuzz
Comment: This game is WAY cool

Post Date: 12:03 14-04-2006
Rating: 4
Author: GameReviewer
Comment: BORING only good thing bout this is u can harvest drugs

Post Date: 18:18 29-03-2006
Rating: 9
Author: THRUSHAPOWER
Comment: Well I totally agree with yaxy2k

I have played many MMORPG s but none have offerd me any where near the same amount of things to do, such as (The Tons Of Quests) or the ,(PK) Player Kill Option.
Map Space ?? no worries in this game it has a huge amount of maps and towns for you to explore.
This game offers the player a chance to choose between lawful and evil factions.
There is almost always a GM or GM Helper online somewhere if u need help with anything.
The communty is generally full of very helpful people if u find yourself lost or in need of assistance in general.
all and all id give this game a 9/10 for overall playability

Post Date: 12:42 26-03-2006
Rating: 4
Author: RyanForEva
Comment: yaxy2k...thats was the most lamest review i have ever seen in my life. Dont take it too seriously.
Now for my professional ratings.
Graphics - 6.5/10
Sound - 4/10
Gameplay - 5/10
Story - 3/10
Replayable - 0/10...its an MMORPG your ratings
Total Ranking - 4/10 in other words...it $UCK$
Warriors weapons.... Sword axe lance. Yeah i know axes are really strong... but OH! guess what?! it sux in this game and hits very slow wth is wrong with these asian type weapons.Game $UUUCKKKK$

Post Date: 00:14 12-02-2006
Rating: 4
Author: lexusssss
Comment: I dont like it

Post Date: 21:26 28-01-2006
Rating: 8
Author: coresinns
Comment: "no one helps you out wen you re a noob good graphics just not good game play you chace monsters for like 15 min just to hit them for a quest it said talk to this monk it does not tell you were the monk is and the game map is huge!!!!!!!!!!!!!!!"

Yet another impatiant person who can t take the time to read and work things out on their own. I ve only played the game for a few weeks, and I have to say I really enjoy it. If this were a free game that started out with english as its language, I d have a lot of complaints, but considering the fact that it had to be translated(witch is obvious at every step of the game) and it s free, I ve got nothing to say but great.


Post Date: 15:02 16-01-2006
Rating: 2
Author: pencil
Comment: no one helps you out wen you re a noob good graphics just not good game play you chace monsters for like 15 min just to hit them for a quest it said talk to this monk it does not tell you were the monk is and the game map is huge!!!!!!!!!!!!!!!

Post Date: 18:11 10-01-2006
Rating: 9
Author: supermutt0
Comment: CrzBadboy
Comment: SWEET GAME simular to XIAH but BETTER and If you like this game YOU will LOVE SilkRoad its even 10 times better than this one. on the downside Martial Heroes is a great game but you can only do quest that are at your lvl you can t lvl up alot then go back and do unfinished quest also the Loading time it takes for the game to start is LONG i can do 10 other things by the time Martial Heroes loads up.
LOOK if you want a good MARTIAL ARTS game don t waist your time with the hugh Client download of Xiah or Martial Heroes go directly to SILKROAD ONLINE it is really the BEST their is when it comes to MMORPG

me: silkroad is a a 500+ download.....it goin to take me a long time to download 1 hour+, of it is all you say it is it goin to be fun.....

Post Date: 17:03 01-01-2006
Rating: 10
Author: yaxy2k
Comment: Overview:
3D MMORPG, navigation and targeting by mouse, everything else by keyboard(skills, potions, quests, inventory, combos)

Two different factions:
lawful and evil

4 different classes:

Warrior (can use Simitar, Axe, or Lance):
High HP, good basic attack, good defence, moderate attacking skills

Mage (can use Fan, Sword, or Glove):
Low HP, weak basic attack, weak defense, but strong attacking skills

Assassin (can use Dagger, Claw, or Bow):
Low HP, moderate attack, weak defense, good attacking skills

Monk (can use Plummet, Wheel, or Staff)
High HP, weak attack, good defense, the only character able to buff others

Each weapon type user have unique sets of skills.

Pros:
SWEEET graphics.
HUGE area to explore.
Mostly courteous and friendly community.
Many quests to do, so it doesn t get boring
Leveling is not so fast that everyone is high level, yet not so slow that you have to play for months before you start using cool skills.
Many skills(including buffs, passives, AOE attack, one-to-one attack, ranged attack), at higher levels they look spectacular.
Many items too.
Trading system, vending system(allows one to sell items afk), production system(can produce raw materials for items afk), delivery system(allows one to give items to someone else who is offline or difficult to find.
Nice and versatile battle system.
Different classes and weapon types would have different playing styles due to their different skills and stats.
Allows you to change weapon type easily if you are bored.
Allows you to reset your skills and relearn them in case you make a mistake.
Allows you to make and upgrade items yourself. Extensively upgraded items makes the wearer look great.
Many different monsters, and some monsters are big and scary. Some classes are stronger against certain types of monsters.
Party system, guild system.
You can engage in fair one-on-one or party-to-party duels with other players at no cost.
Players may also pk, but there are very effective measures that makes sure there are no abusers.
GMs and GM helpers are active, and there are many events that keep people coming back to play.
IT IS FREE FOREVER!

Cons:
Big download (400+ MB)
Monster and NPC names are not very clear or easy to remember (Does "ZH-F Ja Lvl2" sound like a person wearing an ox mask? Or does CheongMyYeong sound like a book seller?).
Takes time to be familiar with the controls.
Takes quite some time to load.
Quests are level dependent, meaning you cannot attempt a quest below the level range requirement(would most likely be courting death anyway), or above the level range requirement.
If someone pk too much he would become weaker, and it is hard to get out of that status(but it serves him right i guess).
Getting from place to place where scrolls don t take you can be quite time consuming.
You cannot party someone who differs from your level by 10 levels(which means no powerleveling).

Generally, this game allows you to do lots of things. Even afk. Much fun, because of the active online community and the content-rich game itself.

Post Date: 00:09 12-12-2005
Rating: 8
Author: CrzBadboy
Comment: SWEET GAME simular to XIAH but BETTER and If you like this game YOU will LOVE SilkRoad its even 10 times better than this one. on the downside Martial Heroes is a great game but you can only do quest that are at your lvl you can t lvl up alot then go back and do unfinished quest also the Loading time it takes for the game to start is LONG i can do 10 other things by the time Martial Heroes loads up.
LOOK if you want a good MARTIAL ARTS game don t waist your time with the hugh Client download of Xiah or Martial Heroes go directly to SILKROAD ONLINE it is really the BEST their is when it comes to MMORPG