MechQuest
Review Directory Intro ...
Want to know what other gamers are saying about an online game that you are interested in? Good because this is where gamers can give their opinions about different types of games such as Online RPGs, MMORPGs, Online Shooters, and Free Games.

If you don't want to leave a review, simply click on the link or the screenshot on a game's review page to go to its website.

Signing up is free and allows you to review games, post in the forums, and submit games for review. The forums allow you to ask questions, share tips, and discuss games after you have reviewed them. Let your opinions fly !.!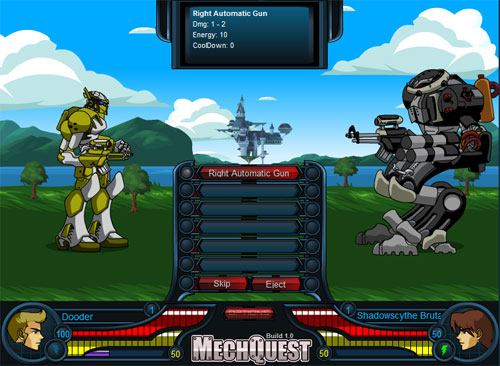 MechQuest is another free browser-based game made by Artix Entertainment (Adventure Quest). This game takes place in the distant future and is a fantasy giant destructive war machine battle game that has been heavily inspired by the art from every mecha & giant robot series ever created.

Total Rating: 5.83
Reviews: 24
Review Archive
Post Date: 19:26 08-01-2013
Rating: 6
Author: PolanWalker
Comment: This production is 2D Science Fiction browser MMORPG game with turn combat. We are pilots of mech and we must to fight with AI or ther players. First try with AI to level you machine and get some upgrades. While winning battles we earn credits that can be spended on new mechs or weapons. Each mechs have diferent fight style. One is good on long range and another in meele fights. Game is simple and nice. For me nice fun from playing. I rate this game 6/10.

Post Date: 03:29 27-08-2012
Rating: 5
Author: mangathowaway
Comment: this game can change a sci-fi RPG hater to an addict.really its just that good.Artix's games are always like that.i don't think there are any moderators in the forum who haven't played at lest One of the games.my first MMORPG I played was AdventureQuest.
now,the game is good.but I don't love it. I love sci-fi RPGs but this game is not enjoyable for me. I found the music really annoying and the gameplay is no better than Dragonfable.this game is really just dragonfable with robots and a different storyline and players in modern clothes.nothing else.so in my opinion this is one of the worst AE games ever.
but many might like it.

Post Date: 04:21 07-12-2010
Rating: 3
Author: champking5
Comment: This is a similar game like Adventurequest. But your using a big giant machine to fight evil. I'll give this a 3

Post Date: 23:14 05-12-2010
Rating: 0
Author: EcLuD
Comment: Guide "MechQuest"

1. Take the bulb and use it in the socket.
2. Take the book to the right of the shelves.
3. Take the tape cassette on the table and use it in the player.
4. Pump up the volume to maximum (red band) and drop a flashlight.
5. Use it to illuminate the poster, click on the poster until a date.
6. Return to the shelf and enter the code you read in the poster: 10/12/1906.
7. Take the key and escapes.

Post Date: 04:24 17-11-2010
Rating: 5
Author: Bombs away48
Comment: Pros: This game is funny and will keep you entertained, but other then that nothing is that good.
Cons: It has horrible graphics, and you have to be a member ship to do certain stuff.
(the reason this review is so short is because this game is pretty boring)

Post Date: 21:06 30-09-2010
Rating: 7
Author: Vocal
Comment: Like any other Artix game,the graphics look childish.Storyline is great with humors stuff.Also mini games which is fun and addictive.you can also join clans.The robots look even cooler.The battle system is like AQ.With many customization this game is great!.an 7/10

Post Date: 23:00 21-07-2010
Rating: 9
Author: kevow
Comment: much like dragonfable but kool and different moves, the mech styles are cool and there are thousands to pick from, a rich story line of good and evil, easy to hack game though, now downloads or any viruses, the star captians are a little bit over priced id say, this game maybe boring in the first few levels because your weak but when you get to your first planet its going to be a blast

Post Date: 12:24 22-06-2010
Rating: 10
Author: ken326
Comment: Very cool,but you can get lost with the story

Post Date: 09:02 17-05-2010
Rating: 6
Author: awesomedrako
Comment: Now, in the past, I would have said this was an awesome game. However, I have re-evaluated my opinions of Artix's games.

Gameplay: 6/10
The gameplay is much the same as Dragonfable or even Adventurequest's system. But it's a good system nonetheless, and it allows for some strategic gameplay. For that I will rate it slightly above average.

Fun Factor: 5/10
While the game is REALLY fun to play once you start out, after a while it turns REALLY grindy, and the world would start feeling very small once you've explored all of your areas. And you will probably explore most of the Mechquest world very quickly. For much of this game, you will be grinding on the same monsters over and over again, just to get XP and money. This is because there will be one monster/mission that gives the most XP or money, and you will grin those missions. And the levels don't come soon enough. It takes FOREVER to get up one level. While the game has a witty and funny story, it turns into a grind much too quickly, and the balance between grinding and actually HAVING FUN is tipped to the grinding's side. While plenty of these types of free online RPGs have grinding in them, Artis's RPGs generally rely on grinding far too much. For this, I will rate it average. It would be lower if the game didn't have that early funness and the usual ridiculous humour from the team at Artix Entertainment.

Graphics: 8/10
This is actually an area where I think the game is great. The game uses a 2D almost anime style of graphics. All the graphics are hand-drawn and digitized, and I really love the style. All the art is very futuristic and cool. And the mechs are awesome! It's not insane Crysis 3D graphics, but pretty damn good for a free 2D game.

Story: 7/10
Again, one great area of the game. The story is filled with humour, and it is built on every week. While the game's actual gameplay is boring, relying on grinding far too much, the actual story behind the game is pretty good. If they continue to build the story, then it could end up very deep as well. Certainly, I don't get half of AQ's story simply because it's been built into a really long one, and I'd have to do all the quests to find out about it. For now, it's very humorous, and it's got potential to be much more, because they build on it all the time.

Overall: 6/10
Now, the average of my scores isn't 6 out of 10. However, the game is being let down by a MAJOR part of it. This game is fun at the start, but soon the level of fun drops down. After a while, the game turns into a grindfest. And while the story is great, the game itself isn't too compelling, being let down by its grind.

All of Artix's RPGs rely on the grind, but seriously, they really should stop doing that. I don't know what they can do with the money they have, but DO SOMETHING to make your games less reliant on the grind! It puts off many players, and it put me off, even though I loved the other parts of your games! 6/10 for a low fun factor.

Post Date: 06:16 16-05-2010
Rating: 8
Author: Regret
Comment: I like giant robots and I think Artix did a nice job with this game. It was fun for a months. I was hooked in the beginning. I liked the combat system as well, even if it was just a turn based click system. I had fun using it because that's the kind of combat system that I love. The upgrades were just pure awesome as well because you could just quest for them and I looooved that! I've played Artix games from the beginning and I have to say that for a small company, this guy is pretty good.

Post Date: 23:38 15-01-2010
Rating: 10
Author: ice grim reaper
Comment: On of my favourite games in the browser.Mechquest has a very great gameplay from all the RPG or MMORPG out their.

Post Date: 18:08 23-11-2009
Rating: 5
Author: anymotion
Comment: Not a really great game, kind of stale gameplay and story But better than Adventure Quest, by a little.

Post Date: 12:59 23-11-2009
Rating: 7
Author: jd.emosmos
Comment: another game from Artix Entertainment.
I love the mingames(ghost catching,Hospital quests etc..)
Like other Artix Entertainment's games,only best when youre a member
Not the best mech game but is worth a try

i rate this 7

Post Date: 08:01 28-08-2009
Rating: 8
Author: kamastara101
Comment: i changed my opinion. this game has improved. adequate for a game. soz about last comment

Post Date: 08:08 25-02-2009
Rating: 5
Author: arnelvincent
Comment: Not bad and not good.


Post Date: 13:05 17-09-2008
Rating: 0
Author: damienrepton
Comment: well done artix,different game same mistakes.yeesh...

Post Date: 13:05 08-08-2008
Rating: 7
Author: killervickboy
Comment: okay i found this one to be the best out of the 3 games the heath was improved the graphics wer improved and although the fighting is still takin turns i like it cause now im fighting with giant customizable robots and yes thats how it got its name mech quest

Post Date: 07:09 22-05-2008
Rating: 10
Author: wrongleft
Comment: its ok man , alright its bloody fantastic.
U no with all the com game Pricy (60 over) this gives me the fill in while i save up me pocket money
I love sci-fi games and don"t usually play rpgs but this has changed me

For the record im a rts player
Blato aq and df were not bad, they have tons of users!

Post Date: 21:22 27-04-2008
Rating: 1
Author: Rob321
Comment: This game was pretty horrible i have to say. The graphics were ok. Not much to do in this game. character creation was bad and you had barely and choice in your looks.



Post Date: 02:58 23-04-2008
Rating: 5
Author: esme104
Comment: Its ok, not really my kinda thing but still ok.

Post Date: 19:48 10-03-2008
Rating: 9
Author: alyn
Comment: I really like MechQuest. People complain there's not much to do, but hello, it's not even officialy released yet. The build number is only 0.97 and it's only been around a few months. But the cool thing is, they update about twice a week, so there's always new weapons or suchlike. Pretty soon they'll finish Soluna City and there will be the big Star Ship Release!!! *excited* Just remember, it's still very new.

If you want a challenge, try ID# 6 in Assault Mecha... ;)

Post Date: 16:18 22-02-2008
Rating: 10
Author: the oerson who doesnt hate eve
Comment: its a good game if your not a stupid synic who doesn"t like breathing. so shut up Blato. its a great ame and sure it has problems, but with games where you just click and wait half an hour for your thing to happen as competition, artix entertainment do good. Also, weekly updates mean weekly updates for a game, not "we"re gonna immediately update EVERYTHING just for you in a bad condition cause youll just complain." Thank you.

Post Date: 03:52 10-01-2008
Rating: 3
Author: Badratings
Comment: Hmm... it"s alright... if you don"t mind doing nothing but pressing the same button over and over and over and over.

Post Date: 07:15 01-01-2008
Rating: 1
Author: Blato
Comment: i wish artix entertainment would roll over and die this company has already made 2 other horrible games that both also horribly stunk and this one is just as bad so please do us a favor artix entertainment roll over and die