Minions of Mirth
Review Directory Intro ...
Want to know what other gamers are saying about an online game that you are interested in? Good because this is where gamers can give their opinions about different types of games such as Online RPGs, MMORPGs, Online Shooters, and Free Games.

If you don't want to leave a review, simply click on the link or the screenshot on a game's review page to go to its website.

Signing up is free and allows you to review games, post in the forums, and submit games for review. The forums allow you to ask questions, share tips, and discuss games after you have reviewed them. Let your opinions fly !.!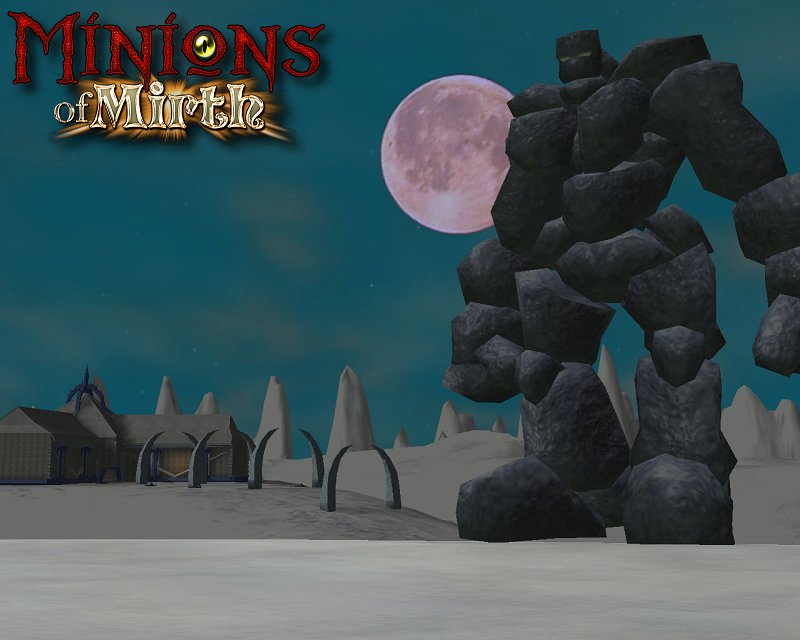 Offers both single player and MMORPG gameplay with no monthly fee.

Total Rating: 6.38
Reviews: 13
Review Archive
Post Date: 19:44 12-06-2008
Rating: 10
Author: Slyrr
Comment: brilliant blows runescapes graphics away and makes wow look bad i like how that you can become a monster and all 3 factions are allowed to go in a party


Post Date: 20:21 11-04-2008
Rating: 0
Author: Marz777
Comment: Ive played RTS's with more character development than this. combat isnt even animated. just as bad as rubies of eventude.

Post Date: 22:59 17-02-2008
Rating: 10
Author: Reelbigfish
Comment: Best game ever for mac players Premium makes it so much better plus ONE TIME PAY $30.00 FOR LIFE (Name on game Reelbigfish and Ulrix)

Post Date: 18:32 25-01-2008
Rating: 9
Author: Exidium
Comment: I have to balance these reviews. The 2 people who rated it at a 1, did so for clearly the wrong reasons.
The first person claims false advertising, but the website clearly indicates you can download a Free Trial, or pay a one time fee to play premium for life. So please disregard that review..
The second rating of 1 came from someone who couldn't follow the link that says free trial and download the version for their platform... So please disregard that 1.

Now I would like to say having played this game along with Shadowbane/Asherons Call/Asherons Call 2/Irth Online/Dark and Light/Oberin/MU/FlyFF/Rubies of Eventide/and others, I can confidently say this is one of the best.
New patches have been implemented that have drastically improved the game with a major patch coming soon that will add much. This game is not perfect, as it stands the playable monster quests are being worked on, but not all of them done yet. The lack of monthly fee and amount of playable races and classes, make this a great buy.

We definitely need more players in Mirth, so give it a try and welcome to the #1 Indie MMO!

Post Date: 02:22 21-01-2008
Rating: 9
Author: kite12
Comment: awsoeme game i recomend to players of runescape and wow cause this is better than both combined.

Post Date: 19:57 12-01-2008
Rating: 1
Author: Aedonis
Comment: I couldn't even get it to play! The websites not very user-friendly, and you have to wait for a bunch of downloads (unlike RUNESCAPE!!!). The only reason it gets a 1 is because from the screenshots, the graphics are good and I probably would like it if I could play it.

Post Date: 01:10 15-06-2007
Rating: 10
Author: MetalEd
Comment: I really like this game. It's a lot of game packed into a very small download. Try this game, you won't be disappointed.

Post Date: 02:51 20-01-2007
Rating: 4
Author: ilovegunzxP
Comment: This game just does not match its price. Sorry to say you'd be better off with guild wars.

Post Date: 09:34 16-01-2007
Rating: 8
Author: gimmeapenny
Comment: It's not bad, it's if pre luclin eq wasnt as good as it was. And this is what it came out to be. I had fun when I played it.. this game deserves a lot more then a 5 for a rating

Post Date: 03:48 04-01-2007
Rating: 10
Author: mr.yumyums
Comment: i enjoyed this game thoroughly. it may be your average fighting mmorpg. but its good! i got really hooked. to bad you can only get to lvl 20 before you have to buy the thing. i wanted to buy it so bad. but my parents said no =[. its not a big download. if your computer cant download this in 4 hours or less. you need a new internet connection or computer. well i suggest giving this game a try!

Post Date: 22:17 14-09-2006
Rating: 1
Author: CodeDog
Comment: As apposed to what they advertise the full game is not free to use, only the limited demo up to level 20, on the demo server with a subset of the races can be played for free. You must buy the game in order to level up to 100, multi-class and log on to the real servers.

If you do buy the game the level 20+ game is radically different from the under 20 game. The level progression slows to a grinding crawl and gear repair costs go up by a factor of 10 and customer support disappears once they have your money. Over level 20 the quests dry up. The game has a very unfinished feel and it's obvious that the only thing they are concerned with is enticing the under 20 free players to buy the game.
They like to talk about all the monster templates you can play if you buy the game but once you get one and travel to the other side of the world on foot to monster town you find that in fact the "town" is nothing but a blank area on a hill side with a few monster NPCs standing around. No quests, no buildings, nothing just an empty area with a banker and trainers.

Every patch brings nerfs to the paid players and there are NO refunds.

The game is better than a sharp stick in the eye but not by much.

Post Date: 09:44 20-06-2006
Rating: 4
Author: Mr. Peel
Comment: Yea, its free but terrible graphics and a useless interface.

Post Date: 09:32 22-05-2006
Rating: 7
Author: AskMe
Comment: Not bad, but I prefer Guild Wars a little more.