Monster and Me
Review Directory Intro ...
Want to know what other gamers are saying about an online game that you are interested in? Good because this is where gamers can give their opinions about different types of games such as Online RPGs, MMORPGs, Online Shooters, and Free Games.

If you don't want to leave a review, simply click on the link or the screenshot on a game's review page to go to its website.

Signing up is free and allows you to review games, post in the forums, and submit games for review. The forums allow you to ask questions, share tips, and discuss games after you have reviewed them. Let your opinions fly !.!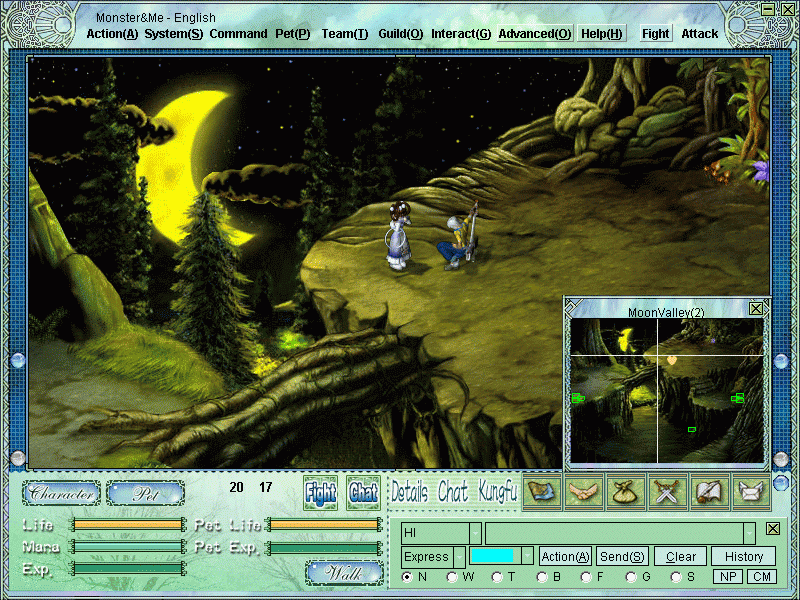 Welcome to the world of Monster & Me, a Massively Multiplayer Online Game (MMOG). You and your treasured pets are about to begin an amazing journey into the mystical Eastern land, filled with danger, excitement and fun. You decide your own path, do you want to become God? Or perhaps you would prefer to be an evil Devil, making those who stand before you tremble at the knees. You can fight alone, or team up with friends to battle the monsters that roam the lands together. You can catch any pet that takes your fancy, raise it and evolve it to create the ultimate fighting machine.

Total Rating: 5.13
Reviews: 23
Review Archive
Post Date: 01:13 04-02-2010
Rating: 10
Author: BLeung
Comment: This is actually a pretty good game once you get used to it. I just like the pet system in the game.

Post Date: 23:26 04-10-2009
Rating: 10
Author: Blackfire99
Comment: I love this game it is very fun.
If u would like to find me my name is Blackfire99.

Post Date: 07:52 20-11-2008
Rating: 0
Author: Sashiku
Comment: I got to level 110, and still had absolutely NOTHING to do. It is a waste of time. Definitly so.

Post Date: 04:26 01-05-2008
Rating: 9
Author: kiraXD
Comment: This was actually one of the mmorpgs that got me hooked onto. The pet system is awesome. There is so many pets you can get. Only thing is that you cant customize your character. The battle system is boring but thats why you have bots for that =P...even though i quited now because i got scammed. The community is also very good cept some ppl.

Post Date: 03:10 18-11-2007
Rating: 0
Author: XRultima
Comment: Graphics are okay for a 2D side scroller.. but game gets SO BORING if you dont pay real life cash for some cash shop items.

0/10

Post Date: 04:35 02-01-2007
Rating: 4
Author: Ruthix
Comment: I havn't played yet but what gets me is that all of you keep saying the graphics are bad but from the screenshot they don't look horrendous, or even that bad at all. Ill admit they need some work. But what i dont understand is this whole pet game rising thing. there are alot more games all of a sudden where you can train pets and stuff and that sounds cool but its becoming to non-original. from what i see and have heard ill give it a 4 but that may change after ive tried it.

Post Date: 06:05 12-11-2006
Rating: 1
Author: helamos
Comment: A pointless game with a bad combat system. Although it is free, which is a perk, it is really not worth your time because the fighting is incredibly boring and the best way to level is with bots. There really is nothing here that hasent been done before except the whole pet thing, that may be the only truly origional feature in this game.

Post Date: 02:09 06-11-2006
Rating: 5
Author: monsteroids
Comment: It's cute and a good cure for boredom(unlike Conquer) but the chars are not realistic and some of the men look very... ladylike shall we put it. I got rid of it for RANonline.

Post Date: 02:34 03-11-2006
Rating: 4
Author: KayMaster
Comment: Bad,the only way to become the strongest is to hav a high defense and atks.mosters...all the same with differnet colors and lvls

Post Date: 18:36 30-09-2006
Rating: 1
Author: Hitman47
Comment: Like gamerdude said that tqdigital made this game and made conquer which is cool but whats more superising iis that there still advetising on conquer it but but not advertising hreo online which rocks but laggs ALOT!!!!~!!!!!!

Post Date: 16:16 14-08-2006
Rating: 2
Author: gbwong
Comment: Waaaay too childish!

Post Date: 03:08 25-07-2006
Rating: 10
Author: aduey
Comment: Very nice game,I like it so much:)

it is a good free mmorpg~~

Post Date: 13:35 18-07-2006
Rating: 3
Author: leon121
Comment: kinda good anime stly graphics.
a Turn based battle mmorpg i eversaw.
etc, to me it gets boring fast.

Post Date: 21:34 25-06-2006
Rating: 0
Author: gamerdude
Comment: I tried to like it. really.and i failed miserably. ok first off, you start.bad graphics.you move your character around and click on the guy,etc.etc.and you go to the next room.loading---............
2 hours later.....finally!im there!time to get a pet and fight!walks one inch....loading.....the battle system is really bad. you pathetically do what is supposed to be a attack and poke the monster.click.oh no!u died.. respawn-loading.......i could mention a million cons to this game, but to save your time,dont download it-bottom line.
i cant believe tqdigital made this garbbagey game and made conquer online which rocks

Post Date: 18:29 24-06-2006
Rating: 3
Author: GaMe CrItIc
Comment: very, very kiddish looking lol, not so great graphics, not too great of a game really, i give it a sad 3

Post Date: 00:08 21-06-2006
Rating: 2
Author: Dr_Review
Comment: To be honest, it's taking me 3 hours just to download this... game with cruddy graphics! How could this un-fun looking game take that long to download?! How many files are in here? It takes me just 1 hour just to download Maplestory, Gunbound, Flyff! And Gunz only takes 16 minutes to download... That's my honest opinion.

Post Date: 13:57 14-04-2006
Rating: 4
Author: kill jarjar
Comment: whats whith the 10s this is screaming with kid ideas and the pets die like in 2 days

Post Date: 12:14 14-04-2006
Rating: 10
Author: GameReviewer
Comment: i played it so its good

Post Date: 11:24 06-04-2006
Rating: 10
Author: MrMonkey
Comment: Well, I totally love this game! Its awesome, very unique and very interesting. I have listed the Pros and Cons below.

Pros:
Unique storyline which I have enjoyed so far. Catching pets, regular events & updates make the game a must play in my opinion.
There are also other skills including wuxing (crafting but you can also craft pets together!), thievery and kung fu. You need to be in the circle to use thievery and kung fu. The chat system is ok and there are quite a number of skins. The community has been very friendly and I have heard of only one scammer so far, unlike most other games (I have been playin for a month now). The boards are helpful 24 hours a day. If your new and you ask any questions, they are answered by another player or by a Moderator. Many quests, you can marry and build houses.

Cons:
Not much. The graphics aren t the best, BUT the game is free. Earning GOOD money takes a while too.

Basically a unique game, with more to do than you can think of!

Post Date: 21:27 21-02-2006
Rating: 3
Author: Backo
Comment: Well if your looking for a good "kids" game this would be it. Not for me though.

Post Date: 00:15 12-02-2006
Rating: 10
Author: lexusssss
Comment: Love it. Great game!

Post Date: 01:56 04-02-2006
Rating: 9
Author: jubei
Comment: Gives you a ton of stuff to do and I like the story.

Post Date: 11:09 26-01-2006
Rating: 8
Author: Pellnell
Comment: Not the best graphics in the world but a very fun MMORPG.