Ninja Wars
Review Directory Intro ...
Want to know what other gamers are saying about an online game that you are interested in? Good because this is where gamers can give their opinions about different types of games such as Online RPGs, MMORPGs, Online Shooters, and Free Games.

If you don't want to leave a review, simply click on the link or the screenshot on a game's review page to go to its website.

Signing up is free and allows you to review games, post in the forums, and submit games for review. The forums allow you to ask questions, share tips, and discuss games after you have reviewed them. Let your opinions fly !.!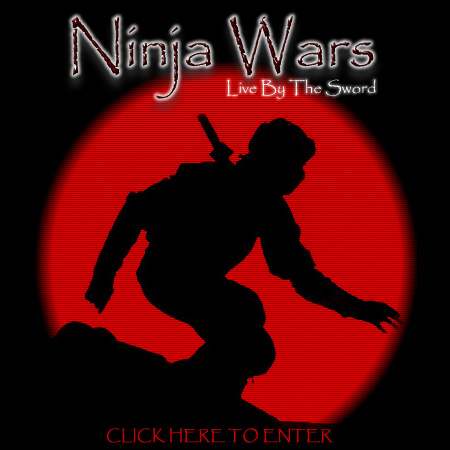 Ninja Wars is a web based role playing game where the player assumes the role of a Ninja. In Ninja Wars you will battle against other ninjas and ninja clans for money and rank.

Total Rating: 3.94
Reviews: 18
Review Archive
Post Date: 15:26 13-10-2009
Rating: 5
Author: ninjawarstchalvak
Comment: Ah, I forgot to add that the place to let me know of things you liked or things that need improvement with the game is on the forums here: http://forum.ninjawars.net

Post Date: 15:43 01-10-2009
Rating: 8
Author: ninjawarsTchalvak
Comment: Lets see:
We are working on improving the way the game works (I code the game in my free time, though I didn"t found the game, and a lot of the ways that the game works, I agree, aren"t interesting enough yet.)
Lately, I"ve opened up 5 or so more skills for all classes, a few more npc encounters, and started the long process of cleaning up the legacy code and the look of the game, and making it faster with more javascript & less load times.

Coming changes will include: Increased quests/npcs, a change of the "look" of the game, overhaul of the chat so that it refreshes automatically, and increased importance of clan efforts over just solo fighting.

It"s a process, but changes are being coded daily, and put into the game every week or so, so expect the game to change from what you may have seen in the past.

Whether you find ninjawars to your liking as a game that you want to play for a while or not, I would love to hear feedback about what parts to improve, what to have more of, etc,

Post Date: 23:45 22-07-2009
Rating: 0
Author: jeremy725
Comment: talk about suckish lame and uncool thats just me

Post Date: 05:31 17-10-2007
Rating: 0
Author: j-dragon
Comment: this game completely sucks.i agree with TrueGamer on how long it takes to load.The graphics suck,if thats what you want to call them.no actual characters,and the combat sucks

Post Date: 01:42 23-08-2007
Rating: 0
Author: TrueGamer
Comment: Completely Stupid....i fell asleep playin this for about 2 minutes...and to attack someone you have to wait HOURS t... WHAT IS UP WIT THAT??

dont play this stupid game...

Post Date: 23:29 12-08-2007
Rating: 1
Author: royalfrost
Comment: This game is eally lame! No acctual graphics,just pictures! No acctual characters either. Used to play and logged off in 2 minutes! LOL!

Post Date: 02:44 18-12-2006
Rating: 0
Author: no one you know
Comment: graphics:0/5(it only shows the target),combat system:0/5(turn based[usually its not that bad but in this case it is]),community:0/5(there is none),chat system:0/5(you have to refresh the chat interface). THIS GAME WAS HORRIBLE!!! I'm not saying
this to decrease competition it really is that bad!


Post Date: 00:38 02-12-2006
Rating: 0
Author: murfyy
Comment: this is the most boring game, you cant play it, its just not fun, its pointless

Post Date: 01:02 27-11-2006
Rating: 5
Author: dragonknight7645
Comment: its okkk

Post Date: 01:38 08-10-2006
Rating: 0
Author: Splintakill
Comment: I hated this game. Combat was pathetic. The makers really blew it on this one

Post Date: 20:52 06-10-2006
Rating: 0
Author: Andyman
Comment: I personally do not like this game... it has no actual characters and the combat is lame...

Post Date: 00:53 02-09-2006
Rating: 8
Author: Sparton297
Comment: AWSEM.i like it...but people log off FAST but the games still coolio.i rate this a silver 8

Post Date: 18:14 25-08-2006
Rating: 8
Author: wraith654
Comment: AHHH, i cant wait this long for the comfirmation e-mail (maby im just impatiant) o well i think it worth a look/try there are quite abit of players i dont no what that other guy waa talking about!!!!

Post Date: 05:10 05-08-2006
Rating: 9
Author: Glassquid
Comment: Has some fun little quirks, nothing fancy, but it is apparently being improved more now.

Post Date: 21:46 16-06-2006
Rating: 0
Author: selfstudybuddy
Comment: There are no active players because everyone leaves after 1 second of playing. I rate this game a solid zero.

Post Date: 16:53 07-05-2006
Rating: 7
Author: PersonalRaptor
Comment: This game is well balenced out, and you get a fair-amount of player's on everyday. The only thing quite bad, is the long wait for the Comformation E-Mail

Post Date: 02:47 16-03-2006
Rating: 10
Author: VladimirIII
Comment: This game is great!

Post Date: 00:24 26-01-2006
Rating: 10
Author: dragonspiner
Comment: none