Online Boxing
Review Directory Intro ...
Want to know what other gamers are saying about an online game that you are interested in? Good because this is where gamers can give their opinions about different types of games such as Online RPGs, MMORPGs, Online Shooters, and Free Games.

If you don't want to leave a review, simply click on the link or the screenshot on a game's review page to go to its website.

Signing up is free and allows you to review games, post in the forums, and submit games for review. The forums allow you to ask questions, share tips, and discuss games after you have reviewed them. Let your opinions fly !.!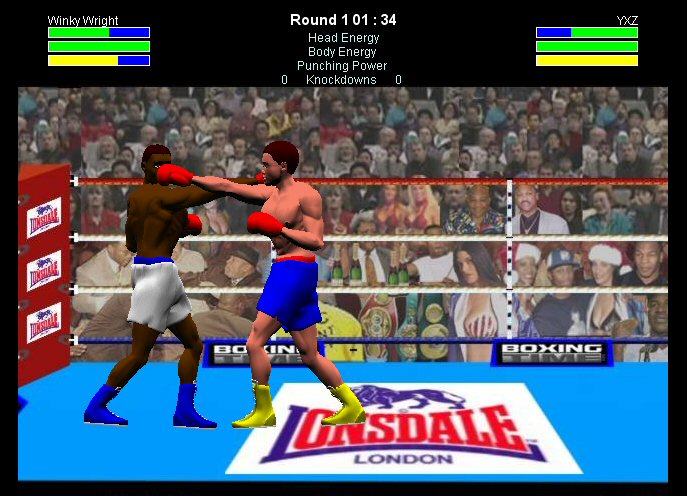 Online Boxing is the first massively multiplayer realtime boxing game on the internet. That means fast, action paced fights with all the elements you see from real boxing: Knockdowns, KO's, decisions, split decisions etc. You will find yourself in all kinds of fights, from pure strategic boxing matches, to all out brawls. And all against live, human opponents that will actually box intelligently and adapt to whatever style you decide to use. If your a boxing fan, this game is most definitely for you! Apart from exiting boxing matches Online Boxing features a highly sophisticated rating system (with three sanctioning bodies and regional titles), complete record tracking for all fighters, singleplayer mode, live audiences, viewing of old fights and much more.

Total Rating: 5.67
Reviews: 15
Review Archive
Post Date: 20:17 11-12-2014
Rating: 2
Author: Garagos
Comment: It ain't type of game that I am lover... I'm not satisfied with game... It could be a little better, more fighters, more arenas and more types of game :)

Post Date: 09:26 10-08-2014
Rating: 10
Author: ivekvv256
Comment: It's a cool game to play when you are bored, or you want to take some time off another game. All you needa do is knock out the other guy. As simple as that, but it's also very complicated to do so, since he will fight well too. Graphics aren't so good, but it's an awesome internet game, and becouse it's an internet game it's got pretty good graphics. My rating is 10/10. :)

Post Date: 06:14 24-06-2014
Rating: 4
Author: Aki013
Comment: Well this box i don't like because 2D graphic and low health bar. 4/10

Post Date: 12:54 16-06-2014
Rating: 1
Author: 420Hairlyman
Comment: First and probably the last realtime boxing game which you play against other players on the internet. I must say that am not a huge fan of boxing and I found this game quite boring and unsatisfying.

Post Date: 01:08 06-12-2013
Rating: 8
Author: keller07
Comment: I gave only 8 because when I played this game I lost interest. But it is good to play. It have good graphics and nice game.

Post Date: 23:54 07-05-2013
Rating: 5
Author: BoxingFan
Comment: This is a good game, graphics is a bit limited but you can play against other players online..and in real time, and I do mean real time..unless your connection totally sucks it will be like you play lan, even when you fight people from other countries.
Like I said graphics is not the best but gameplay and everything else is real good..I think you should be interested in boxing though before you find this appealing.
There is absolutely NO arcade feel over this, it's about outboxing and outsmarting your opponent.
I played this game for almost 2 years, some there played for +8 and you have no chance in hell of beating them in your first 2000 fights or so lol.
Pros:
Online game play
Active community, not too big though.
Realistic gameplay, close to real boxing, that might actually be a con if you're not into boxing.

Cons:
Developer seems not interested in developing this game any more, since he has begun a new game..called 3dboxing.com..everyone on this game hates him for that but what can you do..
Not too good graphics, reminds me a bit of an old Commodore 64 game..actually some late C64 games had a lot better graphics, but developer says himself he is not a graphics designer and this is the best he can do without help.
No single player:Bad since you will have to endure the frustration of getting smashed by seasoned players, unless you find another noob online.

Conclusion: it has a lot of potential since boxing games on PC and Mac are non-existent. The potential however is unfulfilled due to lag of marketing efforts from the developer, and perhaps lag of funding.

The fact that some players still play the game after 8+ years or so should prove it has some longevity..
Boxing is a difficult sport to simulate accurately, many have tried and failed, at least IMO. Boxing is about subtle movements and well timed counter punching..
And so far none of the other "big" production games, Fight Night etc, has not truly captured the tricky nature of boxing like this game has.
You can feel that the creator has put his heart and sould into this game, and is not just out to make a quick buck (it's free anyway).
All in all a real good, and a bit but underrated, game for boxing fans.









Post Date: 06:37 28-04-2013
Rating: 7
Author: Mordekaiser
Comment: Pretty fun online game graphics are good but not the best the goal of this game is to beat the other player in a boxing match if you win at doing that you are awesome if not you suck simple right well it is if your not a noob i rate this game 7/10

Post Date: 05:41 16-04-2011
Rating: 5
Author: sasuke24
Comment: Fun and enjoying game. But the game lack graphics.

Post Date: 16:32 09-04-2011
Rating: 4
Author: Adrian
Comment: For being online I guess its okay, the graphics are well...browser graphics lol. Not a lot of people play this though.

Post Date: 07:08 09-04-2011
Rating: 7
Author: EcLuD
Comment: It looks good, good movement of fighters and online! I like, your graphics are not the best, but entertaining. 7 / 10


Post Date: 21:50 03-12-2010
Rating: 6
Author: champking5
Comment: I seen this game when my brother was playing, so I tryed to play it. It was alright, the boxing and the punches were alright on it. I might play it today ;)

Post Date: 01:20 24-09-2010
Rating: 6
Author: RandomZ
Comment: A few things to keep in mind
Graphics - no no
The fact that it's an online game - fair enough
Flexibility - considerable.
6/10 for it

Post Date: 02:15 03-03-2009
Rating: 7
Author: darkem
Comment: The graphics and the game play look o.k

Post Date: 04:57 03-08-2007
Rating: 8
Author: Racero
Comment: Doesnt have to be the best game ever! How many boxing gamesthat are online do you know? Exactly. Not perfect but dont know a better one either.

Post Date: 21:03 25-07-2007
Rating: 5
Author: wiz13
Comment: well to be honest it has potential. when i played it wasnt the best game ever