RPG World Online
Review Directory Intro ...
Want to know what other gamers are saying about an online game that you are interested in? Good because this is where gamers can give their opinions about different types of games such as Online RPGs, MMORPGs, Online Shooters, and Free Games.

If you don't want to leave a review, simply click on the link or the screenshot on a game's review page to go to its website.

Signing up is free and allows you to review games, post in the forums, and submit games for review. The forums allow you to ask questions, share tips, and discuss games after you have reviewed them. Let your opinions fly !.!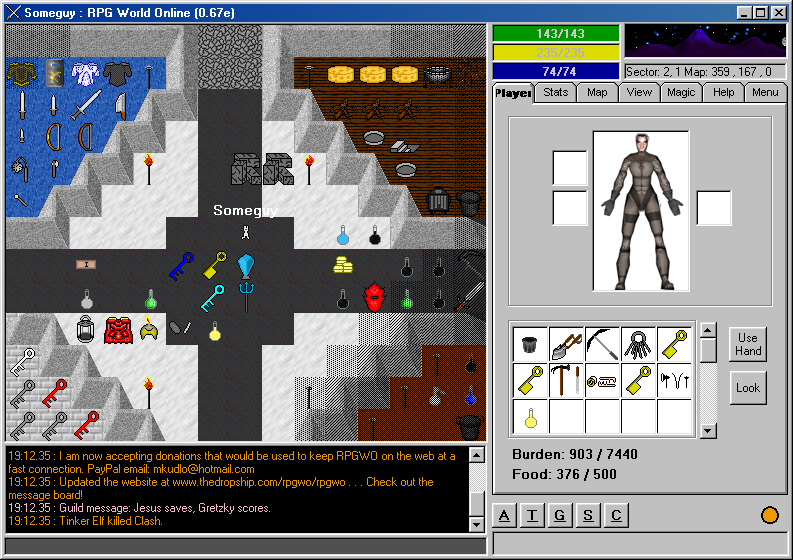 RPG World Online (RPGWO) is an online, persistent, massively multi-player role playing game. It is written entirely in Visual Basic and uses API for graphics and Direct Sound for sound. It is a dynamic world. Maps can be changed and all items and such can be made and/or destroyed. An empty world in which players can build it the way they want!

Total Rating: 7.00
Reviews: 18
Review Archive
Post Date: 14:14 07-10-2009
Rating: 10
Author: Mysti
Comment: This is the game to play!! Sure it's old 2d but the gameplay more than makes up for it. Soooo many skills! Huge world, tons of monsters and so much to do its unbelievable. You can mine, blacksmith, farm, fish, alchemy, masonry/stonework, carpentry, jewelry making, locksmith, etc. You really should go check it out!!

Post Date: 17:29 30-03-2008
Rating: 10
Author: bamarg
Comment: guys just give this game a chance!! u do whatever u want to do in this game!! never judge a book by its cover guys cmon!! this game roxx!! ive been playing for a year ish.. yeah the gfx suck but who rli gives a damn? its the gameplay tht we all love!

Post Date: 05:58 03-02-2008
Rating: 10
Author: Terra Schnitzer
Comment: wth?!?!? =/
First, You can build anything you want!
It's not like any game!
Try Orion server it's modern!
Lots of guns! Skills! Monsters! Quests!
Not to mention you can make it fun as you want!
For instance... Stealing Operations XD bombing the house and jack in the loot! PVP you can also track down! Lock chests so could not be stolen, Farm for food, Craft weapons, armors and make potions, food. Fishing, Hunting!
Heck this game is everything a players wants it does'nt lag, great comunity!

JUST MAKE SURE TO JOIN ORION SERVER!
Download is easy... Even my 6 years old brother can figure it out, download the game client it's really a small download then zip the files into a folder named Client. Start the game and wait for the updates may take like 10 mins max, just make sure when you start the game to click to join orion server and voila their you have it! It's the bomb i tell you! Try it out the download is only 2mb Nothing big to handle 3 mins download and your in.

Post Date: 03:28 06-01-2008
Rating: 0
Author: Voodism
Comment: Look at it.its everything you can do on runescape just 10x worse. If you want a good RPG just buy WoW.

Post Date: 06:33 09-08-2007
Rating: 1
Author: bobgoober
Comment: Don't know. I tried to play it and it wouldn't connect to the internet (DSL).I tried to get help and noone answered, the only reason I'm giving it a 1 is because it looked good and I think I would have liked it if it would let me play it.

Post Date: 15:34 01-08-2007
Rating: 10
Author: xzgamer
Comment: now i havent played this game yet but from some reveiws and screen shots i think it sound GREAT!!!so im gonna download it so wen i do my player name will probably be ColdKnightX
(if it works) plz help me if i sign up!!!(also yea i give ten cause this game sounds killer)

Post Date: 05:41 20-06-2007
Rating: 10
Author: Lady Ever
Comment: This is an awesome game! The staff is friendly and is always asking for new ideas for quests and items. How many other games can you design a quest for and have it added? or come up with an item and how to make it, and it gets added? Each server is completely different and run by different staff, so even if you get tired of 1 server and want a break you can go to another server and have new and different skills and items. get to own land, design and build your own house, learn farming, cooking, alchemy. you don"t have to fight all the time, there are other skills. Most servers run community events. Just try it, you might become addicted.

Post Date: 21:58 20-01-2007
Rating: 10
Author: e8792m
Comment: Ello there! I've been playing rpgwo for a few years, and my opinion? (Obviously positive if I play the game)
-The community is great, and it provides one of the best places to chat I've seen.
-The graphics look bad to others... But I actually love them. =/
-Claim land. Build a house. This world is completely customizable.
Other random reasons to love the game:
-Its not that big, so it reconizing eachother can be alittle nice.
-You can tame monsters.
-Diffrent servers with diffrent things, such as the modern server(s) and player killing server(s)!
-100 diffrent images and your starting image to choose from that represent your character (starting image shows what your wearing).
-MAGIC! (This is indeed using runes, but runes do NOT belong to runescape, if you google 'runes' you shall see so.)
-Interact with staff. Theres almost always an admin or two around, and you can complain directly to them! Horrah!

Reasons to hate the game (I don't agree with most of these):
-'bad' 2d graphics
-The game isn't huge.
-...I can't think of a negative. o.o

Anyway, this game shall forever be in my heart, and I strongly suggest you try it. I don't give a 10 to just anything. >.>


Post Date: 18:21 04-01-2007
Rating: 9
Author: 19jake93
Comment: First of all i would like to quote theese two 'reviews'
1."come on, r u blind? the screenshot shows it all." - Did you actually play the game? Whats the point on reviewing a game you didnt play?

2."I Haven t been on it but it looks bad" - The person who wrote this is the most nieve person ever.

My View.

I think it is an enjoyable game which offers many features. The graphics could be better but the gameplay makes up for it. I feel that it does need one or two improvemants, however.

Bottom line: If you care about graphics, stay away if not enjoy this great game.

Any newbs on xeres /mailsend me for help on either 'Trade Man' or 'Orion Daekfall'

Post Date: 06:27 08-10-2006
Rating: 6
Author: Splintakill
Comment: This is an alright game.
NEVER judge a book by its cover

Post Date: 18:43 27-05-2006
Rating: 7
Author: leatherfur
Comment: All I can say is that you can judge a book by its cover. In this case in point, a screenshot. It may look horrible from the eyes of a rookie but it is the game that counts. I think the most important is the plot. The graphics are also a major but its a free online RPG. Most of them wouldn't even have graphics. Most are text-based. If you perfer that, thats fine.

Post Date: 09:53 03-05-2006
Rating: 10
Author: toadagon
Comment: great game play it if you havent youll forget the graphics and will like it...just like the first mortal kombat it had horrible graphics but everyone still loved it. Thats what i dont get about you people just try the game and give it atleast 1hr to get hooked

Post Date: 17:31 11-04-2006
Rating: 2
Author: Saber
Comment: looks very bad very bad its like a clone of runescape

Post Date: 08:25 28-12-2005
Rating: 10
Author: Havoc23
Comment: none

Post Date: 01:27 11-12-2005
Rating: 10
Author: The D
Comment: A completly wonderful game, despite the graphics. It has a well thought combat mechanics etc. it has a loads of skills plenty of spells and tons of challenges. It has a very friendly comunity which makes the experience even better

Post Date: 01:48 11-11-2005
Rating: 1
Author: Dirge
Comment: come on, r u blind? the screenshot shows it all.

Post Date: 10:48 22-08-2005
Rating: 4
Author: ash356
Comment: I Haven t been on it but it looks bad

Post Date: 02:11 28-11-2004
Rating: 6
Author: Altor
Comment: Not that good imo.