Robot Rage
Review Directory Intro ...
Want to know what other gamers are saying about an online game that you are interested in? Good because this is where gamers can give their opinions about different types of games such as Online RPGs, MMORPGs, Online Shooters, and Free Games.

If you don't want to leave a review, simply click on the link or the screenshot on a game's review page to go to its website.

Signing up is free and allows you to review games, post in the forums, and submit games for review. The forums allow you to ask questions, share tips, and discuss games after you have reviewed them. Let your opinions fly !.!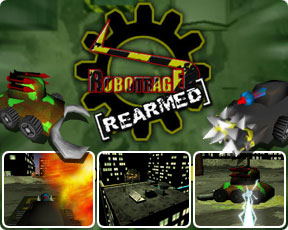 Build the best robot you can. Win battles to earn points and use points to buy upgrades. Take on the world.

Total Rating: 5.26
Reviews: 38
Review Archive
Post Date: 10:20 24-06-2014
Rating: 2
Author: 420Hairlyman
Comment: Decent and interesting online flash game. You build your own robot and upgrade it with weapons as much as you can. The goal is to win battles to earn points which can you later on spend to equip your robot. This game is nothing special, graphics are quite lame and there's a lot of bugs that I've encountered.

Post Date: 23:59 07-05-2014
Rating: 3
Author: nikiwild
Comment: I dont like this game very much. Not interesting.

Post Date: 06:42 28-04-2013
Rating: 6
Author: Mordekaiser
Comment: This game takes me back abit i used to play this alot there were so meany options players and upgrades its also very easy to learn and not very graphics demanding not saying graphics are bad but not saying there good either i rate this game about 6/10 for the leveling being slow money earning slow and alot of bugs but if you get passed all that its very fun :D....

Post Date: 12:32 17-07-2012
Rating: 8
Author: PolanWalker
Comment: Simple and play able game. Very good idea with meny options to choose. We can do almost everything :D 8/10 from me ;D

Post Date: 22:38 18-06-2012
Rating: 10
Author: RRLobbyChat
Comment: Superb game with bad hosters, game owners started killing game in 2007 and now they have almost finished the job.
The only way to still play is non-offical Robot Rage Lobby Chat - http://rrlobbychat.com

Post Date: 12:04 30-06-2011
Rating: 8
Author: cooldude671
Comment: I like this cool robot game:)

You should try it.

Post Date: 06:56 08-05-2011
Rating: 5
Author: sasuke24
Comment: One of my favorite game. The graphics is poor though.

Post Date: 16:37 09-04-2011
Rating: 7
Author: Adrian
Comment: Great flash based game, the graphics are surprisingly crisp despite the fact that it is browser based...7/10.

Post Date: 07:05 09-04-2011
Rating: 7
Author: EcLuD
Comment: Very interesting, most original game! like me, fight and win! to improve our robots! something simple images, but is very entertaining. 7 / 10


Post Date: 01:24 24-09-2010
Rating: 4
Author: RandomZ
Comment: Good things : Fun fighting game because you get to use vehicles armed with weapons and fairly ok graphics. Fun at the start.

Bad things: Cash items pawn the whole game. Many hackers. Gets bored after a while. Not a game you'll really choose to play, considering the number of MMOs out there

Post Date: 19:53 27-07-2010
Rating: 5
Author: --.aldo.--
Comment: its a good game though theres a point where you cant get any more things and game becomes bored with the same weapons and the same bot so you will have fun with this game some days but will become a bored game so fast...

Post Date: 16:58 02-10-2009
Rating: 10
Author: jork
Comment: The best game ever
New version of the game is coming out soon, so keep playing don"t miss a chance to be one of 1st in the new version

Post Date: 23:07 11-01-2009
Rating: 5
Author: alistaly
Comment: It was an ok game at the start but later you will find out that isn't that good at all. Now the game has got even worse though becasue when ever you play there are way to many people who pay for good as items making the game less fun for all except for the ones who are willing to pay. The game still has some mad items that are for non-chash players but still doesnt make up for the cash items. This doesnt have the best graphics either but unlike other it doesnt really wreck the game at all. All in its an ok game but i would preffer t o play something else like a good browser based RPG.

Post Date: 21:08 27-04-2008
Rating: 6
Author: Rob321
Comment: this is pretty cool game that'll have you entertained for about 2 weeks. you can decorate your bot and equip weapons. Its very easy to hack though and you see low levels with the best stuff.

Graphics- 6/10
Options- 6/10
Fun-7/10

Post Date: 20:23 11-04-2008
Rating: 4
Author: Marz777
Comment: actually not bad for what it is. just a small deathmatch game. really not bad for being so small. No downloads either.

Post Date: 10:56 25-07-2007
Rating: 5
Author: limbo dude
Comment: robot rage is alright i had everything even super weapons and it got boring after a while am i right peoples and now i play runescape and i think it is a bit better then robot rage i give it 5/10 i think its an average game don't you agree and im not knocking the game i just like runescape a bit better arn't i right peoples so i rate it 5 out of 10.

Post Date: 01:02 13-07-2007
Rating: 0
Author: dimitriz
Comment: THIS GAME IS SO LAME IT GAVE YOU PEOPLE GAME CANCER. someone told me like 2 years ago. they erased the chatting.

Post Date: 18:11 28-02-2007
Rating: 0
Author: Vhs321
Comment: hey, if you want a game where you challenge someone, and they respond in the first half hour, RUN AWAY....RUN AWAY NOWWWWW graphics kinda stink also, only + is the individuality of the players.

Post Date: 16:48 06-01-2007
Rating: 0
Author: Mr. MMO
Comment: There is only 1 arena, all of the players seem to want to scam you, and the worst part is that in order to get any good weapons at all, you have to pay real money!!! Not worth your time in the least.

Post Date: 01:39 01-01-2007
Rating: 4
Author: oddone65
Comment: i wouldnt say this is a rpg...its more of an action game....and u have to buy stuff with real money to get really good weps... so i give it a four out of 5

Post Date: 02:29 09-12-2006
Rating: 6
Author: itachi505
Comment: this game is good, very good upgrades but the fact that it only has 1 arena stinks.........i give it a 6

Post Date: 05:02 05-12-2006
Rating: 1
Author: vortexbig
Comment: This game, has some awsme upgrades, but they only come when you purchase the uper packs, which, in my opinion, int worth it. i purchased both packs, and it reall makes the winning and losingto .funless, becaue eithr you wipe them out completely, or justhave an average battle, which in most cases, is the most fun. thre are some cheats for the game, and they involve money, but wo to ye who use it, because of a anti cheater progrm in the game, that shuts down your robots weapons.in short, this gme is a sad gam,mostly because there is no chat.

Post Date: 18:43 10-10-2006
Rating: 5
Author: Zariron
Comment: 5/10 Pretty boring after a while tho. the one arena thing stinks


Post Date: 01:53 08-10-2006
Rating: 6
Author: Splintakill
Comment: I remember this game!
Everybody kept kicking my butt!
GREAT FUN!

Post Date: 10:25 17-09-2006
Rating: 7
Author: zirconium
Comment: Good fun, hard to get started initially but once you have won a few fights it gets better. People who donate win easily due to extra weapons, its possible to deliberately lose to remain a low level, so that you can continue getting easy wins and building up money. Gets boring after time and your bots delete if you dont enter them enough. Tip: When you start out, sell your 4 wheels and buy 3 wheels, that earns you money. Buy a dagger for a weapon and an extra battery. Then just run away from the enemy in the fights because your battery will last longer :) and you can win.

Post Date: 14:53 24-08-2006
Rating: 4
Author: Viewer06
Comment: not bad game,but when you have like the best robot its just boring as hell its a ok game so i give it a 4 out of 10

Post Date: 19:14 07-08-2006
Rating: 0
Author: kashi-zoa
Comment: boring 1 arena and alot of scammers.

Post Date: 15:36 12-07-2006
Rating: 3
Author: darkons_vengance
Comment: ok but it takes a looooooong time to get good stuff and usaly by then ur unseprable from the game or dead bored but it has pretty gewd graphics you cant move when your typing (unless they made it so you can) and when ppl actualy do talk its usaly insulting thats why i give it a 3 †µÃ†§ ‡†

Post Date: 02:06 12-06-2006
Rating: 6
Author: haRpSy_kId
Comment: Robot Rage is a kool game where u create robots and fight others to earn more money the more money u get the more stuff u can buy for ur robot.
The down side is there is only 1 level which is on a roof. iv'e seen better games but you should try it out.

Post Date: 18:22 22-05-2006
Rating: 2
Author: SelfStudyBuddy
Comment: Cool Concept but is bad in the end ...

Post Date: 22:35 11-01-2006
Rating: 8
Author: Wallice
Comment: I had a razor disk BUZZZZZZZZZZZZZZZZ.... Hacking your opponent up and stuff.

Post Date: 13:15 11-12-2005
Rating: 3
Author: Slake
Comment: I don t like this game. It have 1 arena. This game bugs a lot of time. It s just cool to destroy robots but it can be better.

Post Date: 04:28 26-11-2005
Rating: 10
Author: Qt_Oz
Comment: Looks good...

Post Date: 11:45 21-11-2005
Rating: 9
Author: Review Man
Comment: Works fine for me. I just enjoy destroying other robots.

Post Date: 23:40 19-11-2005
Rating: 5
Author: tokotu
Comment: It Looks Like A Good Game And I Highlight LOOKS I Haven t Actually Played The game (Yet) Because This Error Comes Up that says
Ett fel intraffade: 4836
And It Is Quit Annoyin Cause I looked Forward To Playin It.

Post Date: 17:39 14-11-2005
Rating: 10
Author: Feriak
Comment: none

Post Date: 09:48 12-11-2005
Rating: 10
Author: Banger
Comment: The best online robot game by far. The text-based ones can t compare.

Post Date: 01:47 11-11-2005
Rating: 6
Author: Dirge
Comment: If u can tolerate the glitches and the fact it gets boring very fast, its a decent game