Secret of the Solstice
Review Directory Intro ...
Want to know what other gamers are saying about an online game that you are interested in? Good because this is where gamers can give their opinions about different types of games such as Online RPGs, MMORPGs, Online Shooters, and Free Games.

If you don't want to leave a review, simply click on the link or the screenshot on a game's review page to go to its website.

Signing up is free and allows you to review games, post in the forums, and submit games for review. The forums allow you to ask questions, share tips, and discuss games after you have reviewed them. Let your opinions fly !.!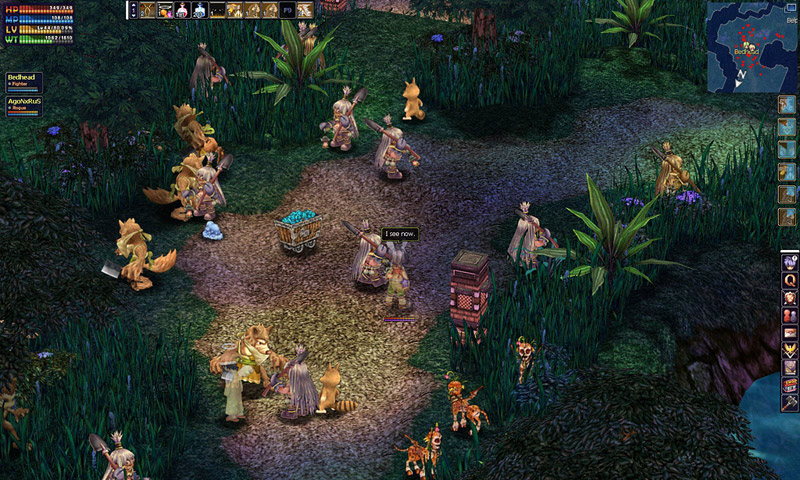 Twin princesses, a kingdom in peril, and a dark force only the most resolute players can hope to overcome; Secret of the Solstice offers adventurers an interactive storyline and thousands of ways to personalize the game. Discover allies, battle monsters, and fight to save the world.

Total Rating: 7.89
Reviews: 28
Review Archive
Post Date: 11:05 27-08-2012
Rating: 9
Author: PolanWalker
Comment: Nice game with good graphics and great game play. For me 9/10

Post Date: 04:27 02-10-2009
Rating: 10
Author: tasori
Comment: If you love community games and PvE and PvP youll love this game...especially if you have a crap computer...so download and just try it out to see if its for you

Post Date: 04:48 28-07-2009
Rating: 9
Author: Onaff
Comment: "Beautiful Graphics"? Where? We must have played two different games because I don't see anything special about the graphics. If anything, graphics are the worst part along with grinding. The community and economy make Secret of Soltice good, not graphics. Actually the graphics cost a point from me. Just look at that screenshot above! Is that beautiful to you?

Post Date: 17:28 21-07-2009
Rating: 7
Author: .KaelThas.
Comment: Set in the mystic and magic world of Xen , Two Sister Princess ,A powerful Sphere , A Kingdom In Peril And The World Beginning to Sunk in an emergent chaos , you must fight your way through Defeating Poweful monsters and beating thrilling Quests to become stronger and help save the kingdom from the ultimate Evil, That is Secret of Solstice!

Secret of Sosltice Is An Anime Based MMORPG with Beatiful Graphics set in the mystic Land of Xen , you start as an Xenian(Basic and main classe of the game) and you have the option to chosse between one of the 4 classes that the game features.Fighter(class based on melee attacks and strong defense) , Archer (classe based on long range Attacks and high attack rate), Neophyte (class based on the speed and High Accuracy) Healer (based on supporting and giving assistance to other members in a party).

The Game itself has a good amount of Maps and dungeons along with Excitting Thrilling quests for you to beat, A very helpful, Big and nice community. Also Features a shop/trade system that allows you to sell and trade your itens with other players in the game , has weekly events hosted by Nice and Helpful Gms and even theres a Store that you can buy Good and premium itens that can help you in your quest to become a true hero that you can buy with Sparkcash.

The game may present a few bugs and some server erros but its constantly being updated through new patches and new content.

Secret Of Solstice Has a Bunch of good content in it that will keep you busy for a very long time also seeking for more and more.

Post Date: 16:59 20-07-2009
Rating: 8
Author: shay869
Comment: Secret of the Solstice is very different and unique from other English games out there. It is a grind based game, and the battle system is simple and easy to use. Grinding does get tedious, but the party system, especially at higher levels, helps add lots of fun to the game. The community is good, and the recovering economy is on its way to becoming great. With minimal quests and other things to do besides grinding, players expect that some glitches will be fixed by outspark. Besides that, SotS is a great game.

Post Date: 09:33 20-07-2009
Rating: 8
Author: just1reel
Comment: i really like this game i play Wow and this all the time and i like them both jsut about the same lol. leveling is easy and its just fun.

Post Date: 06:37 16-07-2009
Rating: 9
Author: luay59
Comment: This game is awesome, it's not just your average fighting waste your life game, the point here is to build a community, have friends, and spent a little more of your office time productively =D

Post Date: 18:59 11-07-2009
Rating: 9
Author: Pwnz
Comment: In the week that I have played during SOS is a good free mmo with a helpful community. I have already made in the game and I hope to make more 9 out of 10 for me.

Post Date: 19:02 10-07-2009
Rating: 7
Author: anony1
Comment: Good community with friendly ppl, its enjoyable though there are somethings that need to be fixed, in-game glitches, quests.
I give it a 7 >.o

Post Date: 07:50 10-07-2009
Rating: 7
Author: bananalie
Comment:
SoS is incredibly different from most other games, and though at times, leveling can get a little tedious, there's enough social events, hosted by patient and helpful GMs, and new gear and skills every few levels. Parties are large, fun, and can even add a bonus to your exp gain, though there are few quests as you get into higher levels (although, admittedly, some of these higher-leveled quests have a very high exp reward).

Skills are flashy, cash items never cease to amaze, but the in-game economy is quite unbalanced at times, and it seems like you almost need extra defence or attack items, not to mention boost books, that you can olnly purchase in the Cash Shop to level as you get into mid-third class/fourth class.

SoS, however, is by far the most interesting game I've run into, and one that I keep coming back to, over and over.

Post Date: 07:31 10-07-2009
Rating: 9
Author: Einzbern
Comment: It's such a cool game to play, lots of things to do to keep you busy. Such a nice community, everyone's nice and helpful. GM's put on some cool events, and the graphics aren't bad. Such an overall fun game to play.

Post Date: 22:17 09-07-2009
Rating: 8
Author: arch1
Comment: Like poochyenarulez says, the economy is awesome. I hardly think its a "Malicious Multiplayer Online Role Playing Game". You do not need to choose a class when u start because everybody starts the same.

Post Date: 20:02 08-07-2009
Rating: 8
Author: mikeyj8675
Comment: This is a great game. I have a lot of fun playing this game. The only thing that I would change about it is the camera angles. Sometimes it's hard to see what's going on. Other than that it's a great game.

Post Date: 06:06 08-07-2009
Rating: 9
Author: .:Link:.
Comment: Secret of the Solstice is a Malicious Multiplayer Online Role Playing Game that contains young heroes, training for the evil Dark Lord, the troublesome Alastor, and bosses found in dungeons.

This MMORPG offers partying, quests, enhancing items (such as armors and weapons), Player versus Player arena, guilds, events, and many more. Players start as a newly born Xenian, from where you start at a beginner traning place called Brynhild.

Post Date: 04:41 08-07-2009
Rating: 9
Author: angelkitty89
Comment: i think it is a very well thought out game and when i finish playing through fiesta im sure i will be playing this game a lot.

Post Date: 03:41 08-07-2009
Rating: 7
Author: poochyenarulez
Comment: sc shop = fail
updates = fail
economy = awesome!

the only reason i still play this game really, is cause of the economy, we are waaaaaay behind on updates and glitches getting fixed, but the people that play(well, most) are really cool, including some of the gms~


"Secret of the Solstice offers adventurers an interactive storyline"
ROFL, STORY LINE, last time we had something story line related was last year, wen we had better event and stuff~

Post Date: 03:36 08-07-2009
Rating: 8
Author: Deoxys114
Comment: The fantasy world of Secret of the Solstice holds many experiences to be had. The game holds one of the greatest gaming communities to be found, and is what it is well known for. Almost everyone in the game is friendly and willing to give a hand to those that ask for it.

The graphics can go from simple to amazing. As you get stronger, the skills you obtain get flashier and more amazing to see. The scenery is something to gaze on also. During the seasons such as Christmas, the trees inside towns are covered in snow.

The music has a great range from spooky to catchy to funny. As you explore the maps, you hear more and more interesting music.

This is a great game to play if you are wanting to kill time, or to meet new people. Pick up the fun, and join many others in the fantastic world of Secret of the Solstice.

Post Date: 01:15 08-07-2009
Rating: 9
Author: BombBomb
Comment: Its a great game. I tried it as first and I was dazzled by the many shops and details within this game. I would say to give it a try if you ever have a chance. Too bad I'm still a low level in this game, there are some things that I wish to do. Good luck to all the new people joining this game!

Post Date: 21:27 07-07-2009
Rating: 1
Author: Morningdew
Comment: It use to be a 10 in my book but lately it's gone down hill

Knowing ppl the sign up for autopay for sc get bann and it still takes ur money
Knowing one GM has favs, and dislike and talks bad about non sc users isn't the best thing to know
And when u say somtjing on how he is acting u find ur self bann with out reason.
You get the same copy and paste answer from the csr it just gone down hill.

Post Date: 20:52 07-07-2009
Rating: 8
Author: Grapefruithead
Comment: This game has been one of the best MMO"s I"ve played to date. It has the best community, very easy to make friends, find parties, hang out with random people and just have a good time. The players of this game are quite helpful towards each other. The GM"s of Secret of the Solstice try to make the game as fun as possible for everyone, the events they host are pretty fun, and when they"re in game it"s nice to be able to sit around the GM and everyone have a chat with them. There is a variety of monsters and maps making the game unique and interesting, especially the monsters names. There"s lots of quests to do when starting out which help in the levelling process, sometimes giving you a nice boost in experience points. There are other things to do besides partying, like PvP, being in a Guild, and plenty of Sparkcash costumes to wear which keeps everyone busy. The graphics are not bad, not amazing, but still pretty good. Couple things that aren"t so good about Solstice, is that once you get to higher levels, levelling can get very hard, especially if you aren"t using a boost from the Sparkcash shop. Also, quests stop after level 80, making it quite boring to just have to grind instead of having an alternative method to levelling, and Solstice doesn"t have a very big storyline, making the game not as interesting as it could be. Otherwise it"s a nice game, and would recommend it to anyone.

Post Date: 20:44 07-07-2009
Rating: 9
Author: Bishop709
Comment: 1 of the very first MMORPG's I've played. I have to say its addicting. New content on a fairly regular bases. Great easy to start game, but don't be fooled. Some of the later monsters can be a challenge. There is always someone in the community that is willing to help you with questions. Another plus is that you don't need to spend money to play. You can have the same playing field as the people who do spend cash. However, when you do decide to spend some bucks to get Spark Cash, you can get some pretty cool costumes. Give it a try. You won't be let down. There's just to much for you to do.

Post Date: 07:40 07-07-2009
Rating: 8
Author: hamkat
Comment: its an awsome game theres a realy nice comunity u can kill some pretty weird monsters u can even get a few of those monsters as pets but it has pretty avarage grathics and not much a story line wich make most of the quest kinda boreing

Post Date: 05:43 07-07-2009
Rating: 9
Author: Sho1996
Comment: This game may not seem much of a mmo when you just look at screenshots or videos of this game. What I meant by that is, Graphics aren't too good, some skills seems useless, monsters does not exactly look like monsters you normally see in most mmo. But once you get to actually experience the gameplay of this game, You will be thrilled at how a game that has average graphics and monsters that look like an ugly mixed breed of real life animals can become so addicted.
There are alot of Pros and Cons in this game, but that is same in any game. Here is a list of Pros and Cons of this game.
Cons:
=Graphics=
Compared to games of the same Genre, Graphics are in average standards, which kind of made this game less attractive compare to other games such as Ragnorok.
=Monsters=
The monsters here is pretty original, but not exactly something that attracts players at first glance. For example, if you look at the screenshot shown here, the monsters on four legs look like a mixed breed of a really ugly monkey and some kind of deer.
=Storyline=
There isn't really a main story in this game, which made the quest in this game kind of boring. When I first heard the name Secret of Solstice, it does give a sort of mystery towards this game. But I lost interest in the background story after a couple of random quest such as grabbing fruits for Veggie lady.
PROS:
-Excitement-
Alot of Excitement is created in this game. Especially when a play received a Xen Stone, or when a person got a advance pet or a mountable pet. Excitement is one of the number one attraction of this game. Unlike most MMO, whereas the attraction rely in becoming the strongest player, this game attraction rely in many different areas such as receiving an expensive item, parties, and Game monderators or players hosted events.
-Events-
The game moderators are very committed to bring players enjoyable events each week, even if most players doesn't treat the game moderators with respect that they deserve. There are also player hosted events such as birthday parties or hide and seek games, which give this game some excitement. Especially when people are bored from leveling too much.
-Balance-
Unlike most MMO game, there is no such thing as dominate class. Basically, each class are made so balance that they need each other to lived. Yes, it is true that a fighter class with strong def can level up by themself, but if they rely on a healer to heal and increase additional stats, the healer would made the fighter's life a lot easier. The player party system is another thing that made this game so attractive. Players can level up twice as fast when partying with people. And people don't have to worried about party members letting them died just to grab free items.

But the most attractive part of this game is the game experience. You really need to play this game in an enjoyable(not emo) state to fully experiences how amazing this game actually is. Overall, I rate this game a 9, mostly because this game builts alot of friends with its friendly environment. And nothing beats friendship in a game.

Post Date: 04:08 07-07-2009
Rating: 7
Author: thorjaws
Comment: well this game is a good way to enjoy ur lazy time at home u can do a lot of stuff like meet peoples,get fun in partys,u can enjoing killing mob or ur friend in pvp, that is awesome couse if u have some problem with someone u can fight in pvp, or if u want grind u can do it all the time, this game have 2 server adeline and marian, marian is the newest server.
i would like a better game with more item for each class and it would be good if we can get all the item from the store like lucky ball in every season, but like a say at the beginning if u wanna get fun in a game just play this one You will not regret so get at work and kill all the mob u see xD

Post Date: 04:07 07-07-2009
Rating: 9
Author: mmowiz
Comment: secret of the solstice is not a bad little mmo. the graphics arent the best in the world but i like how you can start playing easily. the community is good and friendly. 9/10 from me.

Post Date: 19:23 12-07-2008
Rating: 8
Author: muhaimenr
Comment: Nice game, reminds me of ragnarok, especially the graphics. A few problems, such as not enough ranged classes, but nothing else. Besides that, community, gameplay, and skills are excellent, really good quests, and very easy to level and make mooney.

Post Date: 02:03 09-07-2008
Rating: 7
Author: tsunetsuki
Comment: This is a cute game... Nice little sprites and 3D graphics. The community is nice and pretty helpful. The game was easy to get into with lots of instructions and tips for beginners. I got to around level 15 before I gave up playing. I guess I just got bored with it but I don't have too much bad to say about it. Only that I was surprised that there was no storyline considering it's name.

I give this game a 7. It's not bad but I don't think there's anything too great about Secret of the Solstice. Play this if you're bored but there are better games out there.

Post Date: 16:05 17-03-2008
Rating: 5
Author: skylinez
Comment: Having played this game personal oppinion is that..the forums were friendly and overall community was oke.. if not a bit silent but friendly.

-Graphics is oke.not special very much Ragnarok level. it has the same engine... score for graphics -4-

-Surprisingly has alot of quests that reward decently compared to other games of its Genre- it has more then just kill quests and tries to mix it up a bit ..
score for Quests -6-

-has some type of pvp ... but this game is far from being pvp based and so its not a good pvp game for those who are really planning to play for pvp .... score for pvp is -2-

-Pve element is there it has alot of class choices and all seem to be balanced and have theyr own fan base ... characters -6-

-Overal- This game is still in beta and isnt so good to begin with its just another Clone of its brother Fiesta and maple story ...unfortunatly its got the same Lack of creativity in gameplay

The game and servers are in beta so anything could happen atm

my score -5-