Sims Online
Review Directory Intro ...
Want to know what other gamers are saying about an online game that you are interested in? Good because this is where gamers can give their opinions about different types of games such as Online RPGs, MMORPGs, Online Shooters, and Free Games.

If you don't want to leave a review, simply click on the link or the screenshot on a game's review page to go to its website.

Signing up is free and allows you to review games, post in the forums, and submit games for review. The forums allow you to ask questions, share tips, and discuss games after you have reviewed them. Let your opinions fly !.!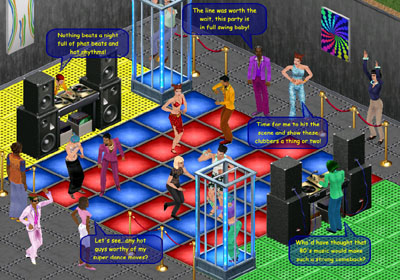 Experience the Sims universe online.

Total Rating: 4.89
Reviews: 19
Review Archive
Post Date: 09:53 21-02-2015
Rating: 5
Author: Croco12
Comment: I've played Sims2 and Sims3 offline and it was amazing. This one isn't so much amazing, but it is kinda fun, because there are other people. There are other Online games that remind of this, but they are better like 5 times.

Post Date: 16:36 18-09-2014
Rating: 5
Author: Garagos
Comment: I have played Sims, but not this Multiplayer (Online) type... I hear that a lot of players played it (at least 2 years ago) and they said to me it is funny, because you can with other players do almost all things like you doing in real life... That mean you are real man, but in game :)
I will rate this game with 5 !

Post Date: 20:24 19-05-2014
Rating: 6
Author: NeSsQQuiCk
Comment: Fun to play but if you like Sims type of games I would recommend newer versions that are much better. Graphics are better and they are better overall

Post Date: 12:01 02-05-2014
Rating: 8
Author: ivekvv256
Comment: Fun game which I played with my sister sometimes. You can basically do almost everything what you do in real life, eat take a shower, throw a party at your house, build a house... Enjoyed playing this game. 8/10 :)

Post Date: 18:57 20-09-2012
Rating: 5
Author: PolanWalker
Comment: Sims party yeah :D

Post Date: 14:53 31-10-2011
Rating: 6
Author: dmt_2000
Comment: This game is fun if you like social games or Sim game you should play this game if you played any Sim game then you should know how to play this

Post Date: 20:58 30-10-2011
Rating: 3
Author: lumlehsumleh
Comment: sims online isnt that fun. it kinda seems like sims 3 wannabe. this game makes sims 3 look like a bad game.

Post Date: 00:38 08-12-2010
Rating: 8
Author: EcLuD
Comment: is a very entertaining game in particular before playing this a lot (when I was small), good game to start and have fun and social moments. 8 / 10

Post Date: 23:15 12-01-2009
Rating: 4
Author: alistaly
Comment: An ok game but they have now developed a lot better ones that have some pretty cool features. This game was popular at it's time but has gone down but it's newly developed ones are still out and popular to. I hate this game on PC though it wrecks the whole meaning of PC games I think if your going to play it you have to play it on a console system. This game use to be fun when it game but but gets boring after a few hours or so but I did have the latest one on my PSP and was pretty fun I recommend you never get this game on PC and get the more newer versions.

Post Date: 00:03 30-12-2008
Rating: 0
Author: AliizaMiidorii
Comment: ughhhh!!!how the hell do i play!?!?!wheres the damn button!?!?!?!?!?!?!?!?!?!?!?!?!?!?!??!?!?!?!?!??!!??!?ahhhhhhh!!

Post Date: 03:46 25-12-2008
Rating: 10
Author: Liliana
Comment: This is the best game in the whole wide world.. omg i just love it..lol

Post Date: 20:12 23-06-2008
Rating: 10
Author: wannabemebetudo
Comment: its a great game and i love by tyshawna

Post Date: 10:08 31-05-2008
Rating: 0
Author: All.Saints97
Comment: Absoulute rubbish and i love sims ive got the box set and everything and this i hate you get robbed so much and theres no point thanjust making a home with bad graphics!

Post Date: 20:28 01-12-2007
Rating: 2
Author: kwupkake1234
Comment: this is a stupid game. why would u sign up just for a game?

Post Date: 06:38 11-09-2007
Rating: 0
Author: idnth8u
Comment: Seriously guys.............. i played this game but, they robbed me, we payed for the price, but the stole my $200,000!
If you want the truth, i am telling you it right now! if you want a lie, well this is the best game. there you have it, dnt play this game, thanks, c ya

Post Date: 09:40 27-06-2007
Rating: 1
Author: Nalmid
Comment: its good at start, but none earns their money now by working. you just go work ofr others players and get 200.000 every 15minutes.so just work for 1hour and you will have everything you ever wanted...full house pool furniture etc..but then?whats the point if you can finish the game in an hour...
ill give it a 1 cause it had good potentials

Post Date: 02:54 05-05-2007
Rating: 10
Author: Aldins
Comment: well duhh ull have to buy it then download it on to ur pc isnt usually all of the games like that when u buy them u dummy head
this game is pretty cool i played couple of sims online games but i heavent tryed this one yet but i bet its awsome
by the looks of this image it looks great
:=)
if ur a sims fan like my self u should defanetly buy this game

Post Date: 00:23 22-01-2007
Rating: 10
Author: dreftorg
Comment: If you fully buy this game and download its actually fun so the idiot who commented under me is stupid i bet he never played it!!

Post Date: 20:09 27-11-2005
Rating: 0
Author: tamafreak101
Comment: you have to buy the game for the comp and have to download it before you can play.