Stick RPG
Review Directory Intro ...
Want to know what other gamers are saying about an online game that you are interested in? Good because this is where gamers can give their opinions about different types of games such as Online RPGs, MMORPGs, Online Shooters, and Free Games.

If you don't want to leave a review, simply click on the link or the screenshot on a game's review page to go to its website.

Signing up is free and allows you to review games, post in the forums, and submit games for review. The forums allow you to ask questions, share tips, and discuss games after you have reviewed them. Let your opinions fly !.!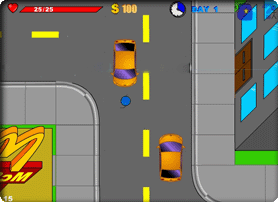 Stick RPG Complete; The full version of an XGenStudios' cult classic. With the bus depot and furniture store now open you can travel to other cities and furnish your apartment... or mansion, if you can afford it. Steal a car, run for president, but keep in mind - each life decision affects, or is affected by, your Karma. Face the challenge of struggling to survive in a world of paper thin citizens, super-human bar-room brawls and cut throat corporate ladders. This life sim is reminiscent of 'Jones in the Fast Lane' - but the lane is so much faster, and the life, so much... Stickier Right from the get-go, you're beset with a multitude of alternatives; what statistics to concentrate on, where to find employment, and whether to abide by the law or to spit in its face! In StickRPG, you have the power to make choices that affect your stickman's life, and the results, unlike real life, are often hilarious, and often occur... often!

Total Rating: 6.37
Reviews: 19
Review Archive
Post Date: 23:40 20-11-2014
Rating: 9
Author: paksupro4
Comment: This is copy of GTA 1 .Its open world and you can do what ever you want . So much option and i rate it with 9/10

Post Date: 07:46 25-09-2014
Rating: 9
Author: arZ
Comment: Stick RPG is something like a flash GTA version. Really funny game with lot of options to do in the game. We can say ... everything you can do in the real life you can do in this game. Stole a car, buy drogs, spend some money to the homeless guy ... I rate it with 9/10

Post Date: 11:10 03-05-2014
Rating: 10
Author: ivekvv256
Comment: A cool game where you can work, study, eat, buy weapons... Basically some things that you do in regullar life. Sometimes really funny. 10/10 :)

Post Date: 06:44 03-05-2014
Rating: 10
Author: Mordekaiser
Comment: one of the best flash games of all time in my opinion i really liked it it has a great story there is tons do do and nice graphics never gets boring either

Post Date: 00:56 10-08-2013
Rating: 6
Author: buzzsaw
Comment: Takes a long term to complete. We need more stick arcade games instead.

Post Date: 22:36 09-11-2012
Rating: 5
Author: PolanWalker
Comment: Game is nice. Good game play :) 5/10

Post Date: 12:47 26-04-2011
Rating: 7
Author: KuroTsuna
Comment: when you look at this game you think the graphics are really bad, but this game is okay.

Post Date: 02:45 10-03-2011
Rating: 8
Author: SSC4RF4CE
Comment: GRAPHIC MISSING BUT THIS FALL WHEN THE CURE MONITO 8/10

Post Date: 05:05 16-02-2011
Rating: 8
Author: EcLuD
Comment: well after playing and playing .. and changed some thinking about this game, the first time I was super boring, but now I like more, because playing and learned several things I like to win the skateboard! how to make me stronger! and get a good job quickly. 8 / 10

Post Date: 01:20 10-12-2010
Rating: 4
Author: EcLuD
Comment: and others say is good for a little while but then gets boring
4/10

Post Date: 01:51 28-09-2010
Rating: 5
Author: Noche
Comment: Okay, it's a flash game.

Okay, it has more depth than quite a few.

Okay, it's good for mindless timekilling.

However, it's not really a great game overall, even by flash game standards.

It has some interesting features, such as bar fighting and levels, but it gets monotonous and repetitive. Anyone with an attention span greater than that of a 12-year-old kid will get bored easily, but hey, if your little brother is sick of Slimezone or whatever, he might like this.

It's okay, to be honest, but after the first couple of "days," it gets pretty cut-and-dry-boring.

Post Date: 01:08 27-09-2010
Rating: 5
Author: RandomZ
Comment: Oh, this game is in the Arcade!! I don't know how jared scored so high...but I find this game to be TOOO repetitive over a long time. You just come out, study work shop then sleep and it goes on and on and on...but it's pretty fun for a while

Post Date: 20:13 04-09-2010
Rating: 6
Author: anymotion
Comment: like jared said, it's fun for a bit, but it's boring later on. I played probably for half an hour? Okay, but not very good.

Post Date: 18:53 01-08-2010
Rating: 6
Author: jared
Comment: Its a fun game for alittle then it gets boring but its easy to get a really lot of money really fast :) its fun to waste some time though :) thats what used it for :D i played for an hour or more x] time went fast Its an okay game overall 6/10

Post Date: 00:19 18-03-2010
Rating: 7
Author: Regret
Comment: This game was actually pretty awesome. It kept me going for atleast a week. In order to play this game, you need time and patience. It's really fun but it would be better if there was more to do. Sooner or later in the game, you realize you're just doing the same thing over and over again. Once you get your fully promoted job and you have maxed out intelligence and strength, there's nothing more to do. You can just show off to your friends. This game will keep you entertained for a week days, a few weeks max. If you haven't tried this yet, you should because this game is really something.

Post Date: 03:02 09-08-2009
Rating: 0
Author: doomguy93
Comment: why must we have to go through what some of us already do in life in the form of a video game?

Post Date: 02:03 26-07-2009
Rating: 9
Author: neeyick
Comment: its pretty fun i got 11billion dollars in it. probably the best stick game out there..

Post Date: 07:50 15-01-2009
Rating: 3
Author: jared.
Comment: Its kinda boring at first. Then as you carry on its really boring! You just go to the gym eat, food, gamble, drink beer, study or get run over by cars.

Post Date: 04:04 29-06-2008
Rating: 4
Author: clickmehere
Comment: Game is decent Its basicly about you taking control of a sticks life. GEts boring after the first 10 min