Supreme Commander
Review Directory Intro ...
Want to know what other gamers are saying about an online game that you are interested in? Good because this is where gamers can give their opinions about different types of games such as Online RPGs, MMORPGs, Online Shooters, and Free Games.

If you don't want to leave a review, simply click on the link or the screenshot on a game's review page to go to its website.

Signing up is free and allows you to review games, post in the forums, and submit games for review. The forums allow you to ask questions, share tips, and discuss games after you have reviewed them. Let your opinions fly !.!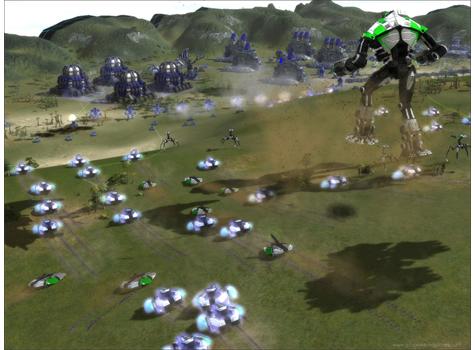 Set in the 37th century, Supreme Commander signals the next evolution in the RTS genre by being the first strategy game to deliver a truly strategic and tactical experience. You direct one of three warring human factions, the Aeon Illuminate, the Cybran Nation or the United Earth Federation, as their Supreme Commander, the ultimate power on the battlefield. The conflicts you fight are won or lost because of strategies devised and executed by you on the field of battle. It'll take every ounce of your strategic might to successfully unleash and direct a war machine comprised of hundreds of advanced, futuristic weapons across land, sea and in the air. Challenging you for galactic supremacy are some of the most cunning and intelligent enemies ever seen in an RTS game. Enemies that will fight to the death for every scrap of territory and show no mercy. Aiding you in your war effort is a dynamic and revolutionary camera system that lets you instantly zoom in and out of location on the map and direct your forces accordingly.

Total Rating: 8.20
Reviews: 10
Review Archive
Post Date: 21:13 04-12-2012
Rating: 10
Author: PolanWalker
Comment: EPIC really EPIC production:) One of the best RTS games I have ever played :) We can choose from 3 nations: UEF, Aeons and Cybrians :) I like very much playing Cybrians becouse they special units are better for me :) Game give us posibility to almost unstopable expansion :D I can recommande this game to all RTS players :D I rate it 10/10.

Post Date: 22:45 25-11-2012
Rating: 8
Author: Mordekaiser
Comment: This game is very good and fun the graphics are very good the game play is ok and its not that bad for a strategy game most of them are not fun but this one is very fun the it is a must try game

Post Date: 20:53 25-11-2012
Rating: 10
Author: PolanWalker
Comment: Supreme commander is great strategy game that all real players must try :) I spend on this game meny hours :) I liked especialy that we are able to use land sea and ear forces. We have also posibility to build special units that are very expensive but very power full and hard to destroy :) This game is the best strategy game that I have ever seen and played :) My rate for it is 10/10 :D

Post Date: 13:50 25-11-2012
Rating: 6
Author: Thedarkboy
Comment: This game was okay, just nothing very special about it. There are many better games to try out there. The graphics of this game is a bit dated. Some things are made pretty bad, but some other things look good. I wouldn't play this game if I were you though since there are better games than this

Post Date: 17:35 28-07-2012
Rating: 10
Author: PolanWalker
Comment: Biggest masive strategic after Total Anihilation. I know that its the new verion of last one but in this situation we have to do with something almost new. Great grahics, great game play and great equipment needs :D But i cant say anything else but 10/10. Epic production :D

Post Date: 15:35 25-02-2012
Rating: 5
Author: Spartan3212
Comment: Didnt really like this game.
Gameplay-
The gameplay is easy enough. Easy to build easy to manage armies. If you have played any RTS games before. The storyline was somewhat boring to me. Nothing really that caught my attention. The camera system in the game. Is annoying and difficult to use. When you just wanna get down on the ground and watch the battle. You cannot because its always a looking straight at the ground kind of view. And sometimes its just fun to watch armies shoot at eachother like your standing right next to the battlefield.
Graphics-
The graphics were decent. No flaws or glitches that i had seen. Smooth gameplay and Decent detail into the world.
Overall-
Didnt really enjoy the game to much. To me i really have to be interested into the story of the game. campaign was pretty simple beat it in about 2 days on and off. Multiplayer battles really were not very fun. Boring strats and army buil ups. no real skill needed. Just throw everything you can at them. And hope it works. It is one of the games you should try the demo before you buy it. Some people like it. I just didnt enjoy it.

Post Date: 09:56 23-05-2011
Rating: 8
Author: sasuke24
Comment: The game is pretty enjoying. The gameplay is smooth.

Post Date: 19:33 04-06-2008
Rating: 5
Author: MightySheep
Comment: This is good but only because it is an exact copy of total annhilation spring. What made me laugh was that this new game has really good graphics and is advertised alot but everybody agreed that it was crap compared to TA Spring.

Post Date: 16:43 10-10-2007
Rating: 10
Author: chimera452
Comment: this is a A.M.A.Z.I.N.G GAME!!!!!! you"ve got to buy it!

PROS(A lot)
it one of the only rts wich u need real strategy.
the graphics are great!
the combat is sooooooooooo coooooooool!
the abilty to biuld a base any were(unlike other games) is really good to blow your comander(he aim of the game).
allthe units are cool there are no useles unit what so ever.
skirmish is one of the best point of the game.

cons(none)
none

overview: buy buy buy buy buy buy!!!

Post Date: 14:38 10-04-2007
Rating: 10
Author: Bohican
Comment: PRETTTTY much the greatest RTS ever made BEHIND Starcraft. So ya, if you like starcraft. You like this. Go GO GO buy.