Utopia
Review Directory Intro ...
Want to know what other gamers are saying about an online game that you are interested in? Good because this is where gamers can give their opinions about different types of games such as Online RPGs, MMORPGs, Online Shooters, and Free Games.

If you don't want to leave a review, simply click on the link or the screenshot on a game's review page to go to its website.

Signing up is free and allows you to review games, post in the forums, and submit games for review. The forums allow you to ask questions, share tips, and discuss games after you have reviewed them. Let your opinions fly !.!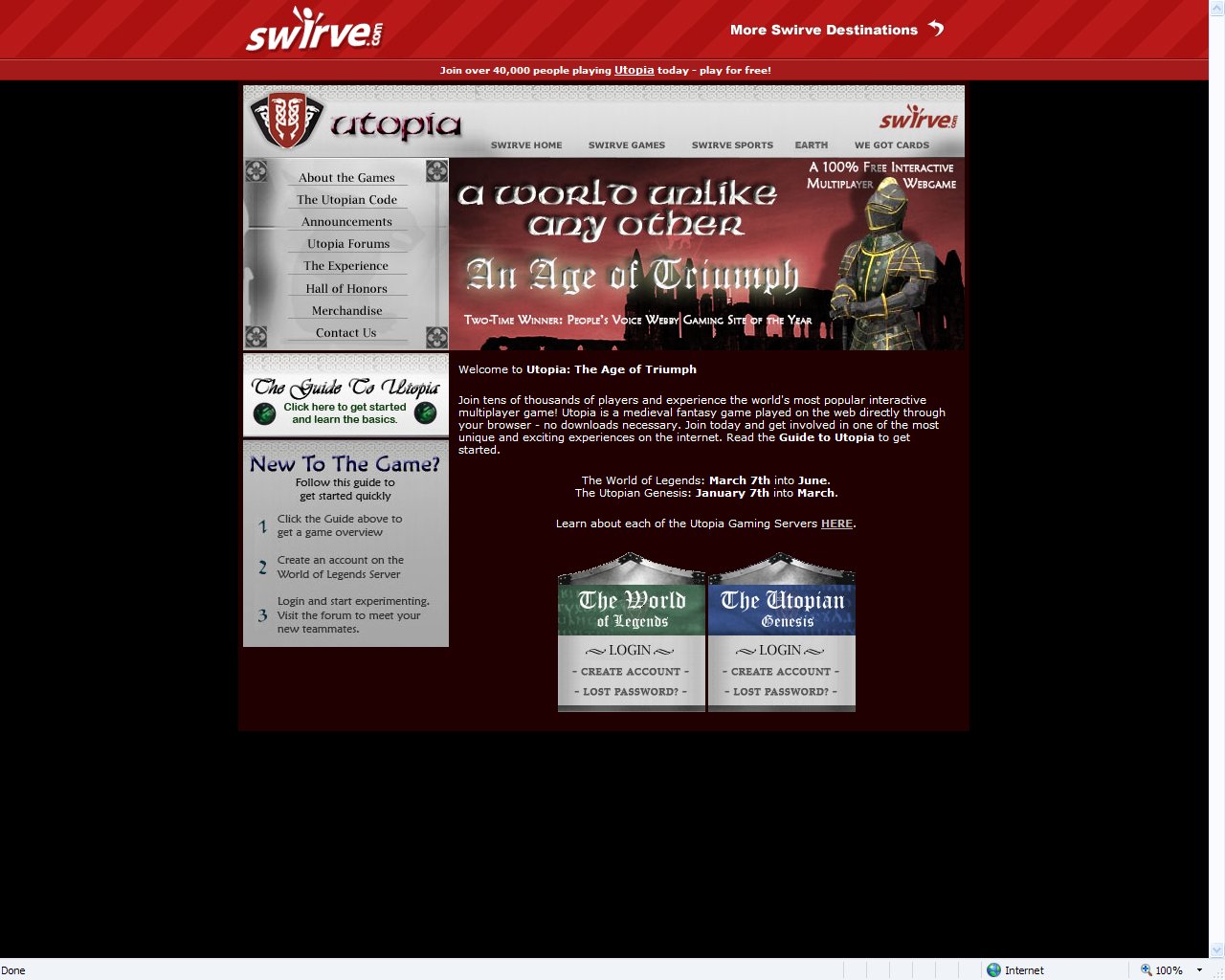 Join over 70,000 players and experience the world's most popular interactive multiplayer game! Utopia is a medieval fantasy game played on the web directly through your browser - no downloads necessary.

Total Rating: 6.79
Reviews: 19
Review Archive
Post Date: 09:53 12-11-2009
Rating: 3
Author: ssmith88
Comment: A number crunching game that my accountant would play

Post Date: 08:09 13-04-2009
Rating: 8
Author: shugo
Comment: Utopia is an old, but good game, despite the fact that it lacks graphics. Number crunching is important and so is activity, because you need to login at least twice a day if you want to be any good. Its important you find a good kingdom to play in, else the game is not that entertaining. Utopia is a team game where you have to work together for the benefit of your kingdom. Its fun and its addictive. Unfortunately its age tells and the number of players are rather rapidly dwindling, either because of lack of graphics or the fact that cheating and the constant hammering of alliances is problematic. While there are still thousands of players in Utopia, their numbers are becoming less and less by each new round and utopia is one of those games that requires a great deal of players to keep things interesting, such as fighting in wars. Strategically the wars in the game are like a football match between two teams, where succes depends on activity and knowledge of the complex game mechanics.

Utopia is one of those rare gems out there on the internet, but it is a game that also suffers from its age.

Post Date: 03:24 20-07-2008
Rating: 3
Author: aceonline
Comment: yes without utopia angel you will not do good in this game, you have to keep %'s of buildings, can't build everything, have to be focused on attacking or t/m. changes every age can be annoying.

I've been playing for 10+ years on and off. This will be my last age as i've explored some of the other web brower games i seem to like them more as they are more involved with people rather than your brain.

Post Date: 19:19 16-11-2007
Rating: 8
Author: Somnambulist
Comment: One of the best online games i've played. Quite addictive.
It's a math based game, and most of the time, you will be dealing with numbers and percentages. From my opinion, the real utopian fun is not only in the game itself, but also in the communication & coordination with other members of your team. Only in a great kingdom (team), led by a responsible monarch (king), you will learn fast and become addicted to it. It's not a game you play by yourself - most of the time u need to do what's best for your team.
You might need to login at least once daily & most kingdoms don't like inactives.
Most of the time, your aim is directed towards the team's success (high ranks on charts, or good stats in term of war wins) unless you are a top player who plays for himself.

Post Date: 10:11 24-08-2007
Rating: 9
Author: solidgold
Comment: Good game although it has no graphics..
Still decent although i got killed as soon as i got outta protection cause we were already in the middle of a war.

Post Date: 06:28 09-08-2007
Rating: 7
Author: bobgoober
Comment: This game is great if you want to kill some time, but like people have said if you don't like the kingdom your in it's rough. It took me 3 times to find a good one. For me, the people in the kingdom either a)took the game to seriously or b)kept telling me what to do.

Post Date: 05:46 22-01-2007
Rating: 8
Author: ganjanator
Comment: needs to move alittle faster

Post Date: 19:33 26-12-2006
Rating: 0
Author: RedEyedDragoon
Comment: noo this game is stupid this game needs to pack it"s bag and go bye bye flyff,conquer online is way better!

Post Date: 04:07 26-10-2006
Rating: 8
Author: Kanbei
Comment: Great game, NO TURNS(OMGTY!!!), but if you end up in a kd you hate or that hates you, it is really bad. It took me 2 tries to get in a kd that didnt kill me the moment i got out of protection or have some person-worshipping maniac who also happens to be incredibly powerful and kills you if you touch his god.

Post Date: 04:16 22-12-2005
Rating: 10
Author: hastati
Comment: Awesome game, its completely free and offers a team based environment where you and your fellow kingdom mates compete against other kingdoms. Has a huge amount of depth and lots to try out. You run and manage a province and its economy, functioning as any combination of an attacking province, thieving, mage, or explorer. Its a lot of fun with a huge player base. I suggest everyone give it a try.

Post Date: 21:29 18-11-2005
Rating: 0
Author: Jan B
Comment: No graphics what so ever - just some text and numbers in what looks like an word/excell page

Post Date: 01:32 16-11-2005
Rating: 10
Author: king2k6
Comment: Great game! =D

Post Date: 17:41 02-10-2005
Rating: 10
Author: Mattymoron
Comment: I Love this game it is really fun. You should log in at least once a day to keep it going. But it has a lot of things to do. Even though it doesn t have graphics, or if it does they don t work on my computer, it is really great.

Post Date: 14:40 08-09-2005
Rating: 8
Author: madhouse
Comment: none

Post Date: 05:51 12-08-2005
Rating: 10
Author: zlogic
Comment: none

Post Date: 20:53 20-06-2005
Rating: 5
Author: az killer az
Comment: none

Post Date: 20:52 02-02-2005
Rating: 5
Author: blud spillah
Comment: none

Post Date: 00:51 22-12-2004
Rating: 10
Author: Deathmore
Comment: Great game. You ll manage and run one of twenty-five provinces in a kingdom. You control your provinces infrastructure, draft, military, and sciences. The provinces in the kingdoms will work together, in a team effort to win wars and move up the charts. This game is a lot of fun, but don t sign up for it unless you can loggin at least once a day.

Post Date: 09:02 22-10-2004
Rating: 7
Author: BlinkDemon
Comment: none