WWE Smackdown vs. Raw 2006
Review Directory Intro ...
Want to know what other gamers are saying about an online game that you are interested in? Good because this is where gamers can give their opinions about different types of games such as Online RPGs, MMORPGs, Online Shooters, and Free Games.

If you don't want to leave a review, simply click on the link or the screenshot on a game's review page to go to its website.

Signing up is free and allows you to review games, post in the forums, and submit games for review. The forums allow you to ask questions, share tips, and discuss games after you have reviewed them. Let your opinions fly !.!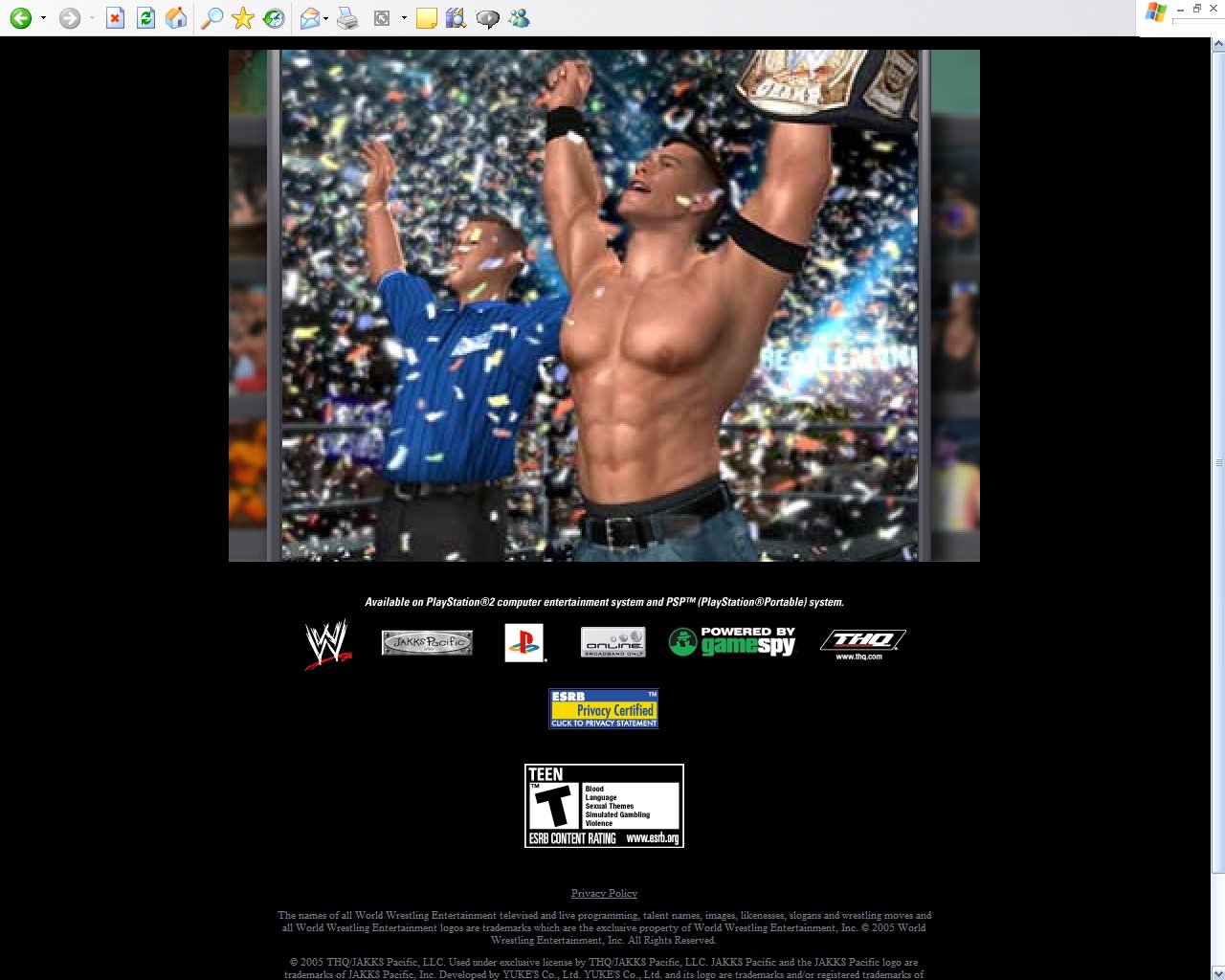 Battle online for the first-ever virtual WWE Championship, play two full seasons without story repetition, customize the first-ever 3D locker room, choose from a whopping 100 different match types, and more.

Total Rating: 8.32
Reviews: 28
Review Archive
Post Date: 17:00 26-02-2015
Rating: 6
Author: Croco12
Comment: This game was popular between my friends. Fighting and other stuff. Not so much interesting to me, but if they are playing I must play it, too. Graphics-OK; Characters-OK; Ray Misterio-LoL... Ultimately, 6/10 because I don't see point in fighting.

Post Date: 14:44 23-02-2015
Rating: 8
Author: axwellshm
Comment: Graphics are pretty cool for this kind of game. I am a big fan of WWE after all... So yeah i will rate this game with 8/10 cause of that.

Post Date: 13:37 02-02-2015
Rating: 8
Author: Rimbast
Comment: rly nice game :D

Post Date: 09:00 05-09-2014
Rating: 9
Author: FrendlyLeBlanc
Comment: I love WWE to watch and like that to play these games. Graphic is great and also gameplay ...
John Sina ( if good wrote ) is my favorite
9

Post Date: 15:28 03-09-2014
Rating: 8
Author: Korni
Comment: This much I played when I was in high school. The game is very fun, the controls are easy to play and the graphics are great. There are a lot of fighters menu is a favorite Rendy Orton. Because at that time I played it was evil.

Post Date: 12:12 11-06-2014
Rating: 4
Author: Ckalja99
Comment: I dont like this kind of games,but i played it one day and then unistall it.Graphics are pretty solid to me but this kind of games arent just amusing for me .I am going to give it 4

Post Date: 16:23 09-06-2014
Rating: 7
Author: najdan11
Comment: This is game which reminds me on my chilhood,when i played it with my friends.Its really fun fighting game.Good graphics and good gameplay.Try it! :D

Post Date: 13:00 19-04-2014
Rating: 9
Author: savicaa
Comment: Here we have an old game . On television first came up Smackdown , and it was really popular , then autor of that show , made this game , it was really hard , but he did it .
In this game you need to have really fast fingers , good tactic and really good reflexes , cause you need to fight really good. Really nice game .
Cheers!
You can choose what characher you want to be , when you choose it you will get oponnent . Combos are really good in this game i will explain what they are . You need to click 2 or 3 opitons to make combo . When you make combo you deal a lot of dmg and you can easy get your oponnent down .
At first , you will think that this game is really hard , but it isn't , when u play it more times , you can make your own combo and you will see how that's easy .

Few words about game . For me this is the best fighting game i ahve ever played . Animations are really good and that's 9/10 , sound is good and that's 8/10 , graphics are nice 9/10 . Mark for game is 9/10.

Post Date: 19:13 18-04-2014
Rating: 10
Author: BratDzoni
Comment: WWE is game of my childhood.I rly like it and think it is awesome. :D

Post Date: 08:22 15-04-2014
Rating: 8
Author: nikiwild
Comment: First, my rating: 8
Multiplayer 8/10
Gameplay 8/10
Graphics 8/10
Sound 8/10

I played this game on ps2 its pretty funny when you play with someone. You play together co op and fight all of them. You have to choose one character and play with him, i mean fight with him, every one has his own moves, tricks, fights, and many more. Every one has a uniqe finish move, which is so fancy when you do it, but you will need practis to do that. There are many options what you want to play, normal battles, raw battles, smackdown battles, cage battles, first blood battles, toss out of the cage battles, you can even fight for the belt, belt is like a crown in this game, whoever has the belt, he is the strongest.
So i recomend playing it with friends its a lot more funnyer.

Post Date: 19:52 10-04-2014
Rating: 10
Author: pisoj13
Comment: this is the best wrestling game ever made it has the more realism to the real thing thats why i gave it the 10 rating coz its just the best.

Post Date: 23:43 24-03-2014
Rating: 10
Author: DarkMage1997
Comment: fck me you now its wwe what can you expect

Post Date: 20:24 28-07-2012
Rating: 9
Author: Dmt_2000
Comment: For being a fighting game this game is pretty cool the graphics are good for a semi old game

Post Date: 14:51 28-07-2012
Rating: 8
Author: Thedarkboy
Comment: WWE Smackdown Vs. Raw 2006 goal is yo make your superstar get up to the top and get the best belt before the season is over so you can unlock new characters and trophies. WWE Smackdown! vs. RAW 2006 is an excellent choice for WWE enthusiasts. I really recommend it to people who like Smackdown and Raw. The attacks are a bit exaggerated since the they can lift 210 kilos persons over the shoulders really easy. I know that it's a game but still xD I think the graphics are okay. There are a few bugs though. The game is quite short, it gets a little monotonous after a while. But a fun game for people who like these kind of games.

Post Date: 13:25 11-04-2011
Rating: 6
Author: Adrian
Comment: For being a fighting game, this does not get repetitive. The graphics are fairly well, all in all 6/10.

Post Date: 06:53 11-04-2011
Rating: 7
Author: EcLuD
Comment: The truth is very entertaining and fun to play with friends, but I personally do not buy it. 7 / 10


Post Date: 14:15 19-02-2011
Rating: 10
Author: ompikala
Comment: Randy Orton is awesome in this game.

Post Date: 20:30 12-01-2011
Rating: 10
Author: tarobb5887
Comment: I have never played this game. Do you have a demo on this website.

Post Date: 01:36 24-09-2010
Rating: 9
Author: RandomZ
Comment: I remembered playing this game for weeks maybe months! It's fun if you use you're favourite character and pawn everyone! It's a 2006 game, so give it a break. Don't compare wth 2010 games. It's still awesome during it's time

Post Date: 06:30 23-09-2010
Rating: 7
Author: jared
Comment: Was a good game but its been bettered by the others that has came out :) its old now but when it came out it was awesome me and my bro played it for hours and the story aint bad either :) 7/10

Post Date: 11:21 22-07-2010
Rating: 10
Author: U.AVINASH
Comment: HOW TO PLAY `THIS ONLINE


Post Date: 03:07 12-04-2010
Rating: 10
Author: trevon1996
Comment: this is the best game ever

Post Date: 05:25 08-11-2009
Rating: 1
Author: elbert
Comment: Hello! 2006 has been left in the dust by 2010!

Post Date: 17:48 16-04-2009
Rating: 10
Author: gmpgiri
Comment: great game go EDGE!!!

Post Date: 02:17 05-07-2008
Rating: 10
Author: j0hn c3na
Comment: how do i get the game and also i rate it 10 it sounds/looks & good so yeh how do i get it also go JOHN CENA!!!!!!!!!!!!!

Post Date: 07:52 09-01-2008
Rating: 10
Author: shuby
Comment: yes finally a better game that i can review and play
and my cousin has got it everybody are saying that it is not out of fashion

Post Date: 05:24 06-05-2007
Rating: 10
Author: burroughs7
Comment: Ive played the game before and
i think its AWSOME SO IM
GIVING IT A 10
GO JOHN CENA


Post Date: 18:02 30-05-2006
Rating: 9
Author: renmak
Comment: This game is really great! Very descent graphics also...Really good game I give a 9!