Farmville
Review Directory Intro ...
Want to know what other gamers are saying about an online game that you are interested in? Good because this is where gamers can give their opinions about different types of games such as Online RPGs, MMORPGs, Online Shooters, and Free Games.

If you don't want to leave a review, simply click on the link or the screenshot on a game's review page to go to its website.

Signing up is free and allows you to review games, post in the forums, and submit games for review. The forums allow you to ask questions, share tips, and discuss games after you have reviewed them. Let your opinions fly !.!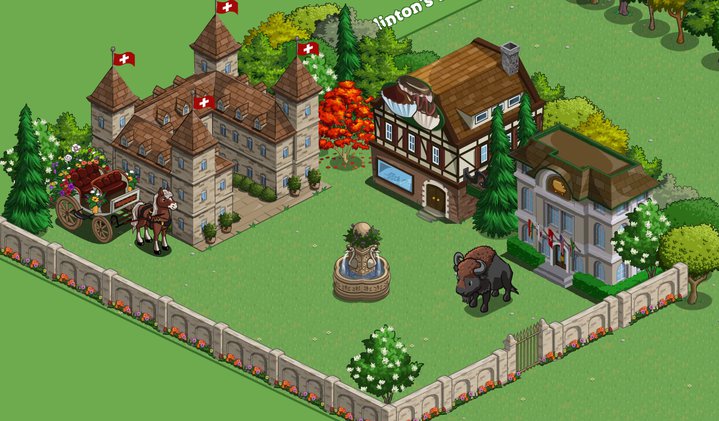 Very popular Facebook game by Zynga where you farm with your friends.

Total Rating: 5.23
Reviews: 30
Review Archive
Post Date: 12:08 05-08-2015
Rating: 7
Author: SulzYee
Comment: Amasing and one of the most populat facebook game. I didnt played it for 2-3 years... but I remember her, you build you farm, earn money... tring to grow up... funny farm game :)

Post Date: 21:07 25-01-2015
Rating: 8
Author: viktorius22
Comment: Remember when i used to play this game lol. Always planted raspberries and clicked them every hour lol . Damn this game brings memories.

Post Date: 09:57 21-12-2014
Rating: 10
Author: Sle91
Comment: Farmville is a social facebook game where u run your own farm. U plant seeds, raise animals, harvest the goods and sell them. More money u have, more expensive seeds and animals u can buy and grow your farm. U can also decorate your farm, buy trees which u can also harvest, buy a house and many other decorations. I played a lot of this game and I really like it so i rate it max 10/10. :)

Post Date: 16:21 06-12-2014
Rating: 10
Author: VannaVIktor
Comment: Most of the popular game on facebook.The main task of the game is to plant vegetables, fruits, later harvest them and earn money. With money, later, you can plant new plants and build your estate and beautify same. Interesting game. :)

Post Date: 08:36 14-10-2014
Rating: 4
Author: arZ
Comment: Farmille is a very popular social facebook game by the best social company Zynga. You need to grow vegetables, fruits and you need to sell them to earn money for it. Many people are playing this game but I really dont like it because it get boring after few week. I rate his game with 4/10. Got still nice graphic, but he sound is boring.

Post Date: 17:20 04-05-2014
Rating: 6
Author: DeamonSRB
Comment: Good game... I play this game like a kid. U'r the farmer and u have your farm, earn money.... Its cool.

Post Date: 18:30 30-04-2014
Rating: 6
Author: nikiwild
Comment: Here we have an old game from 2009, it was developed by zynga. Game is based on building your own farm. Like the name says farmville. Game has started with some really poor things, like fence, grow vegetables, fruit and some more things, them when they say the game is really growing up, they started updating it really often. They added animals, some cool things. Now there are houses in this game. It has really grow up i has more than milion users. Game is mostly played on facebook, there i have found it. It was first interesting to play, but now its not that. It becomes booring, all you need to do is plant vegetables, fruits, and when the time passes, you need to colect them, time is like real life. Feel free to try the game. Sound is nothing special, every animal has its own sound. Graphics are good, i like them. Every thing looks good when u place it on the right place and decorate it. Gameplay is really good at start, but it becomes booring. You need to collect money to build new things. You can buy gold with real money so you can advantage faster than other people. That was my review of the game hope you like it.

Post Date: 18:58 18-04-2014
Rating: 7
Author: savicaa
Comment: Here we can see classing internet game . You can play this when u don't have enought time to play bigger game . Naimly in this game u need to make as bigger farm as you can.

In this game u can buy trees for some fruit , you can buy vegetables , you can buy flowers , houses and ofc animals.
U need to build up your farm , also you need to plant all of that so that can grow up.
You can buy some other things in shop but also u can gift someone something , and that's good thing in game , cause you are getting gifts often.
Also it need some time to grow up , some can grow up in 2 hours and some need a whole day to grow up . In shop there are different prizes for vegetables , fruit , trees and some other stuff .

In this game you have levels. You are reaching levels with plating and getting coins and buying stuffs. You can get most exp from houses , little rooms and some other bigger things. But most coins you get from vegetables cause they need a lot time to grow up . I think that this game has about 100 lvl , and it's really hard to get lvl 100 , trust me :)
Cheers!

Post Date: 22:15 28-03-2014
Rating: 3
Author: Peyp
Comment: One more game made by Zymga. You're the farmer and obviously, you have a farm. You earn money by yields and animals.
It's quite easy on the beginning, but later you are VERY friend ("neighbor") dependent. You can't make your farm any bigger without them or spending real money.

More-less, it's a good time killer, but nothing more then that.

Post Date: 15:55 09-09-2013
Rating: 5
Author: Hawx1990SRBIJA
Comment: I dont like this game much, because they make you spam other people all the time so you can expand or build some building. If there was not that part game would be good. You have farm and you work on it, from crops, to animals. All in all 5 from me.

Post Date: 16:13 19-08-2012
Rating: 1
Author: PolanWalker
Comment: Zukenburg shity game. Meny friend play this everyday but i can see sens in it. 1/10 for me. And this graphics :/

Post Date: 11:53 19-08-2012
Rating: 3
Author: Thedarkboy
Comment: This game is really boring. You do the same thing over and over again. Plow, harvesting, selling, plowing, harvesting... and so on. The game is playable on Facebook, which means that you can have your friends as "neighbors", help them on their farms, sending gifts, etc. Everything you do will reward yourself with XP points, and for each new level you reach, you can buy new things to your farm. Farmville is (unfortunately) an extremely addictive game if you think it's fun. It can even cause abnormal behaviors to humans. For example, that you sit and stare at your newly sown seeds, despite knowing that they will not be finished within the next three days, or to constantly update the Facebook homepage to see if any friends have found a lost pet that needs a home. The graphics are pretty okay though for a browser game. Although the sounds are just bad. The music is played in an endless loop, and the animals are not easy to listen to since they are soooo annoying. Fortunately you can turn off the sounds :p

Post Date: 15:09 26-10-2011
Rating: 4
Author: Thedarkboy
Comment: A solid game that you play in Facebook. I played this a little before but stopped about 4 days after. I think it's pretty boring, cause you're only doing one thing over and over again. Pretty boring if you ask me. But it sure can be addictive if you find it a little fun.

Post Date: 18:29 22-10-2011
Rating: 7
Author: dmt_2000
Comment: FarmVille has no classes just millions of farmers ready to harvest! If you like Farm games this is the game for you!

Post Date: 17:56 22-10-2011
Rating: 7
Author: lumlehsumleh
Comment: I like how there's many events, and lots of items you can get.
You can get your friends to play and interact with them, which is pretty neat.

Post Date: 18:06 29-06-2011
Rating: 3
Author: cooldude671
Comment: Farmville is a okay game.
Its on Facebook.
Its boring because you keep clicking.


Post Date: 13:32 29-06-2011
Rating: 6
Author: KuroTsuna
Comment: So far, one of the main things that I like about this game which is a vast improvement over FarmTown is the ability to Que your actions. That is to say you can use the plow tool and select 10 different plots with it. Your farmer of course will run around trying to keep up, but basically you don't have to wait for them to finish before telling them the next thing you want them to do. This means that farm management takes alot less time. Of course if you don't have enough cash for everything you've told them to do they will attempt the action, complain about not having enough money and then move on to the next task.
I'm developed the overall numbers, but so far. the most profitable crop I have access to seems to be soybeans. Several other crops have come close, but either don't produce enough money or have the disadvantage of having a harvest time of less then 1 day. Now you might be thinking "why is that a disadvantage?". It is a disadvantage because if they are not harvested in a timely manner they rot and you end up just wasting money. Certainly if you can stay on top of it you'll make more off of strawberries.
There're some player who use multiply account to make your own farm a lot better than when you're using one account, but that means when you play this game on facebook you need multiply accounts to help your own farm.
This game is also a click and get boring game. That's why I quitted this game.

6/10




Post Date: 19:32 22-06-2011
Rating: 4
Author: gokiguy
Comment: If your bored and have nothing else to do, you could play this. It wastes time.

Post Date: 22:22 19-05-2011
Rating: 0
Author: Wweandhockeyboyyyy
Comment: It sucks because i dont know how to conneect without face book

Post Date: 14:05 29-04-2011
Rating: 6
Author: KuroTsuna
Comment: Nice time wasting game.

Post Date: 20:18 06-03-2011
Rating: 3
Author: BT 786
Comment: It is a simple click game. I don't see why I need to review this, anyone on Facebook would know about it.

In my opinion this deserves a 3/10. It was a complete waste of time and I only got grief from friends for playing it.

Post Date: 20:17 05-12-2010
Rating: 5
Author: champking5
Comment: This is a good game to release stress. Plant items and take care of cattle. I recommend playing this game.

Post Date: 00:12 30-11-2010
Rating: 3
Author: Ichigohollowfied
Comment: Better than farmtown....however I hate them both sorry =p. My friend said it is fun to hack and piss other people off though lol.

Post Date: 02:06 28-09-2010
Rating: 4
Author: Noche
Comment: For the most part, it's a waste of time. I'm sorry.

There are far better farm games out there--Nord for example. The game is just a little getaway from reality, sure, but aren't most games? There's nothing really special about this one.

The one real aspect is being able to interact with all of your real-life friends in a graphic virtual environment. Sure, all right, I'll concede that. However, it's a flat game. As I said, nothing special, but to each their own. It depends on what appeals to you--if you like this sort of game, okay, try it out. However, I myself prefer games with more depth and possibilities, as well as not having my friends farmstalking me all the time.

Post Date: 06:32 19-06-2010
Rating: 6
Author: Xavator
Comment: Many people said that this game is somehow addicting without a reason. In my personal opinion, the reason is because it's like managing your own farm, except that it's online. Not everyone wants to try to be farmers in reality, thus there are games like this to satisfy their curiosity. And yes, playing with friends is the best thing about this game. I've seen my friends playing, and I asked one of them once, "Why Farmville?" And she said, "I need to be better than her!" So, yeah.

For the sake of fans, I'll give it a 6

Post Date: 05:30 15-06-2010
Rating: 4
Author: Rebirth
Comment: I used to play this game, but it was getting way to addicting. The game itself is simple, buy plants, plant plants, buy animals, buy buildings, etc.

I don't see what makes the game so addicting, I think it's just the fact people are trying to prove the point "my farm is better than yours!."

I've seen people pay other people to gift them an item in Farmville, I've seen people make fake facebook accounts just to gift themselves on Facebook, this has taken over some people on facebook.

I personally don't like it, but I can say it's really addicting.

Post Date: 17:23 14-06-2010
Rating: 6
Author: Aaddron
Comment: Farmville has taken the world by storm and has quickly became one of the most popular games ever. Does that make Farmville a good game? No, actually most gamers don't like the game, even some people that play it don't like it. It's simply addictive and always there when your bored. It completely embraces the pick up and play motto, you can play it for a few minutes or a few hours, it's never "hard" so you can play with very little effort. It's simply the ultimate casual game.

I honestly consider the game a money pit but if people are having fun with it and it's introducing gaming to more people it can't be all bad can it?

Post Date: 15:24 12-06-2010
Rating: 6
Author: awesomedrako
Comment: Farmville... I really don't like this game. However, for review purposes, I cannot simply give it a low score of 1 or 2 or something. This game is very addicting for a lot of people, and it's in the category of the sorts of 'idle games' where you only have to go on for a few minutes a day to progress. However, it seems this game is an 'idle game+', because I've heard people go on it for HOURS at a time.

I'm not too familiar with it, but if it can get people who aren't normally gamers to play games with each other, and also get these non-gamers to play this game for HOURS, then it's a pretty good achievement indeed. While I myself cannot give it that many points simply for being fun and addicting to other people, I will give it some points for being a fun and addicting game to non-gamers.

Post Date: 04:58 09-06-2010
Rating: 6
Author: Joker
Comment: Farmville can be a lot of fun. I have tons of friend requests on Facebook mostly because of Farmville! Like Jared said, it takes alot of your time. If you don't have the time, look elsewhere.

Post Date: 11:29 07-06-2010
Rating: 7
Author: jared
Comment: Its A fun game But it takes up alot of your time and its addicting You always want to get all the new Things and get higher levels than your friends and lots of people play it:)
the longer you play it for the more youll learn how to level up faster and that kind of stuff but you can play it for like a year or 10 months then youll get bored of it.

i give it 7 outa 10