Super Smash Bros Brawl
Review Directory Intro ...
Want to know what other gamers are saying about an online game that you are interested in? Good because this is where gamers can give their opinions about different types of games such as Online RPGs, MMORPGs, Online Shooters, and Free Games.

If you don't want to leave a review, simply click on the link or the screenshot on a game's review page to go to its website.

Signing up is free and allows you to review games, post in the forums, and submit games for review. The forums allow you to ask questions, share tips, and discuss games after you have reviewed them. Let your opinions fly !.!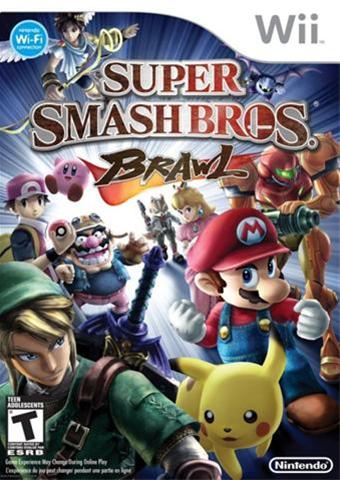 Super Smash Bros Brawl is a release by Nintendo and has been one of the most popular games among players. You can choose your character and play story mode just brawl for fun. You also have the choice to play online with friends or random players.

Total Rating: 8.81
Reviews: 21
Review Archive
Post Date: 15:36 08-08-2014
Rating: 9
Author: shaki997
Comment: Super smash brawn is relesed by nintedno and its one of their best selling game. You chose a character and play a story as that charaster fighting others and brawling then just for fun! The game also has an amazing story that i personally reacommend anyone to check out! You play with characters from: pokemon, legends of zelda,mario, kirby and even more! you can also play online with your friends or just random people, or chalenge the bosses in the arcade mode!

Post Date: 21:20 23-05-2014
Rating: 10
Author: Gavra10
Comment: I love this games :D Pokemon and Mario are my favorite :D

Post Date: 20:36 26-03-2014
Rating: 10
Author: L0LChampz
Comment: BEST GAME EVER!
Funny,amazing graphics and amazing gameplay!
What is there more to say abut super smash bros!?!? :D
CLASSIC AMAZING GAME! :D

Post Date: 17:36 22-07-2012
Rating: 7
Author: PolanWalker
Comment: Meny games charakters in one production. Funny game, good gameplay. Nice garphics and good idea. 7/10 for me.

Post Date: 20:07 21-07-2012
Rating: 10
Author: Dmt_2000
Comment: This game is one of the best Wii Games in my opinion its awesome because some of my favorite games characters are in here so its very fun and if you were a kid once you would love this game

Post Date: 13:54 21-07-2012
Rating: 9
Author: Thedarkboy
Comment: The game is funny, but after you have passed the story mode and got all the characters in the game, it loses a bit of the fun. Although I still think it's a game worth buying even whene you can get tired of the game pretty quickly. The graphics have improved since the N64 and GC, and controls the got its own level on the Wii. But there is a negative thing in the game, if you play online, you can't play 2 players. Theyprobably have their reason for this but I just think it would be more fun it would be available to play 2 people online.

Post Date: 18:54 17-10-2011
Rating: 10
Author: kingofgames321
Comment: This game is amazing, but its still the weakest of the series imo. (SSB64>SSBM>SSBB)

Post Date: 19:31 28-06-2011
Rating: 10
Author: gokiguy
Comment: I was always a big fan of the Super Smash Bros. series. I got the first Smash Bros. game for the Nintendo 64 and enjoyed it immensely. I never even had a Wii until recently, so naturally, I was drooling over this game the whole time I was saving up for it. I now have the game and I've played it enough to shed much light on the matter. First off, there are a lot more characters and stages. Adventure Mode is great, having a plot and everything. There is a Stage builder. You can create your own stages and use them while you play with your friends and family. You can record your matches that are less than three minutes. This will let you watch some of your best matches. The All-Star mode is really fun. The best thing I think they did was that they made the AI better. It is smarter so you have a harder time fighting it., making it more fun. I hated the computers in Melee. They were both stupid and annoying. And the very moment danger arose, like rising acid in Brinstar, they'd go and duck for cover. Even if the acid wasn't even close to touching the stage, they'd go and act like cowards. Now, they're not complete cowards. Level 8 and level 9 computers are now real challenges since they actually use skills instead of cheap and annoying moves. I love this game, and I will continue playing it for a long time.

Post Date: 14:58 28-05-2011
Rating: 5
Author: Noche
Comment: In all honesty, I was disappointed in this title.

Basically, Nintendo attempted to make improvements upon SSBM, but SSBB ended up almost like a weaker clone. Gameplay is all right for its style, but the cast is fairly unbalanced and online play is among the worst I've ever participated in. The only real good thing I can say about it is it's a great party game to play with friends.

I'd grab Melee over this any day.

Post Date: 20:09 30-04-2011
Rating: 8
Author: KuroTsuna
Comment: Nice wii game and it's fun to play this game.

Post Date: 19:30 26-04-2011
Rating: 8
Author: Lions
Comment: I like this game, and the multiplayer is one of the best you can get on the Wii. My only complaint is that it could have been a bit more original and unique, it basically was a rerun of SSBM with more characters.

Post Date: 15:37 30-01-2011
Rating: 8
Author: champking5
Comment: After playing this game with friends. I really found out how good this game was. The more people you have the better the game. Toon Links is the best character on their :p

Post Date: 22:00 27-01-2011
Rating: 10
Author: Adrian
Comment: An impressive lineup of stages and characters, including some from third parties. Cool soundtrack. Awesome cut-scenes...10/10.

Post Date: 01:00 10-12-2010
Rating: 10
Author: EcLuD
Comment: very good game i like luigy =P my besth :D and play online rlz 10/10

Post Date: 20:10 05-12-2010
Rating: 6
Author: champking5
Comment: This game is arlight when you play it with 4 people. But online is GARBAGE. I cant stand the game freezing everytime someone jumps, I'll give this a 6.

Post Date: 21:29 17-11-2010
Rating: 9
Author: Julein
Comment: one thing i noticed about wii is only Nintendo made games are fun with a few exceptions. Brawl has such amazing graphics for a wii game its amazing. you can spend so much time on this game that it has one of the greatest values ever. so much fun to play split screen, but unfortunatly there is no online community at all so i give it a 9

Post Date: 10:15 10-11-2010
Rating: 9
Author: woolimis
Comment: I wish they added extra achievements and more characters... but overall i found this game to be good.

Post Date: 01:31 23-09-2010
Rating: 8
Author: logen9
Comment: Good, but not as good as melee imo. I don't agree that its the only good wii game, neeyick. You must not have played many wii gamees:p.

Post Date: 19:37 05-09-2010
Rating: 9
Author: anymotion
Comment: I personally like this just as much as Melee. It's fun, it's really great to play with friends, and there's some good competitive aspect. The only thing that I don't like that much are the items, because it gets to the point where if you can get the items and get lucky you can win.

Post Date: 04:27 07-06-2010
Rating: 10
Author: neeyick
Comment: 10 because its the only good wii game.

Post Date: 02:06 20-04-2010
Rating: 10
Author: Regret
Comment: Best game ever. This is innovation in video games. It's like every aspect of the old super smash bros, expanded. It's a great experience for all players of any age. If you play a game to the point where you wanna unlock everything, then this is your game. You can earn achievements, some of which are very hard to unlock. This game is fun solo and with friends. You have several characters to choose from, as well as several game modes. You can also turn on items which makes this game a blast! This game has solid graphics and awesome gameplay. You can either buy this or regret not buying it because this is probably one the best video games ever created. It takes all of the characters from all different games, gives them their own abilities, and has them fight! I give this game overall a 10/10. If I could rate this high, I definitely would. :D