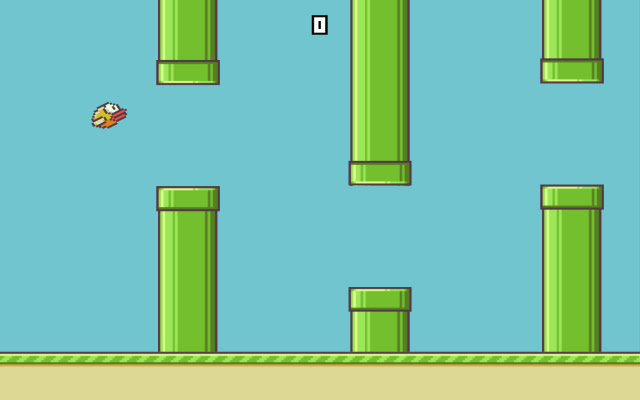 Video games. It's hard to deny that they are one of the most innovate and influential mediums of the 21st century. Games such as Minecraft, League of Legends, and Spelunky defined the 2010's poignantly. PC Gaming has become an undeniable part of modern culture.  However, there is another form of video games that I'm sure you're a good bit familiar with: mobile gaming. The industry is huge. It has been written about, and analyzed, time and time again. I personally can list several mobile games that are as memorable as any a console game. These are games that make days and nights, and evoke feelings of naivety and childlike innocence, as we look back on them with nostalgia.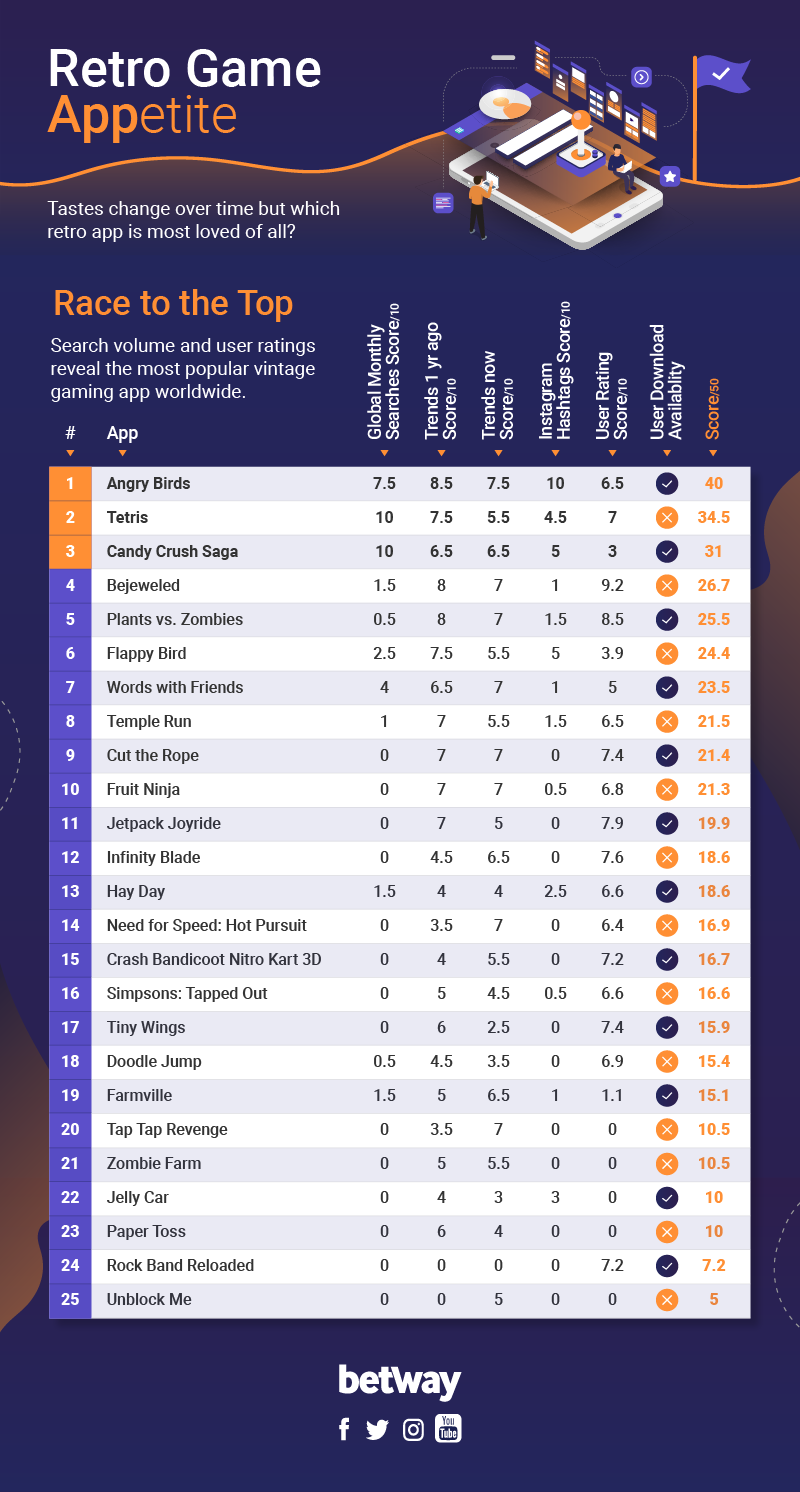 The above infographic was created by Betway
Flappy Bird: The quintessential rage-quit game. It is long dead, but is still memorable for its easy to copy and paste formula, plus its Mario SFX (and pipes!) and 8-bit graphics. You could make a case that it is the most addicting game of all time, and I wouldn't judge you. It certainly has a claim to fame in that domain.
Bejeweled/Candy Crush: I like to put these in the same vein because one fed off of the other; in this case, Candy Crush fed off of the success of Bejeweled, one of the most popular games of all time by downloads. Other than the interface, in essence, the games are nearly identical in premise. In Bejeweled, you try to match jewels of the same kind with one another to make them disappear; in Candy Crush, you do this likewise, but for candies. The primary difference is that Candy Crush is one of the first viral instances of a "Freemium," wherein you can pay to unlock power-ups and pass levels. It also introduced the world to the cut-throat world of: Facebook Gaming.
Fruit Ninja: In case you haven't noticed a pattern, it's that all of these games are simple in both design and structure: they're games you can pick up and play, sometimes even without knowing English all together, or barely having experience with video games. That is why games such as Fruit Ninja are so popular: not only are they literally everywhere, but, in the case of Fruit Ninja especially, they require little thought, or thorough examination. The objective of Fruit Ninja is to swipe across the screen and slice the fruits as the come on screen. That's it. No wonder it has hundreds of millions of downloads…
Doodle Jump: Here is an instance of me having the game in question on my very phone! And it's awesome, too. It's the right balance of challenge and interesting. It engages you with its platforming and fast-paced game play. While complex compared to its brethren on the list, when it comes down to it, Doodle Jump is also a relatively simple game that you will also find at Chuck E. Cheese. Speaking of which…
Temple Run: Another Chuck E. specialty; you can start to see another pattern emerge. That even someone who can still acceptably play at Chuck E. Cheese could conceivably master these games. It isn't hard, and that's what's beautiful about it all: you could never really forget these games, or how to play them. They're always in your subconscious. Case in point, Temple Run, a game of running away from rabid monkeys with the most basic of controls and obstacles. And yet, these are the things that entice the mind the most. Simplicity, engagement on the most basic of levels so that you don't have to overthink, and a break from society to play games.
Paper Toss: Here we have a game of throwing a piece of paper into the garbage. And yet it is a top ten most successful mobile game ever. Makes sense, right? Society at its finest, ladies and gentlemen… Even though it has been dead for roughly a year, the game lives on through the comical mutterings of your coworkers (who we never meet) and the frustrating misses when you just glaze the rim of the rubbish. Just saying that brings back memories. Memories of a simpler time. Anyway, let us move away from the social commentary, and more to…
Angry Birds: …a game that was so successful, it spawned its own international merchandise and movies. A game about shooting angry birds (as the title suggests) into an unstable structure filled with… pigs. Sounds like a Russian metaphor, but it isn't. It may be the most outlandish game of them all on this list, but it is, objectively, the most renowned and praised. Just goes to show that, sometimes, the mind craves a little more.
Those aren't even the only examples of excellent and, if you will, inspiring mobile games. There's: Piano Tiles (R.I.P) and Crossy Road, as well as the underrated Pac Man 256. Even Retro Bowl may give you some nostalgia pangs… assuming you were alive in the 70's-80's. It may anyway… because these games are powerful. They made the childhoods of some. They contoured of brains of others, young and old. And then there are the people on Facebook who play competitive Candy Crush. You pick your range. It's nostalgia anyway. It really does remind us of a simpler time. It brings back the feels. It brings the mind company. And for that, I feel that mobile games should get more credit. Especially these. These… are the great ones.