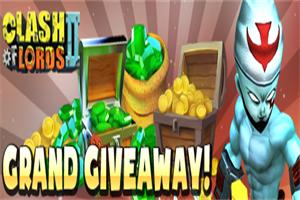 This popular game is supplying GameOgre.com members with free gift codes to enjoy the game even more! To get one of these, simply reply in the comment box below requesting a code. The code will then be sent to you via email. You can also check out promotions on vegas-promo-code.co.uk for more gaming goodness!
Code Redeeming Instructions
1. Once in-game, tap the "Events" button on the right hand part of the main game screen (the treasure chest).
2. Select the "News" Tab.
3. Select "Secret Code Giveaways!"
4. Tap "Join Now"
5. Type in your promo code in the box and tap "Claim".
Each code contains a 1 Arctic Lord, 300 Djinni Shards and 300 Jewels.
Valid only once per account ID. Enjoy!
Clash of Lords 2 Information
Short Description:
Clash your way to the most indestructible empire by building your army of loyal soldiers, hiring lethal Heroes, and learning enchanting Magic spells. Send your army out on combat missions or raid players from all around the world. Upgrade your base and defend your reputation as the leader of the most unparalleled Kingdom in the Realm!
Key Features:
• FREE TO PLAY
• Real-Time Command – Watch battles unfold in spectacular 3D Graphics!
• Recruit Fearless Heroes – Unlock legendary Heroes and command the most savage army!!
• Mercenary Mania! Training troops is history! Get into the heat of battle faster than ever!
• Tons of ways to battle! Different battle modes means non-stop action!
• Guild Camaraderie – Rally your friends and smash other Guilds in the new Battle Royale!
• Mystical Magical Spells! Intense clashing calls for new tricks. Protect your army with Magic Spells!
Details:
Developer: IGG
Publisher: IGG
Platform: Android, iOS , Amazon and Windows
Genre: Tactical RPG (Role Playing, Tactical)
Theme: Fantasy
Download link:
Android: https://www.apkmonk.com/app/com.igg.clashoflords2/
iOS: https://itunes.apple.com/us/app/clash-of-lords-2/id867427452?mt=8
Amazon: https://www.amazon.com/IGG-COM-Clash-of-Lords-2/dp/B00K4APIN0
Windows: https://www.microsoft.com/en-us/p/clash-of-lords-2/9wzdncrdsc3w