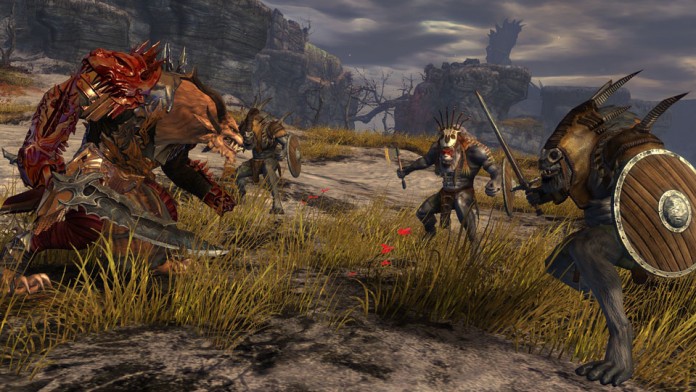 A Free MMORPG is a MMORPG without a recurring subscription fee. Free MMORPGs are a little harder to find than Free Online RPGs because nearly all MMORPGs charge monthly subscription fees. However Free MMORPGs are becoming more abundant as stellar games like Guild Wars champion this emerging niche. Since there are no subscription fees these games usually find other ways to make money such as offering in-game advertising selling via retail only offering premium accounts at a fee or charging for in-game items.
Free Online RPGs
Free multiplayer online games with RPG elements.
MMORPG
Massively multiplayer games that require a monthly fee.
Free MMORPGs
Guild Wars 2
Forum
Sequel to one of the most popular online games of all-time. Has been successful as a full MMORPG and is a MMORPG Showdown winner.
Runescape
Forum
Fantasy MMORPG that caters to gamers with low-end PCs and small budget for gaming. Now has improved graphics. Maple Story
Forum
Cartoony MMORPG that looks similar to a console game where you can trade items.
Neverwinter
The best MMO on a Dungeons and Dragons world to date. The game is free but has only two character slots. Has one of the best combat systems of any MMO. GameOgre.com has a guild on the Mindflayer server.
TERA
Once considered a possible WoW killer it was considered an innovator in the same veign as Darkfall. Now it has a free version.
Age of Conan
Brutal MMO that was highly anticipated due to its subject material and starting levels.
Aion
Fantasy MMO from NCsoft about an ethereal world with angels demons and dragons. In addition to players being able to fly with wings Aion uses a combination of PvP and PvE known as PvPvE.
Champions Online
Superhero MMO with amazing customization options by Cryptic Studios.
DC Universe Online
Super hero MMORPG with well-loved heroes and villains such as Batman the Joker Superman and Flash.
Dungeons and Dragons Online
A dream game for any old school RPGer. Now offers a free version.
Lord of the Rings Online
Started off as one of the best pay games behind World of Warcraft but is now one of the best free ones.
Star Trek Online
Also started as pay-to-play but now has a free version. Although not a huge blockbuster does have a loyal following. .
Runes of Magic
Free to play MMO game that has often been compared to World of Warcraft.
Aika
Aika Epic III Giveaway
Offers castle sieges nation wars battlegrounds and action-packed PvP.
Guild Wars
Forum
Free MMORPG that can be bought in stores but does not have any monthly fees. Guild Wars 2 should be out shortly.
Perfect World
Offers a huge game world enough quests to minimize grinding the ability to fly and awesome character customization.
FLYFF
Flyff Gold Event Pack
Magical flying MMO that stands for "Fly For Fun".
Vindictus
Action MMORPG that features fast paced combat cloth physics and the ability to weaponize objects in the environment.
Talisman Online
Uses talismans as a major feature of the game. Has had many Giveaways on GameOgre and has been the subject of a video.
Silkroad Online
Interesting setting that blends the ancient Chinese European and Islam civilizations with fantasy.
Shaiya
Originally a Korean game Shaiya focuses largely on various forms of PvP and resembles Lineage II somewhat in terms of graphics. Playing the game in Ultimate Mode could lead to permanent death for a character.
King of Kings 3
A 3D Fantasy MMORPG published by Gamigo. The game has a strong emphasis on PvP combat and an extremely high level cap of 180+.
Dragon Oath
Marriage guilds and blood relation all play large roles in the game.
Free Realms
Has quickly become one of the top games in the industry with millions of players. FR is like a virtual world where players can hangout with friends and play mini-games.
Fiesta
Fully 3D MMO that gives players a plethora of choices such as fighting monsters participating in guild wars crafting selling goods and going on special quests known as Kingdom Quests.
Ether Saga Online
Fantasy MMORPG by Perfect World Entertainment that is based on the Chinese literary classic Journey to the West. ESO boasts many interesting features including a birthday skill system an innovative pet system and a card system where players can become monsters.
Atlantica Online
Innovative turn-based game where strategy plays a major role.
Archlord
Fantasy MMO that tries to satisfy PvPers with massive real-time battles between guilds and solo gamers with extensive quests. This game was launched as a pay-to-play game but now no longer charges a monthly fee.
Rappelz
3D Fantasy MMO from the same company as FlyFF. There are three playable races and each one has its on theme and home city. The graphics for this game are just as good if not better than many pay-to-play MMOs.
Sword of the New World: Granado Espada
Full 3D fantasy MMORPG with amazing graphics. Most innovative feature is that players can control up to three characters at once.
World of Kung Fu
Instead of having professions all players start out as martial artists in ancient China. The game's graphics are inspired by traditional Chinese paintings.
9 Dragons
Giveaway
Become a master of the martial arts in ancient China.
Luminary
Political and economic RPG from Korea with cartoony graphics. This game allows the buying of stocks and the holding of elections.
Rakion
Fantasy MMO built around a strong story and great graphics.
Priston Tale
A 3D game with plenty of eye-candy.
Lunia
Arcade-style RPG that has a mid-air combo system.
Twelve Sky 2
PvP focused martial arts MMO that picks up on the momentum of the original.
Red Stone
2D Fantasy MMORPG with 8 classes that can transform into alternative classes.
Scions of Fate
English version of very popular Korean MMORPG known as Yulgang: Balance of Power.
Eudemons Online
You can raise many different looking eudemons with various attributes that fight by your side. Up to 3 eudemons can be summoned at one time.
Last Chaos
Massively multiplayer game with 3D graphics pets and a personal dungeon system designed for solo players.
Magic World Online
New concept MMORPG that features an in-game bot used for grinding and video chat.
Puzzle Pirates
Rather inventive MMORPG where you make your mark in the game by solving different puzzles. If you really want to become a pirate in style with extra gear a subscription model is available.
Pirate King Online
Offers a humorous take on pirates like Puzzle Pirates but plays more like a regular MMO than Puzzle Pirates does with all of its puzzles.
Furcadia
Free MMORPG that can be played by anyone since there is no combat involved only people's imaginations in a close-knit community. Everybody stays in the same world to maintain the great community feel of the game.
RAN Online
3D Action MMO with a Japanese urban theme.
Cabal Online
MMO that will try to make you the hero by giving everybody their own story.
Wurm Online
Community-focused MMORPG developed in Java.
Second Life
3D virtual world that is owned by its players. Although land is sold for real money the game does offer a free basic membership.
KAL Online
Full 3D oriental fantasy MMORPG based on a war where a king takes on a leader of demons.
Ogre Island
Fantasy MMO where you can play for free but will get the most out of the game by buying the Ogre Island's special currency OI Platinum.
Knight Online
Fantasy MMORPG with impressive graphics. This is the U.S. version and requires a large download.
Gunz The Duel
Live out your fantasy of being an action hero in this unique online multiplayer game.
R.O.S.E. Online
Short for "Rush On Seven Episodes". Was once P2P but is now F2P.
Seal Online
Fantasy-based massively multiplayer RPG with anime-style graphics.
Forsaken World
Forsaken World is one of the latest from Perfect World Entertainment. It features 5 races and 8 different classes.
Myth War Online
Fantasy MMO based on a magical time period with 2D graphics and over 200 skill sets for characters.
Entropia Universe
Large MMO with a unique economy. There is no monthly fee and no charge for the download.
MU Online
Korean MMORPG that plays similar to Diablo and can now only be played for free up to level 60.
Tibia
Free MMO that uses an interesting tutor system to help newer players get in the flow of the game.
Conquer Online
MMOG with a Chinese Kung Fu and magic theme.
PlaneShift
Free 3D MMORPG that allows you to decide whether you want to adventure or engage in finance and politics. Take note that this game is playable but is also constantly under development.
Dark Eden
Korean MMO with a vampire theme.
Endless Online
Free MMORPG with 2D cartoon-style graphics. The download is only around 7 to 9 MB.
Eternal Lands
Free fantasy MMORPG in which there are no fixed classes or professions. Player killers are given special maps in order to fight each other.
Drakensang
Excellent browser MMORPG with high-quality graphics and gameplay that resembles the Diablo games.
Anarchy Online
Major MMO that offers a free version with in-game advertising.