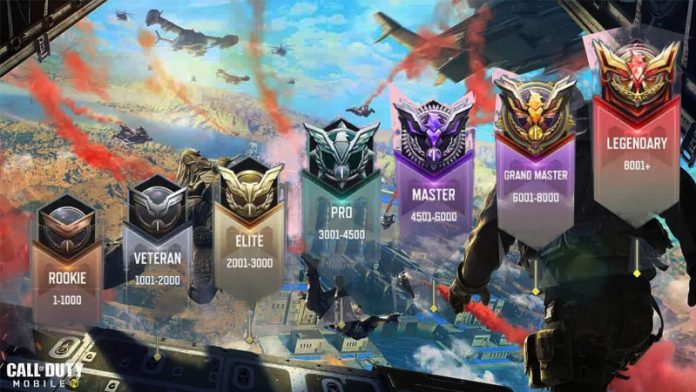 Arguably, the most popular Battle Royale title on a mobile platform right now is Call of Duty (CoD).
Activision has a CoD ranking system, and several rewards are associated with this system. With the help of popular options such as CoD boosting, you can focus on tactics that help you climb the rankings. It also helps if you understand how the ranking system works and what the different modes are all about.
Here is a look at how the CoD ranking system operates.
Multiple rank tiers
A good starting point would be to appreciate that Call of Duty Mobile has multiple rank tiers, much like any other Battle Royale title. These tiers are then divided into three subdivisions, except Legendary, which is entirely based on a points system.
The CoD Mobile Rank Tiers are:
Legendary – 8001+ points
Grand Master – 6001 to 8000 points
Master – 4501 to 6000 points
Pro (I – V) – 3001 to 4500 points
Elite (I – V) – 2001 to 3000 points
Veteran (I – V) – 1001 to 2000 points
Rookie (I – V) – 1 to 1000 points
As you might expect, you start off as a Rookie when you begin your rankings journey. You will quickly discover that because the points gap between each subdivision is relatively minimal, you can leap to the elite tier if you are prepared to do some match grinding consistently.
Different rewards
Another question is what sort of rewards are available in each mode.
Each mode offers a variety of different rewards –
When you are in multiplayer mode, the rewards are as follows-
Charm – Series 7
Echo – Royal Flush
Kilo Bolt Action – Dealer
Steeled Frame
In Battle Royale mode, they are –
Avatar – Hero
Baseball Bat – Royal Flush
Calling Card – High Roller
Character T.E.D.D – Where to Sir?
A key point to remember is that ranks in CoD mobile are designed to help you create more opportunities to earn more rewards.
Ranking resets explained
The end of each season signals the point where you will be rewarded for your accomplishments. At this point, the game automatically resets the rank you have achieved, and this happens irrespective of the mode.
Let's look at the respective rank transfers at the commencement of a new season.
Elite 1 and Veteran 5 – Rookie 5
Elite 2 and 3 – Veteran 1
Elite 4 and 5 – Veteran 2
Legendary – Pro 1
Master 1 – Elite 1
Master 3 – Elite 3
Master 4 – Elite 4
Master 5 – Elite 5
Pro 1 and 2 – Veteran 3
Pro 3 and 4 – Veteran 4
Pro 5 – Veteran 5
Rookie 1 to 5 – Rookie 1
Veteran 1 – Rookie 2
Veteran 2 – Rookie 3
Every player's rank gets reset at the end of each season. In addition, you are rewarded with unique rewards each time you rank up.
How to speed up your progress?
As already highlighted, one way of progressing faster and gaining rank is to take advantage of boosting services. That can also help you develop more confidence in your game at the same time.
Meanwhile, here are some helpful tips that are good to know about gaining rank.
It should come as no surprise that your performance heavily influences your ranking. If your performance is good enough, you will be rewarded with an increase in your ranking points. Conversely, a poor performance standard will likely see your points fall.
The advantage of multiplayer mode
Playing in multiplayer mode is a surefire way to increase your ranking points; this mode is the only one where you can do this. When you play other modes, such as Battle Royale and Zombie mode, these won't offer an increase in rank points.
Some critical aspects of your performance determine the level of increase in rank that you achieve. Half of your points' performance is influenced by the number of kills you complete, a third depends on deaths, and a further 20% is based on your survival time.
Putting all these factors together will calculate the ultimate increase rate of your rank points.
Focus on training hard and switching modes regularly
If you still need to work it out, your focus should be training hard on the classified games. Another hugely important and influential tactic is regularly changing your playing techniques in ranked games.
Make sure you keep switching between game modes. At the same time, make sure you are committed to fighting and practicing until you get to where you want to be.
If you want a clearer idea of how this works and what these tactics can achieve, one example would be to set about killing enemies in all available modes. Mix it up for maximum points. Kill several enemies before switching to sniper mode, for instance.
Choose your weapons carefully!
Remembering that if you can choose the most powerful weapons, you will increase your rank faster.
You can even improve your options by using the Gunsmith for weapon customization.
Choosing more effective guns when fighting at close range in multiplayer mode is often a wise strategy. Domination and Hardpoint matches are often fought close to your opponent, which would be a prime example of when you need the most effective guns.
Working your way up the rankings will be challenging, and you will almost certainly face some setbacks. The fundamental purpose of the CoD ranking system is to find a way of accurately classifying each player based on their current capabilities and in-game skills.
Your ranking will reflect the better you play and the more skillful you become. Are you up for the challenge?