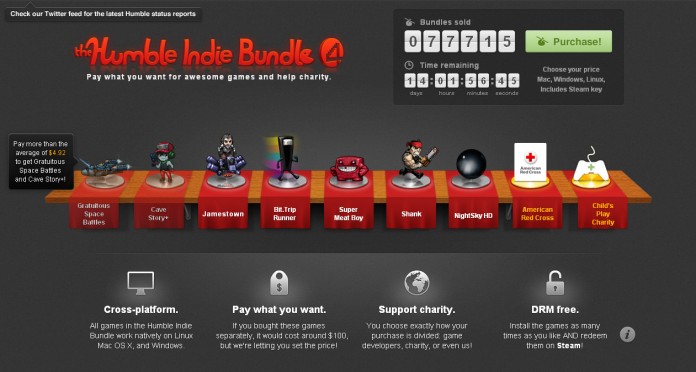 As anybody who reads this blog can tell, I like to buy in bulk whenever I can. It started when I was doing auctions and storage auctions for a couple of years and has now translated into online game bundles. The main reason I do this is because it offers the most bang for your bulk by far. I have saved a lot of money doing this and have picked up items and games that I might not had otherwise. This has lead to many pleasant surprises in addition to learning more about whatever I got in the deal.
That said, the game bundle is becoming more and more popular. Although Humble Bundle is the most high profile of the bunch there quite a few other sites that offer even more bundles for bargain hunters. Some of these even offer games for free. Here is a list of the main ones for those who can't get enough of the great deals. If you want to stay up on when each new bundle starts, subscribe to their mailing lists.
Bulk Deals:
Humble Bundle – Still the best. You are able to pay what you want and send money to charity at the same time.
Bundle Stars – Offers more bundles at the same time. There are currently thirteen going on right now.
Indiegala – Has a bundle for Monday, Hump Day (Wednesday), and Friday.
Indie Game Bundles – Also has music bundles and freebies.
Groupees – Combines music and games.