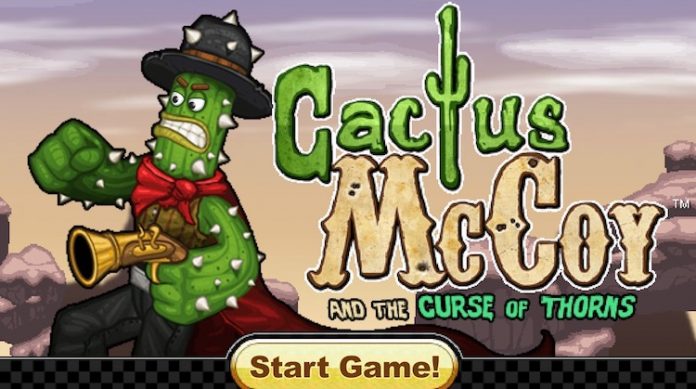 Gun Games are fast becoming the favorite of most gamers, as it is just you, your gun and the bad guys to aim the gun at. In addition to the fun and excitement you get from playing a game and shooting down your enemies, gun games are known to have many other benefits. It helps improve cognitive function, as it engages your mind, which boosts your operation. It also helps improve concentration skills and your gun handling ability.
You can play gun games online on agame.com with numerous options to choose from, some of which includes:
1. Cactus McCoy and the Curse of Thorns
McCoy is a cowboy that was transformed into a walking, talking cactus. Your goal in this game is to bring McCoy back to its proper home before he becomes a lifeless stone cactus. You will have to fight your way through bandits on each level with limited time. You will find yourself wielding tons of weapons in the course of the game, as the bandits keep dropping their weapons. Bring cactus McCoy back home to be free from the curse of thorns.
2. Gun Builder
Gun Builder allows you to create your own custom guns, from the most basic, like the pistols, to the most dangerous weapons, like the popular military assault rifles. You can choose to create any type of gun in this game; whatever it takes to help you shoot your targets. While creating a series of iconic weapons with their individual components, you get familiar with what guns are built with and the pieces they contain. Each level in the game introduces a different gun to build and the tasks get more complex as you climb up the ladder. 
3. Miami Crime
In Miami Crime, you play as a cop who is determined to face the ruthless gangsters in the city and prevent them from taking over Miami. In the course of this game, you can steal any vehicle, whether it is a car, tank, jet, helicopter or anything at all to help you achieve your aim. Eliminate each of them with all the weapons in your care and clear the city of crimes. 
4. Combat Reloaded
Combat Reloaded is a first-person shooter multiplayer game that requires using your weapons skillfully to take down your enemies. It allows you to choose several weapons and your preferred style of game that determines the team you play with. It is also an exciting game as it projects real-life situations and you find yourself hiding around corners and ducking to shoot and take down other players. 
5. Mr. Bullet
The goal in Mr. Bullet is to kill your enemies without running out of ammo. You need all the focus you can get to aim at your enemies and take them down with unique weapons. While you do this, you also help save hostages and have a great adventure while at it.
Conclusion
Gun games are fun, exciting, and challenging. This genre of game is fast becoming the favorite of most gamers, as it keeps evolving with new and improved challenging games.