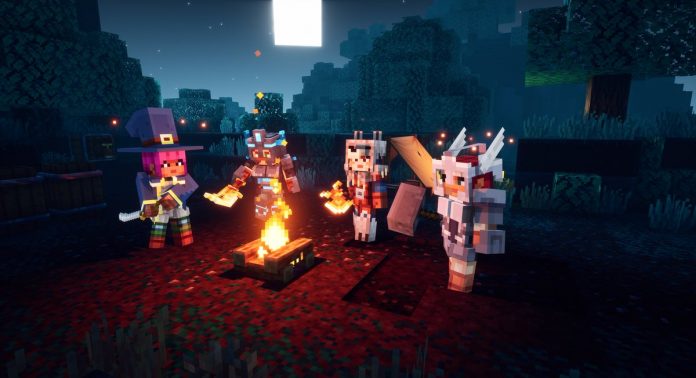 Sitting down on a comfy sofa or bed and zoning out into the world of the video game that you are playing is great, but sometimes you might just get an urge to play with a friend or against real people online. Below are some of the best multiplayer games to keep an eye out for in 2020.
#1 Minecraft Dungeons
This game will be available on Xbox One, PC, PS4, and Nintendo Switch, but there is no exact release date for it just yet. Minecraft has become a popular video game as it has the ability to provide players with many hours of fun. This new installment will not be like the predecessor as you will not be able to place bricks or alter the world that you are playing in. However, you and some friends can enter into a randomly generated prison that is full of traps, monsters, treasures, and strategy games.  If you are a fan of strategy games, then there is a good chance that you enjoy other online games as well. If that is the case, then you should check out this website.
#2 Skull and Bones
This game will be available to play on PS4, PC, and Xbox One, but nobody knows the exact date that it will be released. In this game, you and three other players can sail out to sea and look for loot to steal. You can team up and fight against each other, or you can go you separate way in an attempt to become the best pirate to roam the seven seas. If you liked playing Assassin's Creed IV: Black Flag, then we are certain you will enjoy this one as well.
#3 Marvel's Avengers
You will be able to play this game if you have a PS4, PC, Xbox One, or Google Stadia and it will be released on May 15th. From what has been revealed so far, we are aware that the game will start just after The Avengers new headquarters has been unveiled. An incident caused that city to be completely destroyed, which sees all the superheroes get banned. However, a new threat on the horizon calls for the ban to be lifted.
You can play this by yourself or in a multiplayer mode, but Crystal Dynamics have not really given too much information about what the multiplayer mode will be like. We guess we will just have to wait and see.
#4 Crossfire X
This game will be available to Xbox One users, but the exact release date is still unknown. Shooting games are always extremely popular for those players who love to play with or against their friends. Crossfire was a great FPS that got a lot of critical acclaim and from what we have heard so far, we think this sequel is going to be even better.
#5 Chivalry 2
This game will be available to play on PC but, like with many of the games on this list, we do not yet have an exact release date. At this moment in time, there is not an awful lot of information about this game, although we do know that there is a huge focus on multiplayer fights. For example, we know that Torn Banner Studios are making it so that 64 players can fight on the battlefield. This is double the amount that could play in the first game. It is rumored that the battles will be like the fighting scenes that can be found on Game of Thrones – here's hoping the rumors are true.
#6 Dying Light 2
Owners of a PS4, PC, or Xbox One will be able to play this game, but we cannot tell you yet the date that it will be released. When you play this game, you will find that you have a number of choices that you will have to make, with each one having a major effect on the storyline. From what we have learned so far about the game, your friends can join you whenever they like, and they can bring their upgraded weapons with them.
#7 Outriders
If you possess a PS4, Xbox One, or a PC then you will be able to give this game a go. However, once again, we are not privy to the exact date that it will be released to the public. This is a multiplayer shooting game that sees you have to fight your way through a horde of hostile aliens to learn the secrets of the planet that you are on. There is not a lot more information out about this game at the moment, but it sounds like it has a lot of potential.
#8 Halo Infinite
This game is available to those gamers who play on Xbox One and PC, but the release date is also unknown. Halo is an extremely popular game and from what we have been hearing, it seems the 343 Industries have only gone and outdone themselves here. Halo has always been a great multiplayer game and once again you will be fight alongside your friends in game modes such as capture the flag, team battles, and infection.
#9 Rainbow Six Quarantine
This game is available to PC, PS4, and Xbox One users and it will probably come as no surprise to hear that there is no exact release date as of yet. In this game you will be fighting off an alien parasite that turns human beings into creatures. You can play this game online with your friends and there is a competitive multiplayer, but more information about this will be released soon.
#10 Wasteland 3
You will be able to play this game if you have an Xbox One, a PS4, or a PC. It is due to be released on May 19th. The aim of the game is to keep your group alive in harsh environments that humans were not built to survive. You will have to build bases, train recruits, and battle enemies. However, you do not have to do this all alone as there is a multiplayer game mode that you can play with your friends.