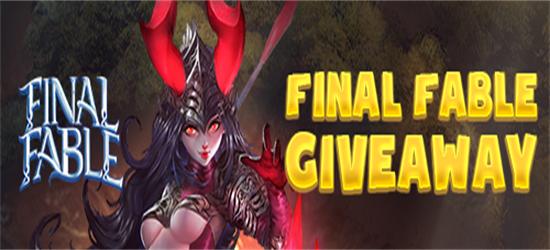 GameOgre.com's latest MMO Giveaway is for Final Fable by IGG. The game is a fantastical RPG where classic fairy tales come alive. Join a host of legendary heroes ranging from Snow White and Red Riding Hood to Pinocchio in their fight for survival.
Key Game Features:
Playable on the Android. Can be downloaded.
Unique turn-based gameplay.
Use your favorite fairy tales to build the best team possible.
The characters are very customizable.
Collect your favorite fables as special trading cards.
Innovative combat for a mobile RPG.
 Code Contents:
30 Apple Queen Shards (Enough to summon the hero)
500 Gems
Code Redeeming Instructions:
1. Once in-game, tap the your characters Avatar in the top left hand part of the main game screen.
2. Select the "Event Code" Tab.
3. Type in your promo code in the box and tap "Claim".
You can request a code in this post or in our forum:).