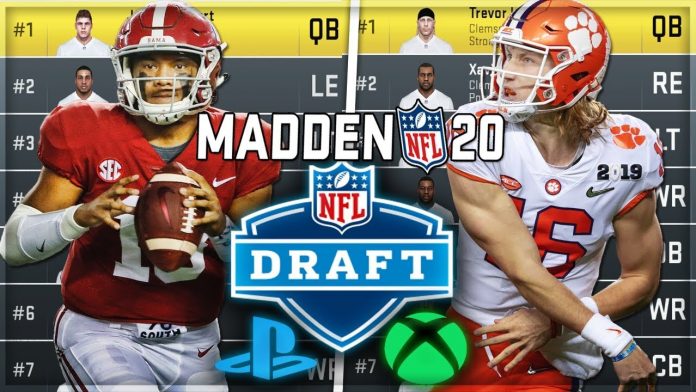 If you are a NFL and/or college football fan, you are likely aware of the current crop of players who look destined for great things in the future. Not only are their quarterbacks highly sought after come April for the NFL Draft, but there will also be high profile wide receivers and defensive end. Top names like Joe Burrow, Tua Tagovailoa, and Chase Young should all go in the early first round of the upcoming draft. It is a little like playing Free Casino Slots Online in that you never know exactly how it will turn out! Well perhaps you think that your chances are better at guessing the draft than at playing a competitive online game. Read on to see to what my player picks are this time around.
The Madden 20 Franchise
One of the great things about the Madden 20 Franchise mode is that you can use it to create any football player you want! You can make NFL players from the past or the future. The NFL players from the present are already there which is the only reason you can't make them as well. You can even make fantasy players with fantasy stats if you want to get super creative. In a way, the game does that itself anyway with the "College Draft" between seasons. You can normally draft between 6 or 7 players and these are all auto-generated rookies. There is also an option to download files of draft picks made by other players, but yet to see one with real names of college football players. Instead of being a negative, this actually is a positive since this makes it even easier to make the real players you want to draft because you can only edit the players on your team only.
My NFL Player Picks
My first try at this was using Joe Burrow after LSU beat Trevor Lawrence and Clemson for the National Championship. Had Daniel Jones on my roster so used him to make the changes needed. They are about the same height and age so he was the best available choice for editing. Although you can edit stats too, the best way is to select somebody who is close in appearance and age. Picking a 35-year-old quarterback to make into a rookie will not work because will actually decline instead of improving.
Modified some players
Thus, took Daniel Jones and changed his name to Joe Burrow, reduced his height to 6'3, changed his face to a blonde guy, upped his number by 1 to 9, and changed his school to LSU from Duke. Once you do all of that, you have a new ace quarterback wo may or may not be selected first overall by the Cincinnati Bengals in the upcoming NFL draft. Now he could appear in the game after the draft like the crop lead by Kyler Murray did last year, but that is months away from now!
Going back to the actual player edit, the only downside for the particular switch is that Daniel Jones starts low in franchise mode. Of course, the solution to that is fairly straight forward though. All you need to is play Joe Burrow only at QB and focus primarily on passing. If you can do that with success, your new QB should be much higher the next season. To help with this progress, you can play a season or two in rookie mode so you can win the Super bowl etc. This will help make him a breakout star to accelerate his training.
The making of star players
Once you make future star and then transform into a big success in the game, you will likely be tempted to make more! With quarterbacks alone, you have many possibilities to choose from besides the obvious choice of Joe Burrow. For instance, you can choose to make Jalen Hurts, Justin Fields, Tua Tagovailoa, and Trevor Lawrence. In fact, Trevor Lawrence may be even better than Joe Burrow next year. At 6'6″ and a former national champion QB, the sky is the limit for this blonde bomber as he just lost his first football game….ever.
Thus, have made Trevor Lawrence on two different occasions. The first time the rookie Drew Lock was used and his height was increased. The second time was after the first season in the auto-generated draft. Managed to select a 6'6″ quarterback in the first round with the random name of "Jorge Rivera". This is actually the best way to make a top prospect since the person does not really exist in the first place and the top picks are actually very good. For example, this Trevor Lawrence had a 75 rating with a blue hidden training aspect meaning he could be developed into a big star.
That said, some players are easier to make than others. While Joe Burrow and Trevor Lawrence can be made with no problems, Chase Young is a different story. Since he is one of the best defensive prospects in many years, there are not many players that can accurately function as a template for him. Even the ones that could like Nick Bosa, you don't want to lose. Thus, the only real way to handle Chase Young would be using the top defensive end you can draft of the auto-generated players. Happy creating!
If you get bored of just creating new players, you can also play Ultimate Team mode. You will have a similar ride of great excitement, fun and adrenaline!