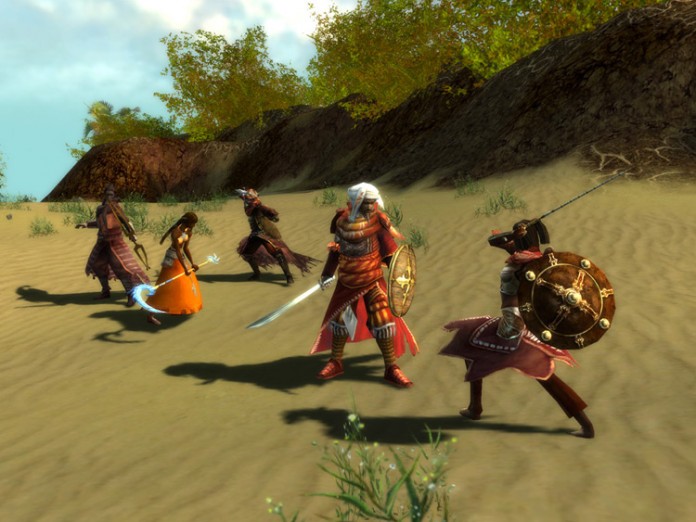 Semi-final battle in the MMORPG Showdown 2 series.
The Match-Up
Although there is a huge gap in terms of popularity between these two games they actually have a lot in common. Both have developer roots and similarities to Diablo and Diablo 2. Both games are bought via retail and can be played online for free although Hellgate offers subscriptions as well. Both Guild Wars and Hellgate also rely heavily on action and instancing. However the two games are night and day when it comes down to living up to expectations. Although both games were hyped heavily only Guild Wars met and exceeded expectations with not only a great game but a great series of games. On the other side of the coin Hellgate has failed to live up to its hype due to a large number of bugs when launched repetitive game play and a silly subscription model that has hampered its online popularity. All of these factors led Guild Wars to an overwhelming victory this week. The outcome was never in doubt and there was even a point in the middle of the voting when Guild Wars had a 10 and Hellgate was stuck with a flat 0. Thus reigning champion Guild Wars returns to the semi-finals to meet a considerably tougher opponent in Eve Online.
Tale of the Tape
Guild Wars
Free game play after buying the game.

Winner of the first MMORPG Showdown.

GameOgre.com's Online Game of the Year for 2006.

Primarily instanced content.

Two successful expansion/sequels.

Strong PvP focus.

Henchmen and Hero systems enables more solo play.

Level cap is 20.

Finally had a regular expansion and will have a sequel.
Versus
Hellgate: London
Free to play at the lowest version.

Amazing 3D graphics.

Both MMORPG and FPS elements.

Three different factions with 2 different characters classes each.

Each class has its own distinct personality and play style.

Weapons can disassembled and then used in crafting or just upgrading other weapons.

Single player mode.

Groups can be up to 5 players.
Select Comments For Guild Wars (Edited for Presentation)
Rating: 10
Author: gwraistlin
Comment: Great game that is well worth checking out. Cant wait for GW2!
Rating: 8
Author: miclee
Comment: Great graphics and fun game play. There is also no grinding for experience or anything because of the fact that there is a level limit of 20. Some people say that the level limit is bad but it helps the game a lot. I own all the expansions.
The Good:
-Great graphics.
-Free to play after you buy the box.
-Updated very often.
-Amazing gameplay.
-Great guild system.
-Makes you work for what you want.
The Bad:
-PvP can get boring
-Death Penalty.
Rating: 10
Author: conkerfreak
Comment: Just a totally awesome game. Enough said!
Select Comments for Hellgate: London (Edited for Presentation)
Rating: 0
Author: Charger Xd
Comment: Worse than Guild Wars in every aspect.
Rating: 10
Author: kartul
Comment: I love this game. Best game ever!
Rating: 2
Author: banger
Comment: Fun only for a little while but Guild Wars annihilates it.
The Voting
Guild Wars received a total score of 9.67
Hellgate: London received a total score of 2.83
The Result
Guild Wars Wins!