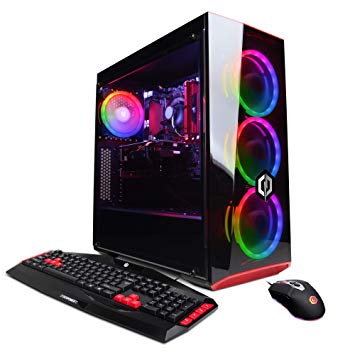 After owning an Alienware PC for over 9 years, I am finally getting another gaming PC in 2018. That Alienware computer, known affectionately as the Big Rig, has lasted longer than all other PCs I have owned by a large margin. Amazon just had a Daily Deal on Black Friday that was too good to pass up! The following CyberPower PC was just $650 for 24 hours. As of this writing, that same PC goes for $900.
New CyberPower Gaming PC
Well, buying the PC did not get off to the best possible start. After buying the PC on early Friday morning, it was suppose to arrive on Monday due to Prime. The package was indeed set to arrive then and was shipped to my town to be delivered that very day. However, my new PC did not arrive that day at all. In fact, Tuesday went by without the shipment as well. Even on Wednesday the gaming PC was a no show. To make matters worse, everything else ordered on Black Friday was sent without a problem. Worse still, packages on Cyber Monday arrived on Wednesday without any issue. Would be better off getting a no deposit bonus 2019 instead!
What happened? According to the tracking info, the package arrived in my city from the United States Postal Service on Monday, but that was it. It was never marked out for delivery and USPS did not notify myself or even Amazon of any problem. I even went to their website and signed up for updates on the package to no avail. They just kept saying that the package was in transit going to its final destination. There will not be this problem when looking for new casinos 2019 uk because they are better operators.
Thankfully, Amazon tracks every package and will tell you when a package is late. It kept saying the PC was late for Tuesday and Wednesday, but stepped in on early Thursday and said the product could be lost. With this notice, it said to contact them in order to solve this frustrating problem. I was thinking it was going to be a big ordeal of contacting the Post Office in order to try to locate the missing package. Sometimes it is great to be mistaken! Went into support chat to get the process started and the issue was resolved fully by the end of the conversation.
Amazon ended up sending me the exact PC again under free one day shipping and even gave $25 to be used in checkout for my troubles! Support also canceled the first shipment to make sure. Whatever happened to that first PC? The last I looked the shipment had never left where it was delivered on Cyber Monday. Was it stolen, damaged, or lost? I guess we will never know since the second shipment was delivered on time by UPS.