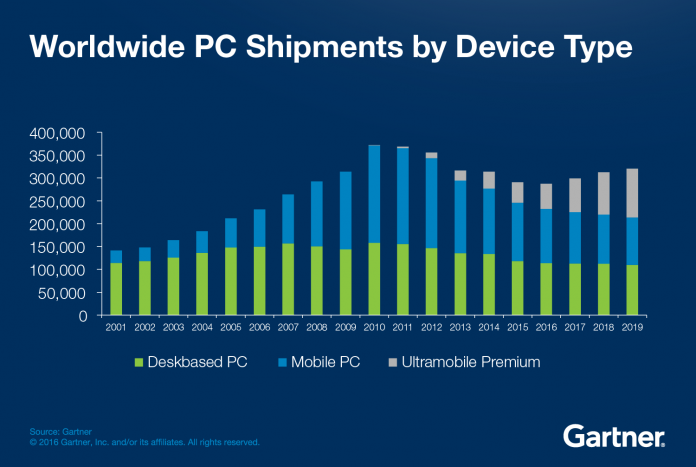 PC sales have declined for several consecutive quarters, leaving those that were hopeful that sales would pick back up in 2016 devastated. However, while PC sales decline, gaming parts and gaming PCs are on the rise. For anyone big into PC gaming, this is probably unsurprising. After all, you can get a lot more bang for your buck if you're building a gaming PC yourself, and since Dell bought out Alienware, great manufactured gaming PCs are nearly non-existent. This has led many to turn to either buying their gaming PCs from 3rd parties, or building their own.
In fact, consumers spent over $30 billion ($30.346 billion, to be exact) on gaming computers and accessories for gaming computers last year. This was huge, as they weren't expected to break the $30 billion mark until 2018. Jon Peddie Research (JPR) released a statement saying, "The average PC sale is incredibly motivated by the video game use model, which is important to understand in a stagnant or declining overall PC market,… As basic computing functions become more entrenched with mobile devices, the PC ultimately becomes a power user's tool…". Meaning that those who still choose to have a more conventional computer usually need or want it for something more than your average consumer.
But why are PC sales declining? In part, it's as JPR says – people are finding they can use their mobile devices, instead. More and more consumers are ditching computers and sticking with their mobile devices, which allows them to do anything a computer would, from writing papers to checking social media sites.
Another reason, according to IDC, a research outfit, is Windows 10. When they offered a free upgrade to Windows 10, they gave consumers a reason to not go out and buy a new computer. While this was good news to those who were still reeling from the discontinuation of support for Windows XP, it hit a lot of manufacturers in the wallet. As Microsoft continues to give out free updates to existing machines, many speculate that sells will continue to fall, or at least stabilize at this new, lower rate.
Loren Loverde, VP of IDC, was quoted as saying, "The latest update reflects continuing pressure on PC shipments, but does not significantly change the factors driving the market. In addition, we have now had four consecutive quarters of double-digit volume declines. This type of prolonged slump is unprecedented, and lowers the bar for some improvement going forward. Unfortunately, the PC market still faces some persistent challenges, and for now, improvement continues to mean slower declines."
While this doesn't necessarily mean 'the end' for PC sales, it is rather foreboding. Many speculate that to turn this around, PC manufacturers will have to widen their nets and find a way to entice consumers to buy new PCs. However, it's never been better for those who know how to build their own PCs, and PC gamers, who are helping to shape the new market.
By Cliff Gerald