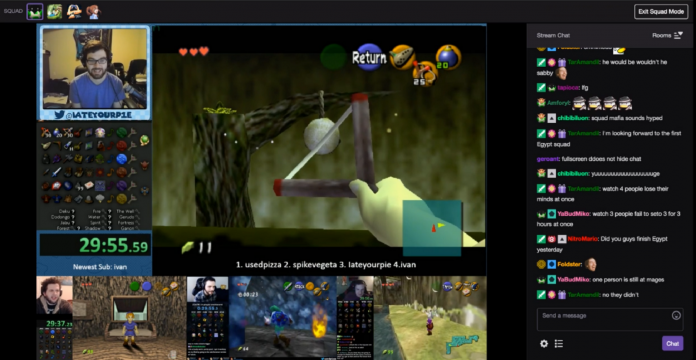 Twitch streaming is a popular online content creation activity, especially for people in the gaming industry. Of late, Squad streaming has also started to gain popularity among Twitch streamers. It is a fun, collaborative activity that allows a few streamers to live stream together. For example, if you host Minecraft streams, you can invite fellow Minecraft streamers to join your Squad and play the game with your viewers. 
It is an engaging way to interact with viewers and grow your audience, which is why it is necessary to take the best steps to conduct a successful Squad stream on Twitch. 
If you want to learn more about this, here's a look at the steps you should keep in mind when starting a Squad stream. 
7 Things to Keep in Mind Before Starting a Twitch Squad Stream
Set Up a Twitch Account 
The first step to setting up a squad stream is ensuring you have a Twitch account in place. If not, you can easily create one by visiting the Twitch website on your browser or through the mobile app. It is a free process that only requires you to use your email and a username. Using these details, you can use the available sign-up option and easily create a Twitch account to get started.
Ensure Everyone Has a Twitch Account 
Next, ensure that all members you want to Squad stream with have a Twitch account set up. Check-in with them to see that they've created an account, customized their channel, and taken all other necessary steps to ensure that it will be possible to squad stream with you conveniently.
Ensure the Availability of Stream Equipment
The next step is ensuring that you have stream equipment availability to conduct a successful live stream. The advantage of Twitch is that you can stream from anywhere using anything. Even a mobile phone is an excellent option to live stream from. 
However, if you're looking to conduct high-quality live streams, having a proper PC, a stable internet connection, a console if you prefer Xbox or PS5 streaming, and other equipment that will help video bitrate and audio levels. 
Having established equipment in place will make it more convenient to host high-quality squad live streams.
Visit the Creator Dashboard on Your Profile
When you create a Twitch account and channel, you will have a profile dashboard where you can find all options for stream settings and more. Visit the stream manager option from your dashboard, which will be located under the Quick Actions panel. After everything is in place, the next step is setting up squad streams. The option is quick to find once you've familiarized yourself with the Twitch interface.
Choosing the Squad Team Option
Once you have located the Squad stream option, you can invite other streamers to join your team. Twitch allows you to send out invitation links, and once a user accepts them, they get added to your squad team. It is possible to invite up to three channels. So if you're looking to host a squad stream with your streamer friends, this is a great option that you can use to live stream together. 
Selecting Members to Join the Squad
Once the invites have been sent out, you can manage the squad members from your Twitch dashboard. You will find options to add or remove members from your Squad, allowing you to edit these settings whenever necessary. It is a beneficial feature that will enable you to create unique live streams. 
So, for example, if you want to host squad streams but want to have different people join you for each stream, you can easily manage it with your dashboard and send out new invites when necessary. 
Begin the Squad Stream
Once the people you have invited accept your invite, you can quickly go ahead and begin a squad stream. Hit the start Squad Stream option, which will have all members begin the stream. A banner will be displayed on each squad member's channel, allowing viewers to join the stream in Squad Mode.
It is also helpful to note that a Squad Stream will continue to take place even if a single streamer on the team leaves. The entire stream will come to a halt when all members of the Squad have left. 
Endnote
Squad streams are a fun way to interact with fellow streamers on Twitch and invite them to collaborate on unique and engaging live streaming content together. With the help of Squad streaming, it is possible to create higher levels of interactions not only for streamers, but also with viewers, thus leading to growth among the audience.