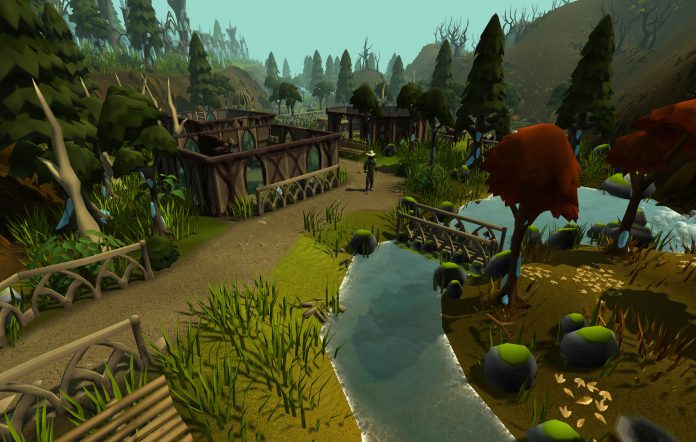 A classic brought into modern times
For those of you who grew up playing Old School RuneScape, you'll be familiar with how the game looked before. For those of you who didn't, let's just say it wasn't pretty. It had extremely low-resolution textures and had barely any lighting or shadows. However, after 20 years, all of that has changed. The popular fan-made client RuneLite has implemented a new HD mod. This allows for much higher quality textures, models, and lighting, making Old School RuneScape look better than ever before – especially if you're used to playing on the lower-quality client.
But now that the HD Mod is available, you can enjoy Old School RuneScape in all its glory! It's amazing how graphics upgrades can make a game even more enjoyable. The game still plays the same, but it somehow puts a smile on your face.
Installing and using RuneLite's HD mod is incredibly simple to do, however, you do require some setup and steps to follow. I will break it down into easy-to-follow steps, so don't worry. Ready? Let's begin!
Download and Install RuneLite
This should be the first thing you do, luckily it is simple for anyone to do. To download and install RuneLite, follow these steps:
Go to the official RuneLite website.
Click the orange download button. Make sure to click the dropdown arrow to download the right client for your system.
Once downloaded find the RuneLiteSetup.exe in your folders. It is probably in your downloads folder. If not, search for it.
Run RuneLiteSetup.exe and follow the on-screen directions. That's it you are done.
Create A RuneLite Account (Optional)
If you want to keep track of all your plugins, addons, settings, and other features you may want to create a RuneLite account. To do so only takes a few seconds, here's how:
Go to the official RuneLite website and click on the login button at the top right.
Sign in using a google account or click "Use Another Account" to create a new account using a different email.
(Alternative) This step can also be done once you are in the actual client. Look at the top right and find the green arrow and door to sign into RuneLite.
That's it, you're done.
It is important to note that this step is completely optional. You don't need a RuneLite account to use the 177 HD mod. However, having an account might be useful if you want to make use of all the plugins.
Create An Old School RuneScape Account (New Users)
Users who already have an Old School RuneScape account can skip this section entirely. Just click "existing user" and log in to your account.
If this is your first time playing Old School RuneScape, then you will need to create an account to log in and play. Do the following:
While in the RuneLite client, click new user. This will open a browser to the official Old School RuneScape website.
Follow the "are you a robot" check
Enter an email and password you wish to use.
Accept the terms and you are done.
In the RuneLite client, log in using the account you just created.
Install 177 HD Add-On
Alright, you are almost done. Installing the 177 HD add-on is simple and easy. It should only take a few seconds to find it and maybe 15 or so seconds for the plugin to activate. Following along with these steps:
Go to the Configuration icon at the top right of the screen. It looks like a wrench. If you don't see, make sure the sidebar is open. To open the sidebar, click the arrow facing right at the top of the client.
Select Plugin Hub at the very bottom of the panel.
Locate the add-on called 117 HD (Beta). It should be one of the first ones to pop up on the list. If you don't see it, use the search bar to find it.
Once found, click the install button.
If you did correctly, after a moment you will see Old School RuneScape change before your eyes. You will see that things are much sharper and the lighting and shadows have been enhanced. Character models are also a lot easier to distinguish from one another. This client also makes the game run off your GPU, increasing frames per second and draw distance. This client adds a lot to the game.
Once the plugin is installed you can into the plugin's settings to change even more graphical options. Tailor it to your needs and your computer power to get the most out of this extraordinary plugin.
Feel free to look through the other plugins as well. There are plenty of profit tracker plugins and skill calculators that will help you increase your OSRS GP per hour.
Conclusion
In short, if you're looking for a drastic change to the graphics of Old School RuneScape, look no further than the RuneLite 117 HD mod. This client and HD mod make RuneScape feel like a whole new game, with updated textures, lighting, and models that bring the world to life. The client also features quality of life improvements to help earn OSRS gold and streamline your experience.
What are your thoughts on the 117 HD plugin? Does this make you want to get back into Old School RuneScape? Let us know in the comments.