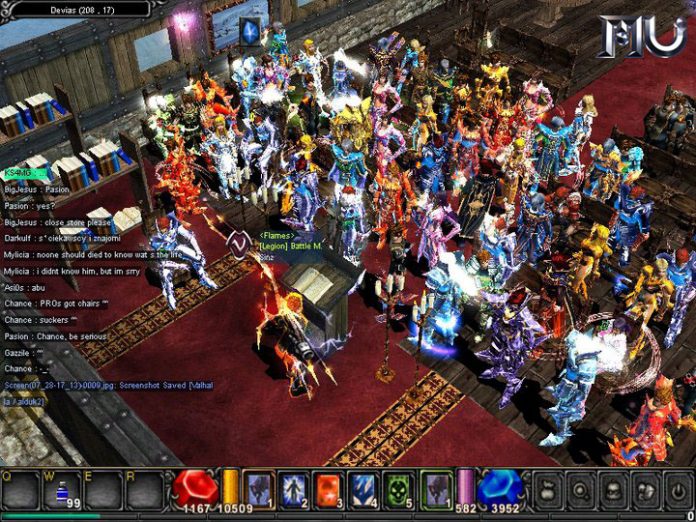 Webzen and GameOgre.com have teamed up to offer a special Webzen Christmas Packs Giveaway to GameOgre.com blog members. All you have to do to get a code is to register for this blog and post here requesting a code. The code will then be delivered to your email address that you signed up with here.

Holiday time is giving time! This year, WEBZEN has teamed up with lots of great partners in order to spread some love and freebies from our games among all of you. Take a close look at the codes below and don't miss out. Everybody loves freebies, right?
Aside from our epic giveaway, we also have great portal & in-game activities prepared for our games. If you feel like it, drop by and check them out:
http://www.webzen.com/events/2016-holidays
4 of our games are participating this year. Have a look below to see which games are taking part and what you can get for free! 
MU ONLINE:
| | | |
| --- | --- | --- |
| Item name | Trade Status | Amount |
| Master Scroll of Wrath | Non-Tradable | 1 |
| Master Scroll of Healing | Non-Tradable | 1 |
| Master Scroll of Mana | Non-Tradable | 1 |
| Master Scroll of Health | Non-Tradable | 1 |
| Master Scroll of Wizardry | Non-Tradable | 1 |
| Master Scroll of Defense | Non-Tradable | 1 |
| Master Scroll of Battle | Non-Tradable | 1 |
FLYFF:
| | | |
| --- | --- | --- |
| Item name | Trade Status | Amount |
| Re-Stat (Event) | Non-Tradable | 1 |
| Re-Skill (Event) | Non-Tradable | 1 |
| Upcut Stone (Event) | Non-Tradable | 10 |
| Grilled Eel (Event) | Non-Tradable | 10 |
| Gray Tuxedo (M) Box (7 days) | Non-Tradable | 1 |
| Pink Dress (F) Box (7 days) | Non-Tradable | 1 |
| Pink Balloon 6h | Non-Tradable | 5 |
| Blue Balloon 6h | Non-Tradable | 5 |
C9:
| | | |
| --- | --- | --- |
| Item name | Trade Status | Amount |
| PC Cafe Premium Item | Non-Tradable | 1 |
| Extreme Training [100%] | Non-Tradable | 5 |
| Skill Reset Scroll | Non-Tradable | 1 |
| Town Travel + Lv. 1 | Non-Tradable | 1 |
| School Look Gear Set | Non-Tradable | 1 |
| Resurrection Scroll | Non-Tradable | 15 |
| Soul Set: Prelude to the Storm | Non-Tradable | 1 |
RAPPELZ:
| | | |
| --- | --- | --- |
| Item name | Trade Status | Amount |
| White bear with blue snowboard costume | Non-Tradable | 1 |
| Christmas Hat | Non-Tradable | 1 |
| Christmas Boots | Non-Tradable | 1 |
| Christmas Gloves | Non-Tradable | 1 |
| Christmas Costume | Non-Tradable | 1 |
| Special Health Potion | Non-Tradable | 10 |
| Special Mana Potion | Non-Tradable | 10 |
| Altered Almighty Pieces (Enhanced) | Non-Tradable | 5 |
Details:
Usable until: February 27th, 2017
Coupon codes can only be used with a Webzen account
Coupon codes are limited to one use per account
Redeem instructions:
Log in with your account
Enter the coupon code (without hyphens)
Click Check
Select the game, server, and character to which the item(s) should be sent
Click Redeem Coupon Code
The item(s) will be delivered to your selected in-game character