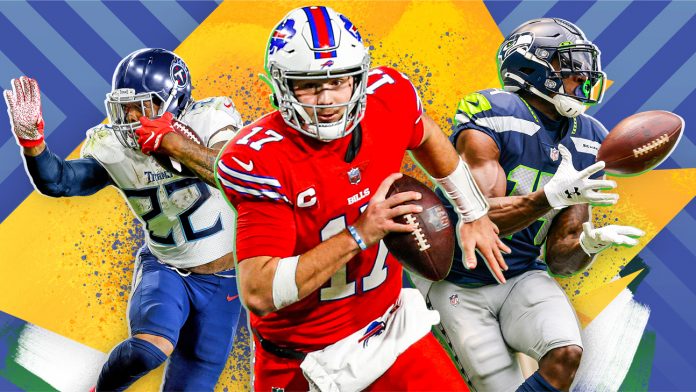 NFL pre season is well under way with players having completed camps and getting their match sharpness back. It's a time for players to get noticed and fight for their spot on the roster and starting roles. Newly drafted players have the opportunity last year's players didn't, to integrate with their new teams. They will also start to learn the new systems and what's expected of them now that they are in the NFL.
For those selecting their NFL fantasy team, this is the start of the time we get a glimpse into which players are making the grade and look set to secure their starting roles when the season starts for real on Thursday 9th September.
Over in New England there are eyes on the Quarterback (QB) battle between veteran Cam Newton and 2021 first round pick Mac Jones. Jones looks set to be the QB for the future for the Patriots but Cam Newton is doing all he can to ensure that time doesn't start too soon. The Patriots second pre season game came against the Philadelphia Eagles who rested a lot of starters on their defense. Newton showed glimpses of his old self being athletic and moving well in the pocket which the former MVP admitted eluded him last year with his head so bogged down swimming in the playbook. When Jones got his chances, he showed how accomplished he can be, this is a role for Cam Newton to lose at present as Jones is looking ready to step in when called on. The Patriots QB´s would be a useful back up to most fantasy football players but monitoring Newton´s success is vital to see if and when Jones steps in.
Despite a loaded running back list, Rhamondre Stevenson is doing all he can to stand out in New England to Bill Belichik. With 127 yards and two touchdowns off of 10 carries, the fourth round pick is showing signs of being a real stud for the Patriots. Belichick´s system can be tough to call on RB´s but Stevenson could be setting down a marker for a regular role in the offense.
Overall first pick of the 2021 draft was Trevor Lawrence to the Jacksonville Jaguars and the QB looks to have settled in well after a difficult start. With a sack and a fumble to start off his first pre season game, Lawrence grew into the role and showed flashes of his potential. Much of the talk was how he would connect with Laviska Shenault and DJ Chalk, but veteran Marvin Jones has proven to be a favored target of the rookie. Jones knows Darrel Bevell´s offense from when they were together at the Detroit Lions and this seems to have helped in him finding a lot of targets coming his way. Chalk will likely be the number one wide receiver going in to the season, but it's worth considering Jones in the latter rounds from his pre season showing so far.
Last year´s number one pick, Joe Burrow, looks set to return from injury and regain his top form for the start of the 2021 season with the Bengals. With further weapons available with Ja´Marr Chase being brought in with the fifth pick of the draft in wide receiver, Burrows is ready to have the year injury robbed him of last season.
PJ Walker, the former XFL star is doing all he can to put pressure on Sam Darnold for the starting sport in Carolina. The Panthers gave him the chance to shine and he did, completing 10 passes on 21 attempts for 161 yards and a touchdown. He tried to force throws at times, but he is doing what he can to knock Darnold off of the QB1 spot with the opportunities he gets.
The Denver Bronco´s drafted Javonte Williams in the second round of the NFL 2021 draft, and he is set for a battle with veteran Melvin Gordon for the starting role in the Mile High City. With the QB spot going to Drew Lock or Teddy Bridgewater, Williams looks set to add some explosiveness to the offense and has caught the eye in his first outing in pre season. Showing speed, good stiff arming and finding cover, he will look to keep his form going into week one and receive plenty of carries.
Clyde Edwards-Helaire had a solid rookie season considering his lack of preparation time last season due to the pandemic. He now has a full season under his belt and some more time this off season to come back even stronger. With Sammy Watkins leaving in free agency, Edwards-Helaire has the chance to show his receiving skills more as well as being a strong carrier of the ball. Chief´s staff are excited by his continued development and could be a strong pick in the second round of a fantasy football draft.
There was little to get excited about last season with the Washington Football Team´s offense, but with the addition of Ryan Fitzpatrick things look likely to change. Terry McLaurin had a strong sophomore season with 87 receptions for 1,118 yards and four touchdowns in a season where no QB in Washington found any consistency. Fitzpatrick is a player who likes to throw deep and tight passes and McLaurin looks set to benefit from the veteran QB.
With the pre season there is time for players to earn or lose their starting places and to see how some stars return from lengthy injuries last season. Any changes to depth charts will become apparent and those value picks in the draft can be identified!