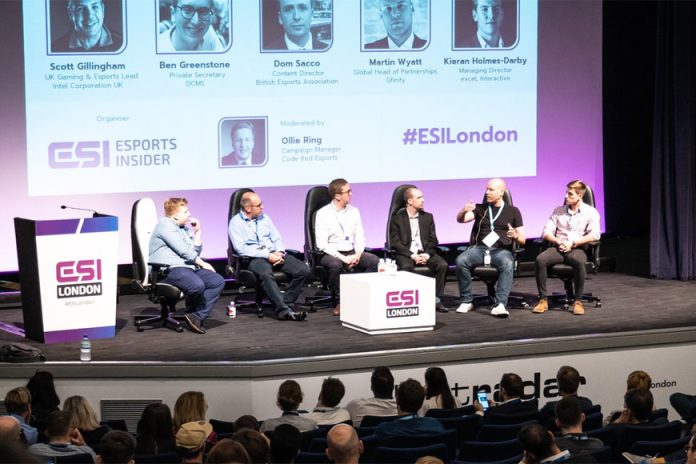 Esports and multi-media company, Esports Insider, is reimagining their yearly esports conference by bringing it to London this year. On November 8th and 9th ESI BOXPARK Wembley will be ground zero for the networking festivities this year.
ESI has been running conferences and networking events since 2017 with stops in Los Angeles, San Francisco, New York City, and even Twickenham Stadium in southwest London to name but a few.
Sam Cooke, co-founder and Media Director at Esports Insider, stated, "The return of ESI London is incredibly exciting for us here at Esports Insider. We originally anticipated this to take place back in 2020, and we can't wait to make the most of what is a fantastic venue for business and entertainment in BOXPARK Wembley.
"As ever we will provide the best-in-class speaker line-up of industry leaders, experts with topics and sessions that you'll not want to miss. We'll also be providing opportunities for attendees to establish real relationships and connections via a new take on networking – a beer and a business card no longer cuts the mustard, and we want to be the forward-thinking leaders in the space to offer this, alongside unrivaled value for money industry-wide. We're back!"
ESI had to hold digitalized events during the pandemic but the return to a live gathering of esports industry insiders and spectators is a welcome departure from the remote conferences used over the past year. The conference won't be relegated to break-out sessions, meet and greets, and networking symposiums only but rather there will also be an opportunity to have plenty of fun. As part of the two-day event, there will be an ax throwing competition along with virtual reality gaming contests and something called Pop Golf.
Several topics will be discussed at ESI London and among those will be Reaching New Audiences – Esports Sustainability, The Dotted Line – Esports' Commercialization, Partnerships & Revenue Growth, Esports and Communities, and Angels & Unicorns – Esports & Investment, 2021.
Esports has been booming in popularity and it has become so mainstream that even the professional esports tournaments are commonly on the betting menus of any online sportsbook around the globe. Esports players are fast becoming household names and the tournament money available is mind-boggling.
Consider that Dota 2's grand championship, the international 10 (TI10) is offering over $40 million in prize money with $14 million earmarked for the winners! It's a staggering amount but it is reflective of the demand from fellow gamers and those who simply enjoy watching the spirited competition.
And there are several other esports whose tournaments are awarding millions in prize money. League of Legends, Fortnite, and a host of others routinely have minor and major tournaments throughout the year that pay handsome rewards for the winners.
According to one report, 26.6 monthly viewers will be watching esports which is up a stunning 11.4 percent from last year. The consumer appetite for esports is insatiable and the industry continues to broaden its appeal. One of the ironic byproducts of the pandemic was the massive boost it gave the video game market as a whole.
With no recreational outlets in which to turn, demographics not normally associated with gaming and esports suddenly found themselves hooked, and some haven't let go despite their previous entertainment and recreational venues reawakening.
Paul Hurrell, an award-winning Games Designer and producer for Neon Play recently stated, "At the minute it's actually quite an exciting time for us because understandably over the last eighteen months or so, people have found they've got a lot more time on their hands, a lot more time at home. So being a company that makes mobile games, people are spending more time on mobiles so we've actually seen demand go up which has been great to see. "
YouTube Gaming and Twitch are two of the most popular and influential gaming channels which provide a social aspect to watching esports and interacting at the same time. Live-streaming is the spark that set the fire ablaze and it is not being doused anytime soon.
Rick Yang, a partner at New Enterprise Associates which is a venture capital firm that invests in esports spoke with Insider Intelligence: "I actually think of esports as the mainstreaming of gaming, or the pop culture instantiation of gaming versus the pure idea of these players becoming professionals to compete at the highest levels."
Esports revenue is anticipated to be $1.8 billion next year and the number continues to grow due to sponsorships, advertising revenues, ticket sales to live events, in-game purchases, and media rights to name just some of the financial tributaries feeding the gaming industry. But it should also be noted that celebrities, athletes, and music artists are getting in on the action which shines an even brighter light on the burgeoning gaming industry.