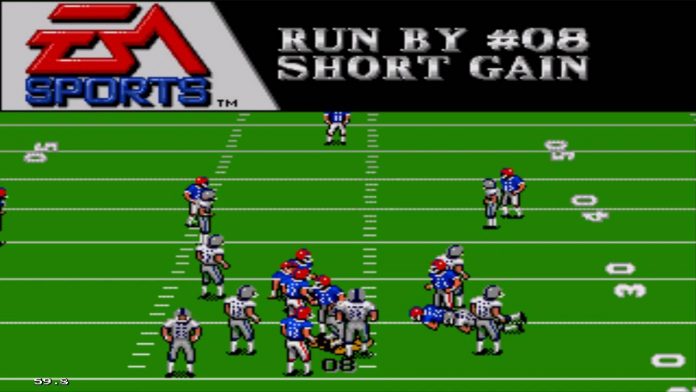 John Madden Football debuted in 1988, for the Apple II. It was the brainchild of Trip Hawkins dream, to simulate NFL football with a computer, and John Madden, who envisioned a teaching tool for the NFL. The game sold decent, however, it ran slow, and was considered to complex for a casual player. Thus, the following entry, also titled John Madden Football, albeit for the Sega Genesis, emphasized game play over strict simulation. It sold roughly 5.5 times more than expected, selling approximately 400,000 copies, helping Sega compete with Nintendo as a top console developer. It was here where Madden began to stand out as a top video game series. Like an online casino in America, the series was vibrant and exciting to sports fans on that console!
In 1991, Madden would improve even further, cementing itself as a blockbuster game. This was driven by two people: Scott Orr and Richard Hilleman, who developed what is considered to be the modern Madden formula. Major things, such as instant replay, referee reviews, and the famous ambulance, where made possible by Orr and Hilleman. In 1992, Madden would add a coin toss, no-huddle, taunting, one-hand, Odell catches, and stumbling. The game exceeded one-million sales, and caught the NFL's attention. As a result, the NFL would give Madden the NFL license in 1993, thus simplifying the Madden name from John Madden Football, to Madden NFL. You could now play as NFL teams, in NFL stadiums, which greatly improved immersion. The famous, "It's in the game," was added, as well as flip and bluff play, and historic teams were truly implemented into the game. A new system was put into place, where the screen would stop and change directions slowly after a change of possession, to avoid jarring players, making turnovers easier to manage. The following year, the NFLPA finally relented, and lent their license to NFL, finally allowing players to be named in-game. The famous passing windows were removed, stat tracking got a boost, and Madden got a theme song. This cemented Madden as, not just a good game, but a great one like the online games at casino français.
However, there was room for improvement, as Tiberon Entertainment showcased when replacing Visual Concepts, who would go on to develop for rival 2K. Fans were happy about Madden, but they still were complaining about the AI. Tiberon improved this, and the CPU, making the game a lot more balanced. The AI could now also spike the ball, no-huddle, and improved greatly in zone coverage. Create-a-player, one of Madden's best features, was implemented, along with the Scouting Combine. Tiberon wasn't done innovating, however, adding a salary cap, real free agents, and their first mainstream 3D graphics, albeit with 2D sprites on 3D backgrounds, giving the graphics a bit of a clunky appearance. Still, it was 3D, which concludes the evolution of 2D Madden. It was an excellent game on 2D, but, it became an even better game on 3D.