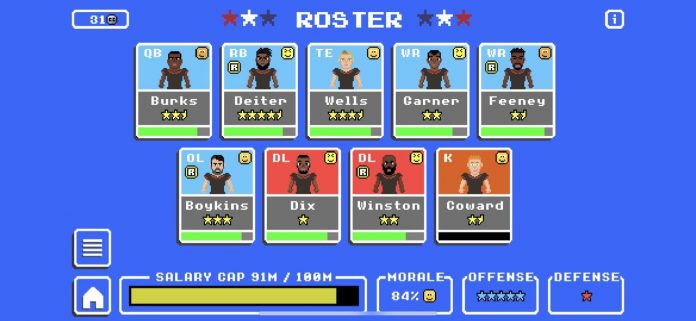 Regarding the future potential of Retro Bowl, the possibilities are immense! There is so much that can be done with this game that it is not even funny! For example, for those players and game fans that are like the folks at betminded.com, there is plenty of potential especially if the game develops into a mobile esport! This site offers analysis and how-tos on the world's most popular sports events. However, there is also loads of potential for just the game itself.
What all do we have here?
A pause button. Another pet peeve of mine is attempting to check something else on my phone prior to a play, but having the ball sail way off into the abyss sideline for a loss of down. This is especially frustrating on later downs, when your life is all but dependent on gaining yardage. Simon says of the holy pause button: "On the to-do list."
A user on Twitter suggested the idea of promoting coordinators within your organization to the role of head coach, as they felt a 74-year head coaching career isn't exactly realistic. Until Bill Belichick retires, we won't have definitive proof that a career that long is unrealistic, but for now I am going to err on the side of the other user. Simon also seems to think so, as he called the proposal a "nice idea."
 Another suggestion was to add different formations, such as the wildcat. Simon said in response, "Sometime in the future, maybe."
When asked about the future of multiplayer on Retro Bowl (specifically whether Pass N' Play or Split Screen would be easier, as Simon has rejected the idea of multiple device multiplayer multiple times, as he feels he isn't capable at the moment) he said "Pass N' Play." Although he did say that such an undertaking would be a "chunk of work."
Simon has been approached several times about adding depth to the draft picks section of the game. One user suggested to trade draft picks for a certain position on another random team (player at random, as well, keeping the mobile limitations in mind) Simon said, "That might take some time tbh."
One of the most requested ideas has been a college edition of RB. Simon said recently, "It's on the list." He must have a long to-do list by now, given his feed!
The main problem outside consumers have with Retro Bowl is that its defense is simulated, rather than playable. To that, I would say, "I'd rather have a good game than one bogged down by a bad defensive engine," but Simon obviously has a better contingency plan than me, for he has said that he doesn't plan on on-field defensive controls any time soon, but that he is planning to "add more depth to the defensive side of the game." Essentially, look to having more detailed stats, more positions, and probably new splash text, MC style. I'd honestly dig it. I'm not going to bite the hand that feeds me. Not on mobile, anyway.
Many have asked Simon about how the kickoff is determined. How is it determined? Chance. Simon does say that he, "Might add a coin flip in the future." He must have listened to me, for that's what I've suggested in the past! Thanks, Simon! Alright, back to the main point.
The new scheduling formula. Simon says that an expanded schedule would be in "a future update." Remember, the NFL is expanding its schedule by one game next year, due to the new CBA!
As for the possibility for penalties in the future, Simon has said, "Not happening soon." Refs? Same thing.
This next one comes from a partner of Simon, PixelNFL, the artist of the game. He has mentioned that Cheerleaders celebrating for the team when you score is a "#Workinprogess!" Considering he is one of the higher-ups for the game. I am inclined to believe him until proven otherwise.
When a user asked about the possibility of Pick-Sixes being a thing for your team as well, Simon said, "On my to do list." This list is getting very long now.
More celebrations? Simon has said, "there will be more." So, yeah. In the next update? Who knows?
Ah yes, a rare RB pet peeve of mine: every Franchise starts in the final week of the current season, with you replacing an unnamed prior coach. One user said to bring the option/possibility to start at the beginning of a season. Simon said in response, that, due in part to it being encoded into the tutorial, that it will be "Staying the way it is."
Woah, that's a lot of speculation. Well, an active Twitter account will do that for you! Hopefully, some of these proposals will be implemented soon, as I am interested to see the direction this game is going to take. Will it continue to make its explosive rise to the top, and continue to make its presence known? Or will it become a byword of a forgotten time. Only time itself will tell… for now, the game is polished, and the game is great. And, for that, I am grateful. Continue to pump out updates, RB! We will all be watching your ascent with great interest, I do believe.