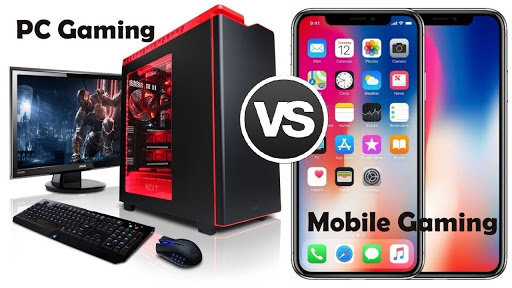 Have you ever wondered whether to try a mobile version of a game or play it on a console or computer? It is fair to say that the gaming experience differs from one device to another but what are the key differences to look out for? Let's take a look at some of the main factors that make these two ways of playing unique.
Mobile Games Tend To Be Easier
If you have ever played the mobile version of a console game you loved, you might have been disappointed at how easy it was to progress in comparison to the original. Call of Duty Mobile by Activision is a good example of this point, with one explanation of the relative simplicity being that the early stages of the mobile game see you pitted mainly against bots rather than human opponents. Even if you are fairly average on the console version, you can probably progress quickly on mobile.
Mobile games that rely on the freemium model will also encourage you to go deeper into the action, which could mean paying to unlock new levels or weapons. A console game can be made more difficult at the outset because the player has already bought it and is less likely to give up if the first few levels are highly challenging, while mobile players want a quicker sense of progress and satisfaction. We can see this in Call of Duty, since the mobile version has become one of the most popular apps of all time despite being substantially easier than the likes of Call of Duty 4: Modern Warfare.
Some Games Are Optimized For All Devices
Some industries need to offer the same level of quality on all devices, and the games we find on online game sites are an example of how this works. They need to appeal to a wide range of players who like to join in on different devices but all expect the same slick, reliable experience with completely different results. These games aren't as complex as the biggest video games, so the developers have been able to optimize them for any device, giving a very similar performance on mobiles and PCs.
A look at some of the top casinos online reveals sites that are all available on a mobile basis and offer game bonuses for new players who sign up. The high levels of competition in this industry have led to game sites offering ever-larger bonuses and growing collections of themed games that can be played on any device.
Mobile Games Are Easily Accessible But Less Powerful
Some of the biggest advances in gaming in recent years has been around ideas like cloud gaming, where you stream games directly from platforms like Xbox Gaming Ultimate Pass, Amazon Luna and Google Stadia.  Yet, mobile games still remain easier to access. Since you take your smartphone everywhere with you, the games are waiting for you to play at any time. It could be argued that mobile games like Candy Crush and Clash of Clans are designed to be enjoyed in bite-sized chunks at any time, rather than in long sittings.
Of course, you can't expect a mobile game to be as powerful and responsive as one you play on a gaming PC. The relative lack of power and poorer graphics make a big difference. Perhaps the way that we can log in to a streamed game on any device gives the perfect solution, as you can play the same title at home on your PC and then go back in on a mobile device whenever it suits you best. The Stadia site confirms that you can use a USB cable to hook up a controller to a mobile device.
With such great gaming choices around these days, it should be relatively easy to find a game that suits you on the device that you want to use. As mobile technology continues to advance, we can expect to be able to switch between devices with the difference between them becoming less noticeable all the time.