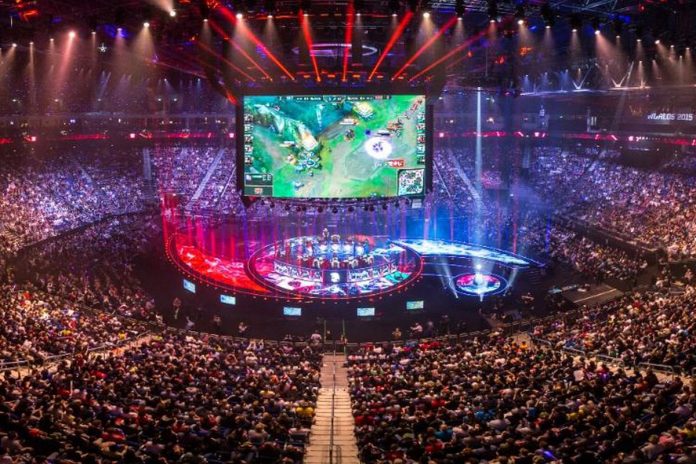 The League of Legends 2021 World Championship wrapped up with EDward Gaming claiming the first prize of $489,500. The total prize pool for the month-long tournament that involved 24 teams from all regions of the game was more than $1 million.
LoL events can offer such incredible prizes because of the amazing amount of attention they attract. The Riot Games title is the biggest MOBA in the world and the most popular eSport for spectators. How did it reach such staggering heights and what can other competitive game developers learn from it?
League of Legends World Championship is Huge
There are a few eSports that have already generated such support that they are beginning to contend with traditional sports. Competitive gaming is seeing an increase in stadium sizes, as greater numbers of people flock to watch the events live. The LoL World Championship in 2021 had a peak viewership figure of four million people worldwide, but there were no fans in the stadium. However, in a typical year, there are usually more than 20,000 people in attendance to see the event unfold live.
The LoL event broke an eSports viewership record earlier in the tournament when more than 2.2 million people tuned in at the same time to watch Faker's return to the world stage, although that pales in comparison to the 4 million reached in the final. The legendary gamer had been away from the game for a year, but he returned with a bang to the delight of fans around the globe. These viewing figures are amazing for a game that has only existed for just over ten years and has been an eSport for less time than that. If football and basketball were attracting these sorts of numbers in their early days, the sports would have grown much more rapidly than they did.
Biggest MOBA in the World
The world of eSports is dominated by multiplayer online battle arena games, as these titles tend to allow players to develop comprehensive skill sets that can set them apart from amateurs and beginners. The instances of RNG involvement are also rare, meaning that the games are fair, and everyone has an equal chance of winning. This genre has enjoyed a surge in popularity over the last five years, and it is impressive that Riot Games has been able to maintain LoL's position as the best MOBA in the world with over 115 million monthly players.
The main competition for LoL is Dota 2, which has been around since 2013 and is famous for its staggering prize pools as well. The International is the biggest event on the Dota 2 calendar, and it always attracts swathes of viewers. In 2021, players competed for a share of spoils worth more than $40 million. Because this genre is so popular and ideal for eSports, there will always be new titles that try to compete against LoL.
How did Riot Games Achieve Such Growth?
Riot Games has employed several techniques to help LoL become the most popular MOBA in the world. One of the most important things was attracting and continuing to allure players to the game in the first place. With such a vast number of monthly players, people enjoy playing it as much as watching it.
The developer employed a popular tactic from the gaming industry and made sure to give plenty of bonuses and incentives to encourage people to play. It can be played for free, which is a tactic made popular by the booming online game industry. Many of these sites come with no deposit casino bonuses that allow players to play for free before spending their money. These can come in the form of playing money or free plays.
LoL also benefited greatly from the rise of streamers on Twitch. It's the most popular game of all time on the channel, with 42.55 billion views throughout its history. This showed how the game was perfect as a spectator experience, setting it up for success in the eSports industry.
Riot Games made all the right moves with League of Legends and made sure to attract players and viewers in different ways. This is how it established itself as the world's most popular eSport. Other developers can learn a lot from the game's success.