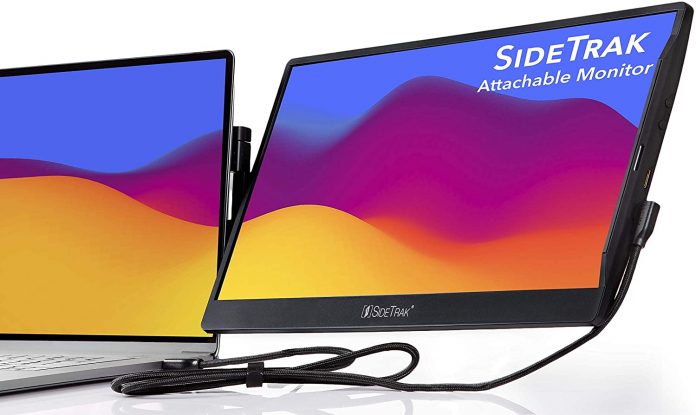 Nearly a decade ago, a gaming laptop graced my lap as the final gift of the holiday morning. I could've cried. Carefully, I proceeded to take the parcel that carried my gift to my room, I LOVED this computer. You know the feeling, right? Not only could I play PC games on the go, but it had the horsepower that allowed me to talk with my friends and listen to music at the same time.
Like you, I have often found the laptop gaming experience to be frustrating due to the constant shuffling between windows. The easy solution would have been to just buy monitors, but this would sacrifice the portability of gaming on a laptop. Simply, I wanted to have all my favorite programs accessible at cursers reach anytime, anywhere.
Thankfully, it's 2022 and you can find some great options to combat those one screen window issues for on-the-go gaming. My favorite products come from SideTrak®, an attachable laptop monitor company and hub for everything portable monitors. Their main philosophy is improving peoples' day-to-day lives through technological innovations. In this case, their portable and attachable monitors are a major quality of life improvement to any on-the-go gaming setup. Here are two of my favorite products in their line-up that will change how you browse, chat, and play.
Meet the Players
SideTrak 14'' Swivel Attachable Monitor
SideTrak's Swivel Attachable HD 14-inch Monitor is exactly what it sounds like – it's an attachable monitor that converts your laptop into a dual or even triple screen setup. The setup is an absolute breeze, and the monitor is compatible with most operating systems and game consoles.
Once you unbox your attachable monitor, it's completely plug and play. SideTrak makes it easy to securely attach your swivel monitor to the back of your laptop through their device safe metal plate. This and the Swivel's ability to fold onto the side of your laptop – which makes this attachable monitor easy and convenient to use in the board room, at home, or for on the go gaming.
Another great feature of this monitor is the swivel. If you are like me, then you are constantly adjusting your monitors to match eye level to create the most ergonomic situation while gaming. With SideTrak's swivel feature, you can vertically rotate the monitor 360 degrees and horizontally turn the monitor 270 degrees.
While a table isn't necessary to support this lightweight attachable monitor, there is a convenient kickstand that turns your desk or an airplane folding table into a mobile game station.
Also, I must mention that the resolution is great, with a full 1080p display that has tiny bevels to fully immerse yourself in your game without being distracted by the monitor itself. The monitor also has a 60 Hz refresh rate and a response time of 25 ms.
Unless you are playing a single player game or an online game less focused on second-to-second reactions, I would personally use the SideTrak Swivel monitor as a second or even a third monitor to house chat, video, or music applications. If you are a gaming content creator, the attachable laptop monitors are especially useful to have your stream interface up on your second monitor and chat on the third. No more one-screened limitations!
SideTrak Solo 15.6" 4K Portable Monitor for Laptop
The next generation of gaming is here. If you were one of the lucky few to get your hands on one of the new elusive consoles and find yourself needing a portable monitor solution to game on the go; then I highly recommend SideTrak's Solo 4K Portable Monitor. For gaming professionals who find themselves filling out spreadsheets at 4:59 p.m. and then settling into a game at 5:00 p.m., you'll easily be able to seamlessly transition with no problem or lag time. The SideTrak Solo is compatible with all modern gaming consoles and most operating systems.
The SideTrak Solo 4K's anti-glare screen provides an ultra-HD and immersive viewing experience. The 3840 x 2160 resolution changes the game with how you experience each frame of your gaming session. Easily view content (and that raid boss you have been trying to beat for the last week) with extreme levels of detail.
While this monitor is not attachable it features a kickstand, can be viewed in both portrait and landscape modes, and I do highly recommend for on-the-go gaming. Its slim bevel and lightweight design can easily fit into any backpack or laptop case. Whether it is a situation of limited desk space or wanting to game on your business trip, this monitor is easily the best solution for your itch to game while you travel.
Leveling Up
It's 2022, and the window shuffle blues should no longer affect you. Your friends will thank you for being able to read their message without ALT+TAB'ing and potentially ruining the game for your team. If you're looking to take your gaming setup on the go, fit in a tight space, or just to have extra screen real estate; look no further than the SideTrak Solo 4K portable and Swivel attachable monitors.