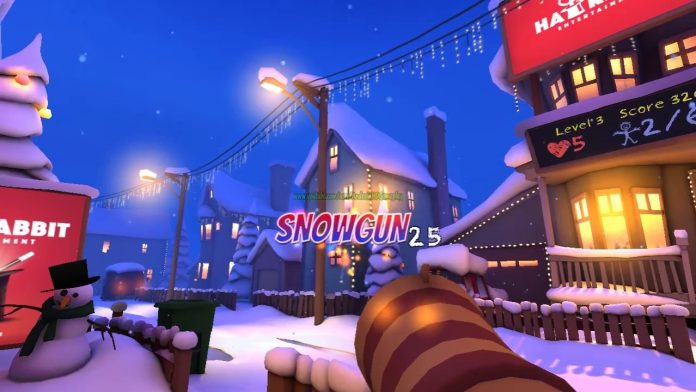 The best part of the festive season? The food, the good cheer, the cosy decorations – and, of course, the time off work to spend on wonderfully frivolous things (like watching reruns of Mr.Bean by the fireplace, or decorating gingerbread houses). Being game fanatics, we also happen to think the holidays are an especially appropriate time to get immersed in a merry mobile game or two. Here are a few festive titles that will provide an enjoyable break in between decorating the tree or wrapping presents.
Christmas Sweeper 3
If there's one thing games like Bejeweled and Candy Crush have proven, it's that the simple match-3 game formula is basically a fail-proof recipe for a ridiculously engaging mobile game. Christmas Sweeper 3 is a classic tile-matching game with a festive twist. A winter landscape is the background, while tiles show merry symbols like candy canes, Christmas trees, presents and baubles. With 150 levels and lots of bonus features that allow you to level up and collect extra point, this game is guaranteed to keep you both entertained and jolly.
100 Doors: The Mystic Christmas
This game is one in the Hidden Escape series, in which you complete a series of puzzles centered around a story-driven mystery. In 'The Mystic Christmas' you can explore hidden locations, ponder Christmas riddles, and fight wild beasts as you uncover the truth behind your Uncle's mysterious death. Those of you who like a good detective story in which to scout for clues will appreciate the Sherlock Holmes vibe of this well-developed mobile game. For a more immersive experience, we especially recommend The Mystic Christmas.
Secrets of Christmas
Every Christmas should be have at least a few surprises and treats in store, so we draw your attention to a very sweet game packed with prizes. These games are basically casino games where you play for real money, however you can play this popular mobile game for free, should you be saving your money for Christmas shopping. Secrets of Christmas features cute symbols such as holly, stockings, gingerbread houses and presents. As for game features, there's a fun bonus round where you pick presents. The atmospheric soundtrack consists of frosty, jinglin' music.
Santa Christmas Escape Mission
Your task is to save Christmas from being destroyed by a bunch of grumpy Grinches. The green monsters are taking over Santa's factory, setting fire to the workshops, and locking away the children. Armed with a candy stick that's good for wacking Grinches over the head with, you'll need to fight off these enemies and save both the kids and their presents if Christmas is to be saved. Santa Christmas Escape Mission has fantastic graphics, raving reviews, and a very comical twist. On top of that, the Grinch theme is likely to make the game especially popular this Christmas considering Benedict Cumberbatch is revisiting the role of Dr Seuss' famous character in a new movie.
Santa Motocross Action
Imagine if Santa ditches his sleigh in favor or something a little more unconventional – a motocross, say? Well, you don't have to imagine – you can experience it for yourself in Santa Motocross Action, where you'll guide Santa through a Winter Wonderland, picking up presents for points and performing crazy tricks. A simple and well-executed concept; Santa Motocross Action is for those of you who want some action in your festive mobile game.
My Xmas Tree
Why settle for decorating just one tree this year? In My Xmas Tree mobile game, you can choose from different tree types and then decorate them exactly as you wish by choosing from hundreds of ornaments. Once you're happy with your tree, turn it into a live wallpaper for mobile so you can see its tinsel glitter amidst snowfall all throughout the holidays.
Christmas Dollhouse
Have a niece in need of entertaining during the family get-together? Well, make sure you have this game downloaded and ready on your mobile – though it's as fun for kids as it is for adults who consider dress-up games a bit of a guilty pleasure. Christmas Dollhouse lets you create yourself and your friends so that you can virtually partake in different Christmas activities such as decorating trees and eating Christmas dinner together. The graphics are slick and customization options are a-plenty in this holiday game.
There's nothing like a jolly good gaming session to get you in seasonal spirits – so light some candles and curl up in your favorite armchair. Why not experience holiday cheer a little early this year?