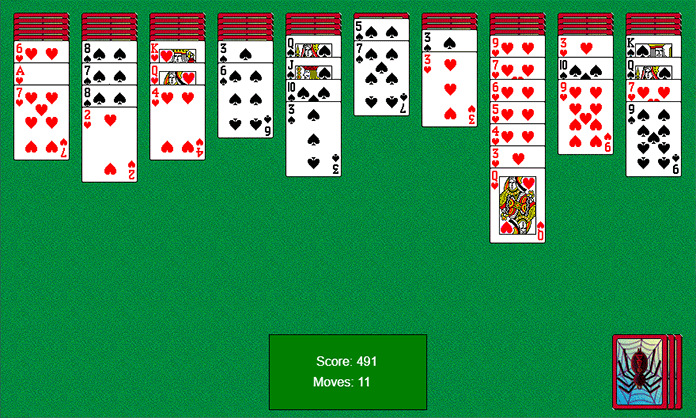 For those not familiar with online card games, Spider Solitaire has not only reigned as the king of Solitaire but also as one of the most popular games on the Internet for many years.  The objective of Spider Solitaire is to place cards onto the table in an ascending sequence of the same suit. The game has been so popular because Microsoft included with the Windows operating system. Yes, you can buy a new Windows PC or laptop first it up for the first time and play this game. That is a huge advantage over other card games that do not receive the same treatment.
Furthermore, Spider Solitaire has several versions itself. Many of the those can be found at SpiderSolitaire.co.uk such as Spider Solitaire Windows, Spider Solitaire 2, Spider Solitaire Time, and  Red Spider Solitaire. The first version listed stands as the most popular on the site by a wide margin. However, developers can submit their own versions for possible inclusion.
With all the different versions available, it is very important to know the rules of each one and to develop different strategies when possible. These important strategies and rules can be found in video and text form. Although relatively complex to get started in the game, the objective mentioned above is very straight forward. The complexity is due to the different game phases such as emptying the columns, cleaning up, re-arranging, and then exposing cards. For this reason, most Spider Solitaire games have an undo button.
Before starting, it is also important to familiarize yourself with the History of Spider Solitaire. Surprisingly, the Solitaire started out being associated with soothsaying and fortune telling. Different countries have various names for it like the English call it the "Game of Patience" and the French call it "Succes". No matter what you call it, the game has survived and thrived with Spider Solitaire emerging as the most popular version. Try it and see how well you stack up against other players online.