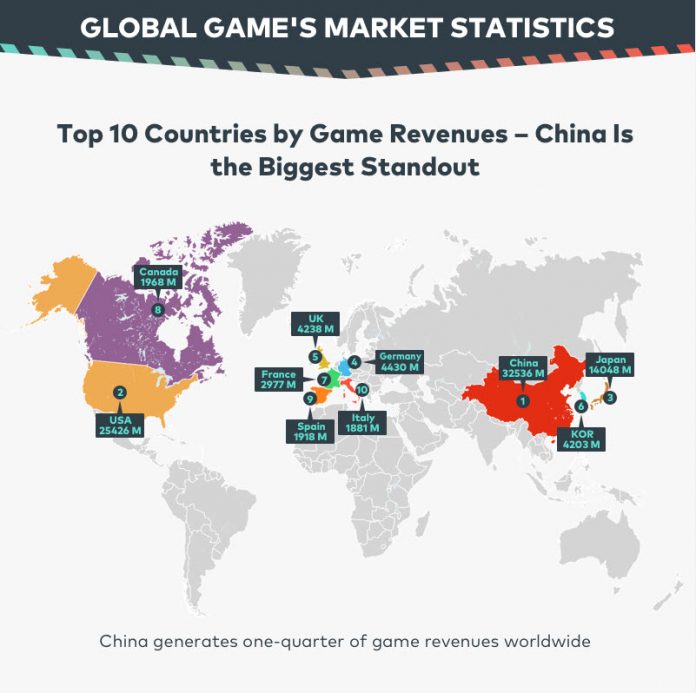 Here are the game trends and stats for 2018. The infographic in this article was provided by Filmora. In addition to offering video editing software, Filmora also ranks the 36 best video editors that you can use. The infographic below shows several interesting categories such as the most game revenues by countries, the amount that will be spent on gaming during 2018, the top 10 game companies by revenue, the best selling games in the world, and various gamer info. The graphic ends with the game industry economy and key info from the red hot esports industry.
Let's briefly go through each trend and statistic shown:
China dominates in game revenues with about a fourth of the revenues worldwide.
Overall game revenues are steadily increasing each year.
Tencent leads the way in overall game revenue above other titans in the industry including Microsoft and Activision Blizzard.
Tetris ranks as the best selling game in the world followed by Minecraft and Grand Theft Auto 5.
There are currently over 2 billion gamers around the world.
Men slightly outplay women.
21 to 35 is the largest age group that plays games.
Esports revenues continue to soar.
The Esports audience continues to grow at a steady clip as well.
Most of the revenues are from companies sponsoring the events and players.
Surprisingly, players have made more money from Dota 2 than League of Legends.
The five top earning pro gamers make around $3 million in total revenue!