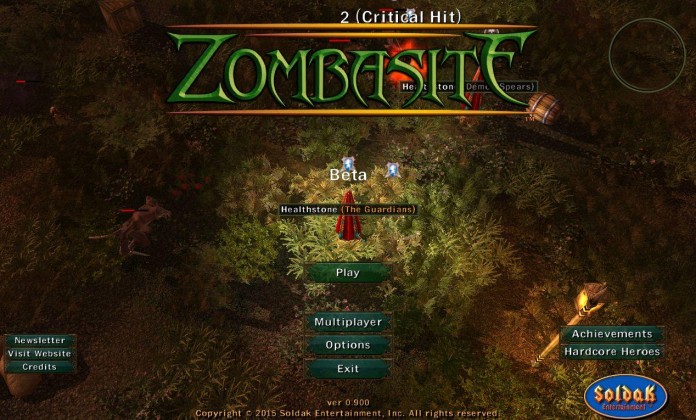 Zombasite Preview
Zombasite, like Din's Curse, is not very known but packs an enormous amount of depth into the game. However, readers should note that this is a preview because the game is still in Beta and Early Access. Right away, you can tell that Zombasite is action packed as there is action being seen and heard before you even begin on the starting menu. This gave me a feeling of "Hey, wait for me" and made me want to get started even more.
Take note that for a "zombie" game, you will notice more fantasy than almost all others because it shares a great deal with Din's Curse which is a fantasy RPG. This is a good thing as it gives Zombasite much more depth than just waves of carnage and mindless zombies. For example, you will see messages of things going on constantly. One early message was Gator the Fire Warden, my nemesis, actually taunting me.  If you were looking for a mindless zombie clone, you will need to look else where as Zombasite has something going on constantly. There are NPCs you can add to your party or team, different areas to explore, loot to get, and even rival teams that at first glance look like other players in single player mode. You can choose a team name when you start to lead your own. The messages will even announce accomplishments by the other teams.
With regular updates and a developer who passionate about improving the game, Zombasite will only improve from here. The biggest downside is a very common one with games of this nature which is not enough players on multiplayer. However, the single player mode is so well made that this not an issue like it is with most multiplayer only indie games. In fact, the team aspect gives a feeling that you are playing with other players if only to run across them from time to time.
Key Features:
Still in Early Access.
Action RPG.
Dedicated developer.
Uses many features from the very underrated Din's Curse.
Loot matters.
Random events.
Gameplay overshadows the graphics.
Many different classes to choose from.
Can add NPCs to your party very easily.
Wishing wells.
Can resurrect when you die.
Other teams look like real players.
Regular updates.
Action on starting menu.
Pros:
Plays on nearly all PCs.
Can make hybrid characters.
Random events all the time.
Great loot system.
Many areas to explore.
Smarter than usual monsters.
Deeper than other zombie games.
Something is always going on and displayed in text.
NPCs can change how they feel about you based on your actions.
You start in a fort outside for "security".
Cons:
Not a huge community to support it despite how good it is.
Very basic graphics.
Multiplayer is barren.
Point and click can get hairy when confronted by a zombie army.