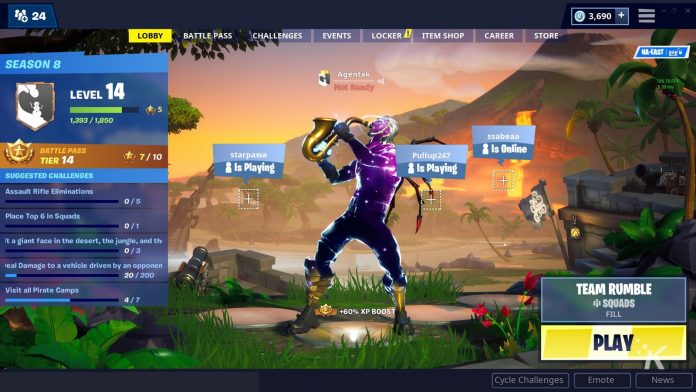 Other than social media, music and video streaming services, online games are the most common source of entertainment across all age groups. In the current age of the internet, the online gaming industry has taken the world by storm with millions of daily active users participating in different types of games. Moreover, sites like free slots no download don't even require players to sign up or download any gaming software to play online games for free. You can start having fun in either online or offline games in a single click!
What is an Online Game? 
Fundamentally, an online game is a type of video game where you partially or completely need to be connected to the internet or a computer network to take part in the game. Online games can be played via a range of devices, such as PCs, Playstation and Xbox consoles as well as mobile devices, such as tablets and smartphones. Depending on your preferences, here is a breakdown of the most playable types of online games that you can access today, as long as you have an internet connection. 
This is one of the types of online games that has swept the world off its feet. First-person shooter commonly referred to as FPS games are online games that involve the act of being soldiers or combatants of any format, fighting your way to survive in a range of modes in the given game. How best can you survive the continuous attack by the enemies? Can you overpower various armies with a bunch of weapons? 
The games are remarkably exciting and have seen millions of users sign up and compete with players from different parts of the globe. While some critics of this style of gaming claim that they encourage violence in society, online FPS games have been found to have more advantages than the purported disadvantages. They are a perfect strategy for escaping reality and depression, and they are full of fun and excitement. FPS titles like Halo, PUBG, Battlefield, Counter-Strike, Fortnite, and Call of Duty Mobile are some of the most popular. 
Players who are looking for some intellectual challenge without the extra distraction of missions, eye-popping graphics and lengthy storylines can seek refuge in puzzle and board games. They are available both online and offline, where you play traditional board games like Monopoly and Life. 
Puzzles, on the other hand, come in many different forms with a range of difficulty levels, depending on the degree of challenge that you are looking to get as you play. Puzzles often require simple action after a lot of analytical thinking with objects of different shapes, colors or even letters and numbers in play. The most popular puzzles you will come across online include: 
Sudoku

Scrabble

Tic-tac-toe

Draft/Checkers

Chess. 
Fundamentally, they are played socially in our normal lives, ported for the internet-based environment. When you play them online, you can go against fellow players for bragging rights in leaderboards and even compete for interesting prizes, depending on the platform.
Sports fans are also not left behind when it comes to online gaming. Players have access to online sports competitions where they can go head to head against each other with their customized teams or against individuals. In most cases, to increase the game's competitive nature, players first need to gain given points before they can actually have access to the best teams and machines. 
Other than playing against each other, you can also practice with the computer's AI and set different difficulty levels. An excellent example of an online sports game is the FUT Championships that is based on the EA Sports FIFA series. The series is currently at FIFA 20, which is a favorite for the millions of football lovers across the globe. There are also some racing games like Forza, Need for Speed and Dirt where players can use different vehicles to compete against each other. 
Action and Adventure Games
A close brother to the FPS games is the action and adventure gaming. Here, players have to achieve some specific objectives to proceed to the next level. Based on intricate storylines, they test on the player's ability to quick decision making and fighting skills. For instance, the game may be about retrieving a given treasure in a dangerous environment. The best player that survives all the challenges and can reach the treasure in time wins. The games are generally accompanied by high-quality graphics that render the environment to near lifelike levels. 
Online action games usually consist of fighting, space adventure and situational games, whereas adventure games are all about fulfilling the given objective. With adventure titles not so much preferred, gaming industries decided to combine the two to achieve a combination of action and adventure for a perfect gaming experience. Some examples of action-adventure games include The Legend of Zelda and Metroid. 
Like FPS games, multiplayer online games give the participating players a chance to compete with real-time players from other parts of the world in the same virtual network. Accompanied by high-quality graphics and in-play soundtracks and realistic sound effects, multiplayer online games give gamers room compete with actual real-time competitors and not the AI. Some of the most popular examples of this kind include Matrix Online, World of Warcraft, Star Wars Galaxies Everquest and Guild Wars, and League of Legends.
Arcade games can be considered a reinvention of those that used to be played in amusement parks and handheld gaming consoles in the 80s and 90s before technology 'blew things out of proportion' for lack of a better word. These are usually considered the remnants of the last link to the golden age of video gaming and are often about having fun and killing time without overthinking. Even though they are usually about making rational decisions, the gameplay isn't always as intricate and strategy heavy as it is in the likes of FPS, multiplayer or the action-adventure games. 
Most of them are set up in familiar environments without a lot of lifelike graphical emphasis. However, to increase their immersive nature, the graphical quality has recently been getting better. Some of the greatest hits of this kind include hotshots like Pac Man, Q-Bert, Pong, Street Fighter, Mortal Kombat and Mahjong Fight Club.
Final Thoughts
Since the introduction of the internet, online gaming has been getting better year after year. Thanks to technological advancements as well, numerous games are being added to the already existing pile. Gaming companies are continually developing new products to suit various player tastes for a perfect gaming experience. Given that the games can be accessed via several devices ranging from consoles to PCs and mobile devices, it makes it easier for players to choose how they'd like to have fun. 
Thankfully, even though many of these games require you to get connected to the internet, many of them have an offline mode where you can still enjoy the action without any worries. From the 6 types of playable games, we've discussed today, which is your favorite? What do you like most about your favorite type?