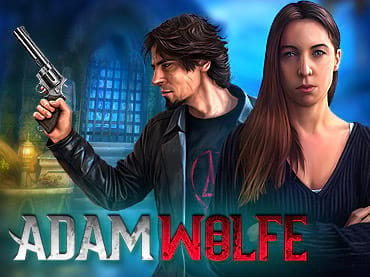 Ever seen someone play a point-and-click game looking for hidden clues and matches? Well, they are called hidden object games. Most of us have not heard of this genre but they are actually one of the oldest game genres in the world that has a small, niche group of fans. Recently, hidden object games have also evolved to become great games with an immersive storyline consisting of intriguing leads and realistic graphics especially in the case of mixed-genre games. Among GameTop's free hidden object games, we would like to introduce you to the 7 games that we find worth our time trying.
To investigate his sister's disappearance, Adam reached a place where the criminal underworld is intertwined with the supernatural phenomenon – the dark alley of San Francisco. Are you ready to adventure through shady streets, dark corners, scorching deserts and ritualistic shrines in order to unveil a conspiracy? Become the paranormal detective. Become Wolfe. Face the secret societies, unnatural afflictions, and ancient covenants now!
Save the kidnapped young girl Sophie and solve the mystery. Make your way past ingenious traps of the Castle and use your skills to overcome the beasts. Emerge victorious in this battle and restore the Unicorn for a victory over the forces of evil!
Your aunt Miranda is missing. You and your friend Mike go to your aunt's house to unravel this mystery. There you discover a portal in time that transports you to Italy in the year 1468. During your journey you accidentally leave behind a textbook on modern physics and when you return to your current time you see that the world has changed dramatically…
Welcome to the magical undersea world of Lagoona. Help Islabelle the Mermaid save the orphanage as you seek and find your way across beautiful underwater locations, sell your wares at the Coral Bay Market, and even solve quests for people in town!
Ashley had a horrible dream where she traveled to a strange world. When she awoke she realized it was just a nightmare, but her reality turns out to be just as scary. Help her escape with her life in this exciting adventure!
Set out on a 20-year journey starting from the walls of Troy to Odysseus' home on Ithaca. Visit mysterious islands filled with magical creatures on the way. Some will beg for help, while others might want to eat you, or even turn you into a wild beast! Overcome all of the obstacles on the way, and help Odysseus to finally return to his beloved Penelope.
Playing for Sam, a boy of thirteen years old, who is a friend of Princess Aurora, you get into amazing Kingdom of Aurelia, where the epoch of the Renaissance and development of technologies just have begun. You have to foil the plot directed against the royal family, find the perpetrator who poisoned the princess and rescue her.