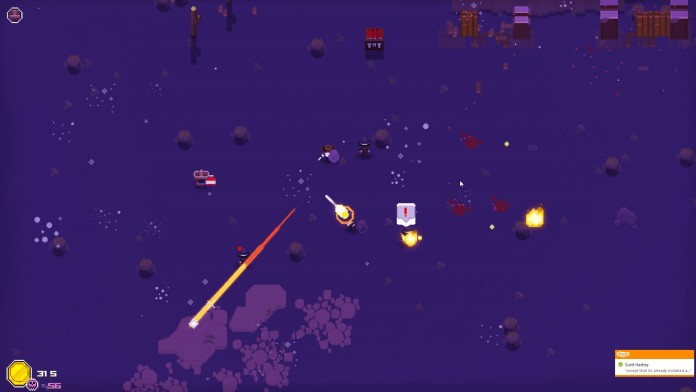 The old saying goes that dynamite can come in small packages. Well, A Fistful of Gun may not be a mega blockbuster or sweeping epic western, but it packs a lot of action and fun into this little indie arcade shooter. In fact, Wild West games in general have improved their fun factor a little with the recent launch of A Fistful of Gun. This little gem is a 2D action game with both single player and multiplayer modes. Actually, in some ways it is considered a sequel to the free game called simply Fistful of Gun. Where that game only had three characters, this one has almost four times more with eleven. Note that only three characters are available when you start story mode, but they are unlocked by you during the game. In contrast, arcade mode starts with all eleven right off the bat. Essentially, there is more of everything in this retail release on Steam.
The Wild West in games is one genre that always seemed to have potential for more great games. Outside of a few exceptions like Outlaws ages ago and Red Dead Revolver and its sequel, other entries have been hit or miss. A Fistful of Gun is a great addition to the old WW because of its bang for the buck. The action is always intense, there humor sprinkled in throughout, and it is on of the games to offer both single and multiplayer. Most western games offer only one or the other. You can even play local coop with friends instead of being fully dependent on online players.
The video below shows one full game in story mode with the Sniper character. During the clip, I shoot everything thing from bulls to bears to outlaws to dynamite boxes. You have to keep moving and be sure to avoid being near any TNT if possible. Once you clear a screen or achieve a mission, you are given a clue what the next screen holds with symbols. For example, if you see a flash card by the right screen, you can go east to play a card game they have. Eventually, I came upon a NPC that wanted the autograph of the machine gun character called Duke. Not long after that, I ran into the man himself and he joined my list of characters for Story mode. It is a nice way to introduce the colorful outlaws that could be referred to as the dirty dozen with just one more member. The bullet hell gameplay and 2D graphics are perfect for this outrageous group. The sniper rifle only shoots one bullet at a time so I have to reload after each shot instead of pumping lead continuously. Finding Duke was great in the story mode because he is my favorite to play in the arcade mode.
Overall, this indie gem should be tried by anybody who likes westerns, local multiplayer, and lots of action with a little bit of humor mixed in for good measure. Hopefully, content will continue to be added now that the game has been successfully launched. Although it launched only a few days ago, there is already an update available and I even saw the developer supporting the game further on Steam. That is what you call a passionate developer and I cant give enough props for that. All I can say is that A Fistful of Gun is my favorite Wild West game since Outlaws.
Key Features:
Multiplayer and single player modes.
Up to 9 player coop.
Local multiplayer available.
2D top down graphics.
11 playable characters.
Each character has its own controls.
Sequel to a free version.
Has a story mode.
Has an Arcade version where all characters are unlocked.
Bullet hell gameplay.
Spaghetti western theme.
Wandering stores to upgrade equipment.
A good dose of humor.
You unlock characters in the story mode by meeting them.
Pros:
Offers both solo and multiplay.
Many different characters to choose from.
Very fast paced.
Solo play is strong.
The diversity in weaponry between the different characters is huge.
Local multiplayer is very fun.
Already had an update after launch.
The developer is giving great support.
A ton to do in the wild west.
Steam trading cards
Great soundtrack.
Cons:
Graphics are rather basic.
Some of the characters have awkward control themes for their weapons.
Not enough players for great online multiplayer yet.
Some characters are better played with a game pad.
The card game is not clear.