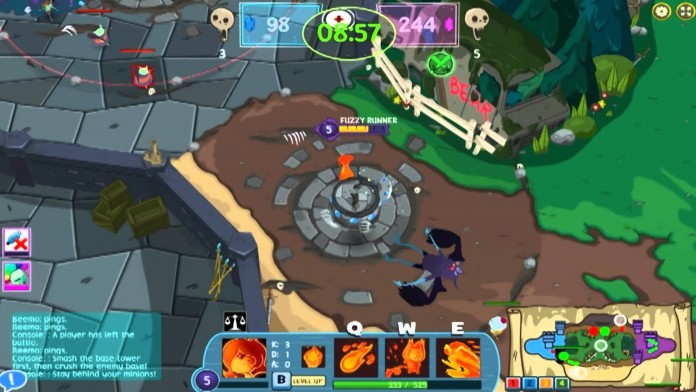 Adventure Time Battle Party! Cartoon Network's new multiplayer online battle arena (MOBA) will be totally mathematical and ready very soon.
Post Date: 12:13 08-04-2015
Rating: 9
Author: LosmiK
Comment: Good game for me, and therefore give an opinion 9
Post Date: 10:48 11-03-2015
Rating: 9
Author: StEvA
Comment: interesting game and realy anjoying :).
Post Date: 13:43 24-02-2015
Rating: 10
Author: GegejBubac
Comment: I like this site :D.
Post Date: 18:22 13-02-2015
Rating: 7
Author: Sle91
Comment: Not a bad game at all, but I never liked 3 v 3 maps that much. If they allow it to be a 5 v 5 I would enjoy it much more. In other things it's a classic MOBA like any other. U each have your own lane and u farm the creeps and kill the opponent. The goal is to destroy the enemy Nexus. The only bad thing I can say is that I had some bugs when playing it. Other than that, the game is good. I rate it 7/10. 🙂
Post Date: 13:51 29-01-2015
Rating: 7
Author: axwellshm
Comment: Looking forward to check it! Since it is the combination of cartoon characters (i guess it is) i am sure it will be fun! For now 7/10!
Post Date: 20:41 03-01-2015
Rating: 8
Author: Bosserbian
Comment: Cool cartoon game.
Post Date: 17:58 31-10-2014
Rating: 5
Author: Mihajlo
Comment: Adventure Time: Battle Party is Browser MOBA that features 15 playable characters. Every character has 3 unique spells. I don't like the art style of this game so my vote is 5.
Post Date: 13:05 14-09-2014
Rating: 5
Author: kiki2204
Comment: Realy good game i enjoy and love playing it but i would like it to make 5 v 5 and not only 3 v 3 it is way more enjoyable to play 5v5 then 3v3 is something like leauge of legens or something it can definetly compete with some games like smite but it son becomes boring so people stop playing it early … That's what i hate the most there are no players that are the max lvl at this game and the lags are substancul i don't know is it to me or to the game …I always prefer MOBAs over RPG or Shoting games like CoD or CS 1.6 or things like that if they advertised more it would be a lot bether!!!Cheers 😀
Post Date: 10:03 30-06-2014
Rating: 5
Author: Sinisa
Comment: Niceee 😀
Post Date: 11:57 05-06-2014
Rating: 7
Author: Shokata
Comment: Hmm. Very nice game 1 🙂
Post Date: 20:33 07-04-2014
Rating: 8
Author: Mordekaiser
Comment: I guess this game is alright for a cartoon network game the graphics are stunning but the gamplay is more suited for kids and not older audiences im not saying its a bad game because of that just saying i prefer mobas with more actions such as lol or dota