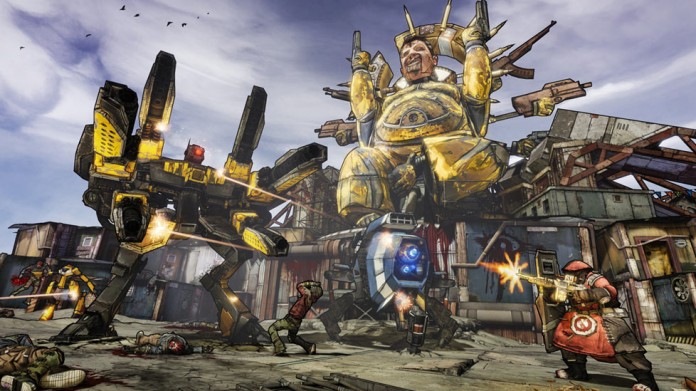 After the successful Steam Summer Sale that ended just this weekend, Humble Bundle had to follow it with something impressive to get a lot of sales. Well, they definitely did deliver and both copies and the average price are going steadily up. As of this writing, over 104,068 copies have already been bought. The average has gone from the $5.85 that I paid last night to a current $6.29.
What is causing all of this? Two full blockbusters with heaps of DLC and the possibility of more is causing all of this. Plus, there are even coupons on the top two tiers. What is good is that the first two tiers are organized perfectly with each on matching up with the full game. The first tier has the first game and its DLC and vice versa. The last tier is also content for Borderlands 2.
I wound up buying the second tier despite owning both full games. The reason I did this is because I did not own the first game on Steam and I did not own any DLC for either game. Plus, the cherry on top is the extra game(s) or DLC that will be announced next week. Whatever it is, I will get it because I already bought that tier. In other words, that is a heck of a lot of value for around 6 dollars and change.
Borderlands Bundle:
First Tier ($1 and up)
The Zombie Island of Dr. Ned Add-on
Mad Moxxi's Underdome Riot Add-on
The Secret Armory of General Knoxx Add-on
Second Tier (The Average to $14.99)
Psycho Pack Add-on
Mechromancer Pack Add-on
Creature Slaughterdome Add-on
Humble Store 75% off Borderlands: The Pre-Sequel Coupon
More To Come
Third Tier ($15 and up)
Borderlands 2: Ultimate Vault Hunter Upgrade Pack 2
Borderlands 2: Headhunter 5: Son of Crawmerax
Borderlands 2 Season Pass