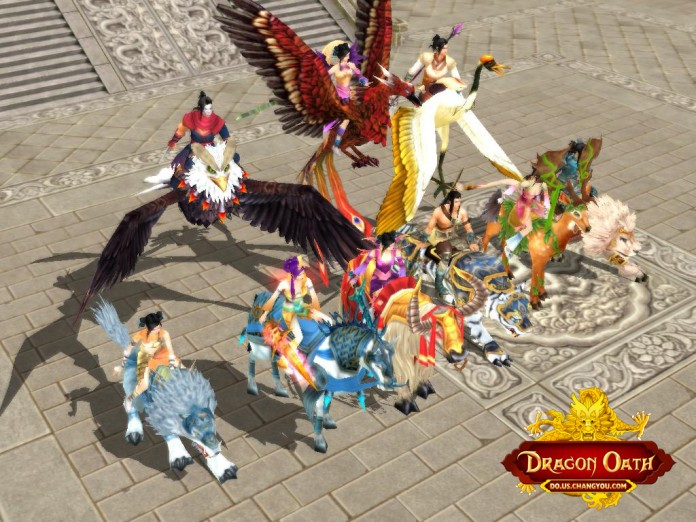 Dragon Oath is a Massively Multiplayer Online Game set in ancient China during the time of the Song Dynasty in 960 AD. The main storyline of Dragon Oath is based upon the mythology of the eight races of non-human deities described in Buddhist cosmology. According to Buddhism, these Demi-Gods exist on a higher plane of existence than mortals, and yet they are still bound by their passions and desires to the Samsara, the cycle of reincarnation. While the Demi-Gods themselves are not the primary focus in the game, the story�s main characters are modeled after the deity races, exhibiting many of their qualities, both divine and mortal.
Dragon Oath allows players to engage themselves in ancient Chinese lore and take part in captivating quests that tell the tale of warriors and diplomats from this time period. Dragon Oath has a large emphasis on teamwork and community within its gameplay mechanics. Marriage, guilds, and blood relation play a huge role in the overall experience of the game.
Total Rating: 8.38
Reviews: 34
Review Archive
Post Date: 17:08 05-08-2015
Rating: 9
Author: axwellshm
Comment: Game is pretty good. Has good potential, lots of classes, and on top of that; great gameplay. I like the game and how the developers brought the game to one big epic style 🙂
Post Date: 20:32 19-12-2012
Rating: 8
Author: PolanWalker
Comment: Dragon Oath is very popular 3D Fantasy MMORPG game in Asia. Game is based in ancient China before our age. We can choose from eight races. Our hero can be one of 9 classes: Pyromancer, Lotus Order, Minstrel, Taoist, Voodoo, Assassin, Beggars Alliance and Shaolin. Numerouse playable classes many trade skilles and game events give us interesting gameplay. game give big fun from play and I can recommande it to everyone 🙂 I rate this production 8/10 🙂
Post Date: 00:17 18-12-2012
Rating: 8
Author: Mordekaiser
Comment: Good game graphics could be better but the graphics are still pretty good the game play is great and the story of the whole game is also very nice and interesting and lots of details
Post Date: 18:18 10-03-2012
Rating: 8
Author: KuroTsuna
Comment: This game have many things common with a game that I play. I really like classes in this game. They have enough classes to play and all classes looks enjoyable for the first time. The crafting system is very nice made. It has enough different crafting skills like mining,fishing,herbalism,sewing,forging,accessory and macrobiotics. The graphics are good.
Post Date: 10:16 26-02-2012
Rating: 7
Author: Thedarkboy
Comment: This game can be amusing. But it isn't the best free MMO that you can play. But this one was still pretty good. The graphics are also good. Not great but good enough.
Post Date: 09:00 02-08-2011
Rating: 7
Author: Webber
Comment: Imo, other MMOs have aged better. Dragon Oath is ok but there are better free mmos out like Perfect World, Dragon Nest and Rusty Hearts.
Post Date: 17:20 24-07-2010
Rating: 6
Author: awesomedrako
Comment: This game is… slightly above average in my opinion. As per my new Reviewing Standard, here are my ratings before I explain why in my conclusion though:
Gameplay: 6/10
The gameplay should be good, and it is, it works, and it's like most other MMO's controls. There are also a million systems to make the game seem more complicated than it is, and to make it more addicting, and finally, to make you part with money. Like most other free MMOs.
The game is a martial art MMO, and the combat is good, like others.
However, where the gameplay falls is in poor design choices that made me quit the game after 2 hours playing it.
One example is the camera, which can't really be moved much, as the game mostly controls it for you. This is ridiculous for an MMO, where stuff can happen all over the place around you, so there will always be something happening outside the camera's view, which you won't be able to see.
Also, the game is filled with bad translations. In fact, the website itself is filled with bad translations. While I can ignore this, they really don't make the experience any better, and if anything, detract from your immersion in the game, and makes the thing seem more unprofessional.
Graphics and Sound: 5/10
Gameogre says this has 'amazing graphics'. I beg to differ. They are slightly below the best looking MMOs I've played, and are certainly not amazing. While I cannot simply rate them really low like I want to, I can't rate them any higher than 5, simply because in this modern age, I can come up with a hundred games with better graphics than this, and maybe 20 MMOs with better graphics than this. Heck, I think Perfect World probably looks better than this, and that has a seamless world!
Replay Value: 7/10
I'm rating this good, because I will go back to this game, if they improve the camera, and sort out all the little translation errors. I see potential, but it falls down flat at the first hurdle.
Conclusion: 6/10
In short, you can definitely tell this game is in beta. Really bad translation, a camera you can't really move, and I didn't really get much of what the NPCs were saying, with their skillbooks, and systems, and things. The game didn't really grab my attention, but I will say that it has potential.
Post Date: 21:23 19-07-2010
Rating: 7
Author: Ichigohollowfied
Comment: Well for one I thought the trailer to this video looks a lot like avatar the last airbender lol. the graphics were really good, didn't care what class/race I was, you can ride mounts which just reminded me more of world of warcraft as I played. There is PvP…which I hate. nobody really talks/helps you out though which I thought was kinda meh =/.
Post Date: 04:59 19-07-2010
Rating: 8
Author: buzzsaw
Comment: Dragon Oath could be epic with enough improvements. DO needs a way to lower the amount of grind. The mounts and graphics are better than most other free mmos.
Post Date: 18:58 16-07-2010
Rating: 9
Author: Webber
Comment: Dragon Oath has developed into a top Free MMORPG imho.
Pros:
1. Graphics
2. Events
3. Good classes.
4. PvP
5. Updates
6. Mounts
Cons:
1. Grindy
Post Date: 10:13 08-07-2010
Rating: 0
Author: shadowshnull
Comment: ok, an absolute sample of bad management, they let me create an account, download the client, install it and only THEN, after i try to log in they tell me that the whole region of Europe has been blocked ???!? wtf? ZERO! next…
Post Date: 13:56 13-06-2010
Rating: 8
Author: Alper123
Comment: the game's grafics are great. the game is also different and interesting. I didn't like it, though. For me too much running and dull skill system. But It is one of the games which give you a good feeling:"Yes, I am playing a mmorpg!"
and as I told you about the grafics, I always wanted to sit down and watch the beautiful view.
Post Date: 01:04 23-05-2010
Rating: 7
Author: ballantyneem
Comment: For years now I've been playing whatever MMO my brother has dowloaded. When the time came for me to choose what game would interest me, I stumbled across Dragon Oath! Smooth graphics and fantastic creatures inhabit this world making even the most mundane task a pleasure to perform. The nine classes availible for playing allow for customization to the extent of abilities. There are few downfalls to Dragon Oath (awkward camera angles, confusing start) but they were soon overshadowed by an immersive and fanastic world. Dragon Oath is the perfect mix of instant gratification and carefull planning. Great for a begging gamer as well as someone who's been playing for years. Though not perfect, Dragon Oath is my current game of choice!
Post Date: 13:05 30-04-2010
Rating: 8
Author: thundemp2007
Comment: Dragon Oath Online a MMO game has a good foundation of storyline since its all about demi-gods.It has a good quality graphics and better environment.In Dragon Oath you can pick premade faces, dresses and portrait that is use as your avatar inside the game as a customization profile.But i think camera has a short distance meaning the viewing of your character especially running.The gameplay is interesting because of the nine classes to choose from.
Post Date: 05:48 12-04-2010
Rating: 8
Author: singh123
Comment: Nice Graphics plus the added skills to all 9 classes it worth more valuse. Only it lacks some enhancements like, it becomes very hard to lvl up after ceratin lvl. Introduce some measures to protect players less than 10 lvls lower than PKers. All in the last Best game i ever played since 3 years, and i've left all other mmorpgs after i discovered thsi game. Got few suggestions as well if they can be valued.
Post Date: 04:29 09-04-2010
Rating: 8
Author: fizik
Comment: umm i see some good reviews that sum up the game, so i decided to review the classes
Dragon Oath has 9 unique classes, each for different roles in team or solo play.
Pyromancer – Strong melee dps using fire attacks to create huge burst potential, can destroy an enemy extremely fast.
Lotus Order – Primary healer of dragon oath, neccessary in almost all groups. Weak DPS but some strong burst damage making lotus a strong pvp class.
Minstrel – Master of traps, these can be very useful in PVE kiting bosses or in pvp to trap enemies.
Voodoo – Uses poisons and AOE to create strong DPS backed by DOT skills. Great group DPS class.
Shaolin – The tank of Dragon Oath. A good shaolin can greatly influence the success against a boss.
Assasin – The name says it all. The assasin uses stealth to get close to enemies before opening up with powerful melee attacks.
Taoist – The primary caster DPS class, uses ice attacks with good burst and supporting defensive moves to keep away from enemies.
Beggers Alliance – Dont let the name fool you, the beggers alliance accumulates combo points in battle then unleashes on foes.
Royalty – This class utilies both physical and spirit attacks combined with all the elements to have very few weaknesses.
Post Date: 04:10 09-04-2010
Rating: 8
Author: Dywi
Comment: The only free MMos better than Dragon Oath are Runes of Magic and Perfect World. Give Dragon Oath one more year to be as good or surperior.
The graphics are fabulous for being free. Improvements happen all the time and so do events.
8/10 ….2 points off for the UI.
Post Date: 00:10 08-04-2010
Rating: 10
Author: gamefreakgirl
Comment: the most esquisite and egocentric game i have ever played. the graphics are the best i have seen within any game i have played so far. you practically can do whatever you want and fight whatever and whoever you want. this is a game for anyone who LOVES action and adventure!!!
Post Date: 01:13 03-04-2010
Rating: 10
Author: gamefreakgirl15
Comment: I have always enjoyed the game, it has awsome graphics and fighting styles no matter how long i play my thoughts about the game never change and its hard to give up when you're in a hard situation. In this game you always have a chance to die and thats why I like it because like other games i play no matter how many time a monster attacks you you will beat it one hit KO in this game it gives you a chance to stress over not being in a pack of high levels when you have just started. also i enjoy the PvP mode, because you dont know whats going to happen. my favorite place to go at my level is Yan's Tomb because of the high levels and the treasures you can always find.
Post Date: 07:32 24-03-2010
Rating: 10
Author: mmowiz
Comment: dragon oath is one of the best free mmos today for the following reasons:
1. i never get tired or bored when playing.
2. pets are easy to get.
3. awesome mounts.
4. pets are awesome.
5. good pvp.
Post Date: 13:56 23-03-2010
Rating: 9
Author: Glitters
Comment: Dragon Oath: Massively Multiplayer Online Game
Setting: ancient China 960 AD
Game players have been captivated by the of the exquisite scenery and player friendly environments of ChangeYou's "cutting edge" game Dragon Oath.
Whether you are focussed on PVE (player vs environment) or PVP (player vs player)Dragon Oath allows for delighting virtual environment. Over 400 pets and seemingly endless quests are amongst the many benefits of D.O.
After investigating many online games you finally come across one you like. You work steadily to create a great character enjoying events and quests alongside your friends. Then something happens. You have run out of things to do to raise your character. The game has provided a solution. repeat repeat kill and repeat. Sound familiar? That gets old FAST.
When I had come across ChangYou's Dragon Oath I was a sceptic however had decided to try it out between maintenance on my other game.
After downloading choosing one of the nine classes I logged in. It was simple and surprisingly fast. The game play was simple and self explanatory. Soon I had forgotten about the other game. I prepaid the previous game for 3 months but suddenly it became not so intriguing.
I was quite surprised to find it was absolutely FREE to play. Yes, I know free to play games take something away if you do not pay. This wasn't the case. You get all of the full benefits of the game without paying and if you wanted something from the "cash shop" the items could be purchased through game currency made in game.
Dragon Oath is Constantly adding new features updates and bug fixes, keeping the game fresh and apealing. The content updates take only a brief time.
I truelly intended in this review to give pros and cons.If I find any cons I will let you know.
I will give Dragon oath a rating of 9. I would give it a 10 but there is always room for improvement, eh?
Don't take my word.Join and see for your self.
See ya there.
Post Date: 11:36 15-03-2010
Rating: 9
Author: fanta
Comment: Dragon Oath by Changyou is a free to play MMORPG based on Ancient China. It combines both culture and mythology to create a diverse world limited to only your imagination. Having nine unique classes and pets Dragon Oath allows for a gameplay suited to your personal preference.
In Dragon Oath you will never find yourself with nothing to do. Quests, Events, Instances, Bosses and Life Skills allow for hours upon hours of gameplay, depending on your needs. Regular updates with additional content mean that at high level you will always have more to achieve.
Dragon Oath has an emphasis on team play, however you won't be majorly disadvantaged playing solo. Groups of up to six members are perfect for playing with friends, or others in the Dragon Oath community. Guilds allow for a close community of players to chat, quest, do events and get stronger together.
Although primarily focused on PVE (player vs environment) Dragon Oath has PVP (player vs player) free zones, duels, team battles and even guild wars to fulfil all your pvp enjoyment. However if PVP is not your thing, no need to worry. Most zones are safe due to punishment for player killing, and all citys are completely safe.
Pets are avaiable to all players in Dragon Oath, within your first hour of play you will have your own pet. Pets allow players to change their gameplay depending on the type of pet they use. Some may choose to use strong melee pets, others may choose pets solely for their looks. There is a huge range of pets in Dragon Oath and there is certainly one for you. (you may have multiple pets but only one active at a time)
Overall Dragon Oath is an awesome MMORPG with a great community base. It is suitable for any one regardless of age, gender or culture. The gameplay allows for your style of play, whether purely enjoyment or a more challenging time. Coming from a WoW player of 4 years I find Dragon Oath very enjoyable (and addictive) and amazing for a free to play MMORPG. Anyways why are you reading this? Enter the world of Dragon Oath and find out for yourself!
Post Date: 21:10 14-03-2010
Rating: 10
Author: wowie
Comment: Dragon Oath is awesome for a Chinese MMO. I have tried martial MMOs in the past that I hated…cough Martial Heroes.
Graphics: The graphics really catch your attention.
Community: Love it
Event: There is an event for almost anything!
Overall: One of the best!
Post Date: 12:58 13-03-2010
Rating: 10
Author: stopxmove
Comment: Dragon oath is a game based on ancient china.This mmo is unlike any other because of all its diffrent feautures which i will share with you all.This game is packed with content that all players will enjoy and not any mmo i ever played(ALOT)has ever had them.Get ready to read about this epic game.
There is 9 classes in the game all which have there own unique skills and ways they fight.Dragon oath doesnt have the usual boring class like theif,warrior,mage and archer.What i found cool when i first picked my class(You get to chose a class at lv10 and trust me to get to lv10 is easy)is that each class has its own fashion!yes thats right you get a special fashion that no other class gets and they look great.Each class gets a bunch of skills (around 25) and There is even books you can find to give you more skills that are really powerful.Along with a class fasion you can get a special class pet and equiptment all with perfect stats according to the class you picked.
Now lets talk about pets.Dragon oaths pet system goes DEEP,you probally have never seen a pet system so beefed up before in your life.They have unique things for pets called savvy,bone and telent,but i'll get back to savvy and bone later.Tal=talent and each pet has a certain type such as some pets learn magic skills so you would want to look for a pet with high inteligence tal so that when you incress its inteligence it will launch powerful majic attacks.For example:
-you want to catch a silkworm pet which learns ice charm which is a majic attack you are going to want to find one with a high int tal(inteligence talent) to accompany such an awesome skill.so its simple: high int tal+high int stats=strong majic attack.
-a high int tal mean that the pet will have a higher inteligence stat then the same kind of pet with the same lvl and a lower int tal so: higher int tal>then a low int tal.
So do you get it?I hope you do because that is the best i can explain it.Now lets talk about savvy.Savvy is a way of incressing all your pets tal.all you need is:
-The pet whos tal you want to incress
-a wild pet that you want to sacrifice to incress your pets tal
-and last:some green stuff..well in this case like 75silver for the 1st time(Making money in this game is so easy you will chuckle while you bring your money in so easily)
-Take them to a pet seller and there you go tou just incress your pets savvy thus incressing your pets tal,cool huh?
Want to catch a new pet?Well then come on into pet island!Yeas that is right!Dragon Oath has a special place where you can catch pets and even go hunting for RARES! YUP they have pet and they also have RARE pets 😀 epic ehh?You can also find powerful pets in Yan Tomb.Have a wild pet and cant find a rare?just breed it with a friends pet and you'll have your rares,both of you will get a rare.
Dragon Oath really got me stuck to it when I discovered the daily event,Yup event that are held everyday.They have so many events that me a owner of a lv48 and a lv45 character hasent even done half of them yet!One of my favorites is chess challange where a team of 3 or more (teams can have up to 6 people) have to kill spawning chess stones which are harmless and give a bunch of exp before they turn into chess men which ARE dangerous and give less exp when killed.When You kill All of them up comes the powerful boss The chess soul whic when you kill every team member will get great loop and exp.You can play chess when you are lv20+ and dont worry about a weak or to strong chess boss or its minions because:
-say you are lv 23 and are playing with team members lv20-30 then the chess stones/chess men/chess soul will be around lv20-30 so it will be fair and still hard.
-Now say you are lv37 and you are playing with another lv37 and the rest are lvl20's then the chess stones/chess men/chess soul will be around your lvl30 because two players are higher lvls then this way there is a challange because the system knows it would be to easy if the chess stones/chess men/chess soul would be to easy for the team if they where lv20-ish.
-so depending on your team this will affect the lv and difficulty of chess.
-This also goes for quests in game.
Lets talk about instances.Instances is a map that takes you and your team(some instances you can do alone some you need a team of 3 or more) to a special map that has a story and in most you have to kill minions nd bosses giving you good loot and good exp.
Worried about being seperated by high lvls or not lvling up so fast?Well thank good for the master and apprentice feature ehh?lets say:
-You are lv7 and a high lv like lv47 wants to be your master and you accept you will get a special title and the lv47 will help you lvl up and it benifits you both because the higher lvl gets moral which they can spend on stuff in the game and you get more exp and the high lvl can help you kill stuff.
-when you are lv30 you get to rate how helpful your master was by chosing: very helpful,not so helpful,or not helpful.Depending on what you chose your master will get a massive amout of exp or a little bit.
Because of the moral system higher lvls can make a team with low lvl players and help them kill monsters.
In the game there a guilds and each guild will soon get a feauture to have a guild flag and a guild outfit.In guilds you can do trades to gain money for yourself and the guild.There is many diffrent ranking within a guild like:guild member,elite,mission office,interior officer,leader nd others.The guild system is really well put together.
There is so many feautures in this game that if i list them all id probally finish when i am 20 and id probally use up all this site storage memory xD,So if you want to experience all the other feauture you can only do one thing: PLY DRAGON OATH! you will love it,enjoy and have fun!
Post Date: 11:15 12-03-2010
Rating: 9
Author: Joker
Comment: Dragon Oath is one of the best free MMORPGs ever. You can do as much as many p2p games!
Post Date: 02:04 11-03-2010
Rating: 8
Author: -Froggy-
Comment: Dragon Oath is the best MMO. Join us to discover the world of ancient China with many special features. We also have a great community where players share their experience and give feedback about the game. Dragon Oath, let's challenge yourself.
Post Date: 01:54 11-03-2010
Rating: 10
Author: gieveiner
Comment: Dragon Oath is a game which combine many of culture in the world especially culture of China… I can said this game is the best MMO where many people from around the world joined and want to try how fantastic China's culture… Come and join us in Dragon Oath… See u in Dragon oath bro and sis…
Post Date: 13:57 10-03-2010
Rating: 10
Author: bytchnbrat
Comment: I have played Silkroad for 4 yrs and this is by far the best game I have played, the graphics are great, there are always quests at every level and I like the fact that my wife and I can be married in the game and earn extra things for it, since downloading and instaling DO I havent played any other online game.
Post Date: 20:21 09-03-2010
Rating: 10
Author: devils
Comment: Dragon Oath is a martial art based mmo. The game takes place in ancient china. Has great graphics for a 2.5D game. Has as many as 9 classes to choose from, each unique in their own way. Also has a very diverse and big pet system.
Post Date: 05:17 22-02-2010
Rating: 9
Author: drakin
Comment: Dragon Oath is awesome despite being in beta! I love the community and events because i never get bored.
Post Date: 00:58 09-11-2009
Rating: 10
Author: icechen3
Comment: This is the english version of TIAN LONG BA BU (chinese)

very nice,u can find treasure chest everywhere on any map, a thousand choices of pet, this is the ultimate martial arts mmorpg. 9 classe clash in an all-out brawl.

Compared to that, 9 dragons, twelve sky, conquer is NOTHING
Post Date: 20:50 31-10-2009
Rating: 8
Author: Review Meister
Comment: I love Dragon Oath. This is the best free mmo I have ever played in beta. There is never a dull moment because something is always going.
Graphics: 9

Gameplay: 8

Community: 7

pVp:8

Long Term Stay Impression: 8
I give an overall 8.
Post Date: 06:13 14-09-2009
Rating: 9
Author: webber
Comment: Good so far. The interface is a little wonky at first but you learn how to use it eventually.
Post Date: 06:04 09-09-2009
Rating: 10
Author: buzzsaw
Comment: Dragon Oath is only in beta but I love it already! DO is not one of those solo mmos. You depend on other players a lot.